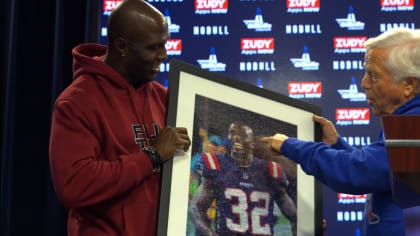 Thursday will mark Devin McCourty's 200th game in the NFL, all of which have been played for the New England Patriots. McCourty has been a constant presence in an organization that has reached five Super Bowls and won three championships since his arrival in 2010. He has been an elite free safety during much of his career and is still playing well at age 35. Beyond that, he has been a leader off the field and a pillar in the community.
The Patriots traded down in the 2010 draft and passed on the chance to select receiver Dez Bryant before selecting McCourty. During his rookie season, he was one of the best young cornerbacks in the NFL, totaling seven interceptions and routinely making big plays. He was inconsistent at corner in 2011 and was moved to safety during the 2011 playoffs. From there, his career truly took off. McCourty's ability to patrol the deep middle of the field allowed Bill Belichick and the Patriots defense to play tight man coverage underneath, especially when they had corners such as Darrelle Revis, Malcolm Butler, Stephon Gilmore and Jonathan Jones among others. McCourty was a key piece of defenses that won Super Bowls XLIX, LI and LIII.
McCourty's career numbers are impressive; 33 interceptions, two touchdowns, 953 tackles and a three-time All-Pro. McCourty is one of three players in NFL history to earn All-Pro honors at corner and safety.  He's played at least 94% of the Patriots defensive snaps in every season except one. He also has one kick return touchdown and has two playoff interceptions and 119 playoff tackles. McCourty was named the 26th best player of the 2010s decade by Pro Football Focus, registering a coverage grade in the 94th percentile for his work at safety since moving to it in the 2011 playoffs. He is third on the Patriots franchise interception list and is one of only three Patriot players to amass over 500 kick return yards.
Outside of his stellar play, McCourty has been a leader in the locker room and in the community. He has been a team captain for 12 consecutive seasons and has raised awareness and money for a variety of causes, most notably Sickle Cell Anemia and the education of underprivileged youth. He's the type of player and person the Patriots have been lucky to have as one of the faces of their franchise for over a decade.
When New England selected McCourty in the first round of the 2010 draft out of Rutgers, there was some debate as to what he would be in the NFL: a corner, safety, mainly special teamer or a mix. What McCourty has become is one of the best safeties in the league for a decade and one of the best leaders of the Patriots dynasty. It is unknown how much longer McCourty will play, but Patriots fans should appreciate every minute he is on the field.