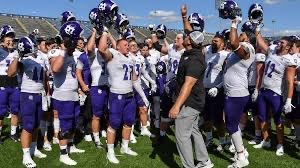 Image courtesy of Holy Cross Athletics
While UNH had to grind out a shootout victory over Fordham in the first round of the FCS playoffs a week ago, Holy Cross had the luxury of sitting back and watching the game unfold during its well-earned bye week.
With so many fifth-year guys and guys that have helped build the program into what it is now, these bye weeks also provide a little more precious time together.
"The bye week went well," Holy Cross head coach Bob Chesney said on Tuesday morning. "Had a chance to recover a little bit. Some of our guys…we were missing quite a few in that last Georgetown game, so getting a few guys back and getting close to full power. Not quite there but we're working on it. It was good to spend some time with our families, good to spend some time with our guys off the field and continue those bonds that I think make this team so special. Obviously, the hour glass has been turned over a while ago and the sand is running out and I think we all understand that, so we're just trying to do the best we can maximizing our time together."
The eighth-seeded Crusaders obviously knew what they would be getting if Fordham came out victorious, but with the Wildcats setting up an all-New England matchup with a berth in the FCS quarterfinals on the line, there was a different type of appreciation for UNH after watching the game.
"That they're really good," Chesney said with a smile when asked what his biggest takeaway was from watching the UNH-Fordham matchup. "As we know, Fordham is just a high-powered offense…you go back and it's like 'wait, we held them to their lowest passing total of the year?' it just doesn't feel like that and I'm sure it didn't feel like that for UNH either. They (UNH) got turnovers, that's what I thought was great for them defensively. As great as their defense is, what coach Santos has done there is just phenomenal.
"No. 20, Dylan, man, what a kid he is. He's fun to watch, he's an exciting player and everything about him is great. It was just fun to watch him. I watched him after the game, just a big smile on his face. You can see the way he interacts with his teammates, he's a special young man."
The bye week prior to a playoff game is something Holy Cross didn't have the luxury of last season. Chesney talked about balancing the excitement of his guys with making sure they remained locked in during the week off.
"It is a challenge," he acknowledged. "I think the good thing is, you're not just waiting to play your next opponent, we didn't know who our next opponent was going to be, so we had to prepare for two teams and I think with that comes a mental and a physical challenge that's exciting because everyone's involved. It's not like 'hey, we're playing this team next, we have a whole two weeks to prepare for them,' we were preparing for two and then you get to that game and honestly, watching that game it was going back and forth, it was just like man, who are we playing?
"It was an emotional roller coaster as you mentally navigated game. Then, in the end when UNH wins there's a sense of 'ok, now we know. Throughout the week, I think we did a nice job of balancing both teams, not overwhelming our guys…we had a nice balance in the run game, a nice balance in the passing game, we had a nice balance with special teams and then first day of the week and then the last day of the week, we said 'this isn't about anybody else now,' what can we get better at regardless of who we play to ensure we're putting our best team on the field."
Chesney also touched on the rivalry between these two schools even though they don't play very often. The all-New England aspect is big, but so is hosting the game at Fitton Field. The old stadium in Worcester has seen its share of special moments over the years and this weekend should provide some more great memories.
This one in particular will be even more special as the talent that resides in New England will be on full display for the country to see.
"I think this one will be similar," Chesney said of the crowd referring to the Yale and Fordham crowds earlier this season. "This is a long rivalry. I think this is the 16th time these teams are meeting, there's a lot of history here. These are two great programs that are steeped in tradition. I just think this is great for the Northeast. This is an awesome situation for everybody involved…this is going to be a great, tough, physical, fun game to be a part of.
"I think everybody involved understands that and I think the community does too. Hopefully we have that same showing. We're back at home again which is great. For the first time in program history we're hosting a second round game and something we're all really proud of and excited for."