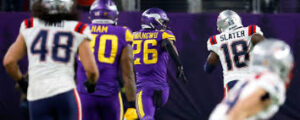 Image courtesy of ESPN
Playing on Thanksgiving for the first time in a decade, the Patriots showed some surprising offensive firepower on Thursday night.
Unfortunately, the two units that have carried the offense so far this season had arguably the worst game of the year in a 33-26 loss to the Vikings.
This was a brutal loss for New England, there's no need to sugarcoat it. Now at 6-5 and the Buffalo Bills – who barely got by the Lions on Thursday – coming to town. Thursday night now amounts to a must-win for the Pats if they want to have any shot at winning the division.
"Well, give credit to the Vikings tonight," said Bill Belichick. "Kevin (O'Connell) did a good job. They made a few more plays than we did and they've got a good football team. Got a good of good players, well coached and we just came up short.
"Disappointing to come up short, but we had too many mistakes they took advantage of."
Mac Jones had arguably his best game as a Patriot, going 28-39 for 382 yards and two touchdowns and he didn't turn the ball over. Hunter Henry (3/63/1 TD) had inarguably his best game since signing in New England and should have had an even bigger stat line had it not been for a dumb rule in the NFL and a horrifically bad officiating crew call back a touchdown.
Too many penalties (6 for 55 yards), specifically mental errors, a lack of pash runs against one of the weakest offensive lines in football (1 sack) and poor execution on special teams all ultimately ruined what was a huge step forward for the offense.
Minnesota took the ball and waited downfield, with Justin Jefferson (9/139/1 TD) showing up early and often catching a six yard touchdown. The surprising night for the offense started immediately after as Mac responded with a five play, 75 yard drive finishing it with a 34 yard touchdown pass to Nelson Agholor. After a Jonathan Jones interception, the red zone struggles (0/3 for the game) continued and Nick Folk kicked a 34 yard field goal for the 10-7 lead.
The Vikings took 7:59 off the clock with a 14 play drive, but New England forced a field goal. A big Marcus Jones return quickly set up the offense at the Patriots' 49. Five plays and 23 yards later, Folk had to kick another field goal. Kirk Cousins (30-37/299/2 TD) led another touchdown drive, this time finding TJ Hockenson from a yard out after Kyle Dugger missed an assignment, putting Minnesota up 16-10 after a missed PAT.
An impressive two minute drive was marred by mental errors as Hunter Henry failed to get out of bounds and Mac slid instead of throwing a pass away, but New England still moved down inside the 10 before another Folk field goal made it 16-16 at the half.
The double score from the good old days was back as New England opened the third quarter with an eight play, 75 yard drive that ended with Jones hitting Henry for a 37 yard touchdown. The special teams unit that has been so good all year had a huge breakdown on the ensuing kickoff that the Vikings took back 97 yards to quickly steal momentum right back and more importantly, tie the game at 23-23.
The most controversial call of the game in a matchup that was full of them came on the next drive when Jones seemingly hit Henry again for a touchdown, but because of a slight bobble upon hitting the turf, it was ruled he didn't complete the catch through the ground and it was overturned. The Pats settled for another Folk field goal.
"Because as he's going to the ground, he has to maintain control of the ball upon contacting the ground," said Senior Vice President of Officiating Walt Anderson in the pool report conducted with Mike Reiss of ESPN. "The term that's commonly used is 'surviving the ground' – a lot of people refer to that. So, as he's going to the ground, he has the elements of two feet and control, but because he's going to the ground, he has to maintain control of the ball when he does go to the ground."
Minnesota answered with an early fourth quarter filed goal to tie the game again and quickly forced a three and out. Six plays and 71 yards later, Cousins hit Adam Thielen from 18 yards out to take the lead for good at 33-26 and 9:34 left in the game. The touchdown should have never happened though, if not for Pierre Strong running into the punter on fourth and three, negating a three and out forced by the defense.
This loss obviously doesn't end the season with six games remaining, but it certainly was a missed opportunity and a very winnable game.
"From now until the end of the season, every game is huge," added Devin McCourty. "We've got to find a way to win these games, make one extra play."