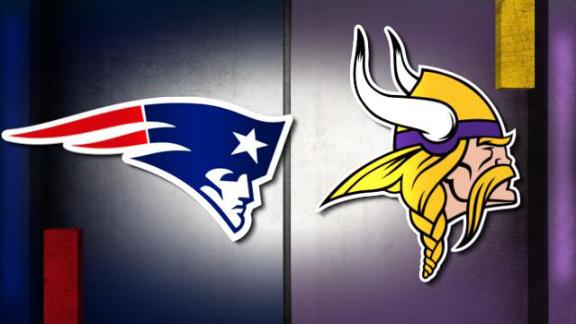 Happy Thanksgiving the Patriots are back playing on Turkey Day for the first time since The Butt Fumble 10 years ago.  Such a glorious night for Patriots fans a decade ago.  Can they create some everlasting memories in 2022?
There are 3 ways this game can go (much like every game) Vikings blowout win, Patriots blowout win, or a close competitive game.
The Minnesota Vikings are 7-0 in games this year decided by 8 points or less.  The Patriots are 2-1 in games with that parameter (both of those wins being against the Jets).  The Vikings only other win was a 16 point victory in Week 1.  Their two losses were bad performances only mustering up 7 and 3 points to the Eagles and Cowboys respectively.
So the reason I bring that up is the 2022 Vikings are a resilient group and do the right things at end of regulation to win a one-score possession game, (seven times).  But when they've gone up against high quality NFC opponents they were beaten badly, (twice).  While it can be debated if the Vikings are as good as their record of 8-2 shows the facts and circumstance of the season weigh in their favor on Thanksgiving night against New England.
A short week on the road for the Patriots after an emotional end of game could lead to a letdown.  Now you have to quickly prepare for a dangerous running back in Dalvin Cook who is top 5 at his position in yards this season and an electric wide receiver Justin Jefferson who is top 5 in receptions and yards.  Bill Belichick does a better job than anyone at taking away with the opponent does best, but when they have two players that can takeover that is a tall task.
Its no secret what the Patriots have to do on Thanksgiving to stay in playoff picture.  And that is get to Kirk Cousins early and often.  The man who has the DPOY title in his sights Matthew Judon should have another excellent game especially because the Vikings most likely will be out their top offensive lineman Christian Darrisaw with a concussion.  In order for the Patriots to slow down the Vikings offense, Judon and Deatrich Wise will need get familiar with Cousins and feast on Thanksgiving night.
As for the the Patriots offense looking to get some kind of consistency going down the stretch they'll face a group of veterans that are still playing at an incredibly high level.
On the line, (which what worries me the most) Za'Darius Smith and Danielle Hunter are "elite, elite, elite football players" as Mac Jones calls them.  He's right as Smith is on pace to set a new career high in sacks which is 13.5.  And Hunter has racked up double digit sacks in 3 of his 4 full seasons played.
CB Patrick Peterson and S Harrison Smith are on the back-nine of their great careers but are still ballhawks in that secondary.  They have 7 of the team's 10 interceptions on the year.  And the man in the middle LB Eric Kendricks can do it all for the Vikings. He can rush the passer, stay home and get the tackle, and even drop back into coverage and pick the ball off as he has nine total interceptions in his career.
BOLD PREDICTION: The starting running backs for both teams (Cook/Stevenson) will both surpass 100 total purpose yards.
GAME PREDICTION: While Mac was steady and had a great completion percentage in the 10-3 win over the Jets, this game against the Vikings will require him to be more of a playmaker and put up a lot of points.  Can he whip the ball around like he did way back in Week 3 against Baltimore without turning the ball over?  That's just something I'm not sold on.  While the Patriots defense is one of the best in the league and I believe will give the Vikings a tough time, New England's offense hasn't showed me they can put together consistent offensive scoring drives.  Not to mention it being a short week on the road.  I don't see a Patriots blowout win in the cards but neither do I see a Vikings blowout win as well.  The Vikings are flawless in close games and for that reason I'm predicting. FINAL SCORE: VIKINGS 20 PATRIOTS 13