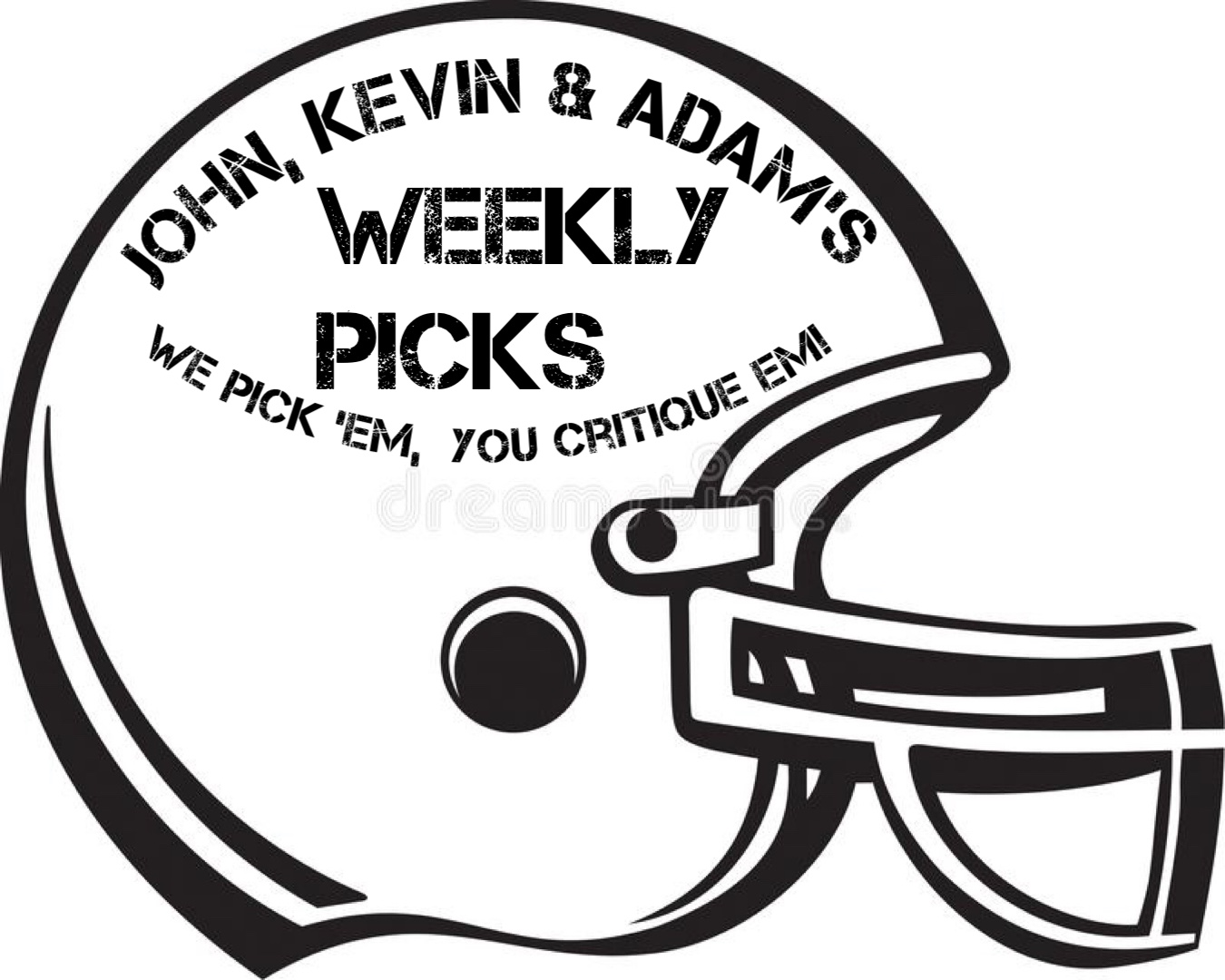 It's Thanksgiving week which means there is plenty of football on us to feast on so without further ado, here are our picks for Thanksgiving and for this weekend.
Patriots at Vikings
John: The Patriots face a stiff test on the road against Minnesota. The Vikings are vulnerable but I don't think the Patriots score enough to win. Give me the Vikes.
Kevin: Pats defense finds a way. 17-10
Adam: Vikings a bit too explosive.
Colleges
Fordham at UNH
John: The Wildcats have been a team on a mission all season long. Fordham will be a stiff test UNH's running game and defense propel them into the second round.
Kevin: Wildcats in a close one. We don't get a Holy Cross-Fordham rematch but we do get one hell of a 2nd round game next week.
Adam: UNH has a little something extra in this one.
Army at UMass
John: The Minutemen defense has been playing well of late and I think they will do a number on this Army Flexbone Option rushing attack. I like UMass to close the season with a much needed win.
Kevin: Minutemen by 3. Don Brown gets some momentum heading into 2023.
Adam: Tough season for UMass, but the Minutemen get this one.
Syracuse at Boston College
John: The Eagles need momentum heading into the off-season. I think they get it with a big win over Bowl bound Syracuse.
Kevin: Eagles get it done for the seniors.
Adam: Syracuse has been the better team this year, but BC finds a way to win.
High School
Xaverian at St. John's Prep
John: One of the best rivalries in the state. It should be a dandy. The Eagles are Super Bowl. This is the Hawks Super Bowl. Give me the X in this one.
Kevin: Prep is rolling right now. Taking the Eagles.
Adam: Prep by a hair.
Wellesley at Needham
John: Arguably the best Thanksgiving rivalry in the state. I like Raiders in this one. It'll be close as usual.
Kevin: Rough time for Needham in this game lately but taking the Rockets at home.
Adam: Wellesley has the stronger team and proves it with a close win.
Swampscott at Marblehead
John: Records go out the win in this one. The Magicians have had a good season and will look to cap it off in style against their rivals. I like Marblehead.
Kevin: Marblehead by a TD.
Adam: Marblehead and Connor Cronin end on the uptick.
Mansfield at Foxboro
John: The 91st edition of this rivalry should be a dandy. Foxboro is a program on the rise but it is Mansfield that brings the Davenport title this year.
Kevin: Mansfield in a shootout.
Adam: Hornets sting their rival here.
Billerica at Chelmsford
John: Both programs have had terrific seasons and I expect this to be a war. I think the Indians might be slightly more explosive. I'm going Billerica.
Kevin: Lived in Billerica for 2 years growing up, can't pick against the Indians on Thanksgiving.
Adam: Billerica beats a very good Chelmsford team.
Attleboro at North Attleboro
John: Red Rocketeers cap off a terrific season with a home win over their long time rival.
Kevin: North wraps up an outstanding year with a win.
Adam: Hard to pick against North, which owns this rivalry.
Franklin at King Philip
John: The War Of 140 is always a battle and with the Kelley-Rex division on the line, this year should be no different. Give me KP in a close one.
Kevin: KP but Taunton could take this one if the Warriors take the foot off the gas lookingtowardsGillette
Adam: KP heads into the state title game with a Kelley-Rex title.
North Quincy at Quincy
John: Last season it was NQ that was in the midst of a good season. This year it's Quincy. Give me the Presidents in what should be another battle.
Kevin: Quincy by 7-10 points.
Adam: An underrated game that North Quincy slips by in.
Westwood at Holliston
John: I expect another battle in this long standing rivalry. Both teams have had solid seasons. Give me the Panthers at home.
Kevin: Holliston is back. Taking the Panthers.
Adam: Westwood pulls off the mild upset.
Lynn Classical at Lynn English
John: Another great Thanksgiving rivalry thst flies under the radar sometimes. Give me the Rams in this one.
Kevin: English in overtime (yes I'm calling OT)
Adam: Classical has been better this season and shows it.
Reading at Stoneham
John: The Spartans will play to win despite being on their way to the Super Bowl. Unfortunately, I don't see James Murphy losing in his final game. Give me the Rockets in this one.
Kevin: Two completely different offenses here. I like Reading but Stoneham could control the clock.
Adam: James Murphy goes out on top.
Wakefield at Melrose
John: Warriors cap off undefeated regular season with a hard fought win over the up and coming Red Raiders
Kevin: Melrose. Don't love it, just a hunch.
Adam: Wakefield keeps the good times going.