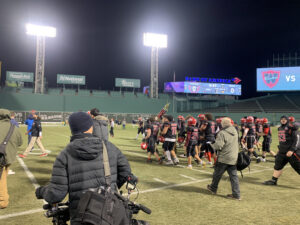 By Ryan Martin
NEFJ Correspondent
BOSTON – Watertown Quarterback Johnny Cacace and Running back Will McHugh couldn't believe they were playing football from historic Fenway Park.
"It was a very special moment. It made you feel humble for a second, then you have to put your head down and play football." Cacace said, with his dad and head coach John Cacace to his side.
"It meant everything. This is a once in a lifetime opportunity," McHugh said.
Fenway, the home of five high school Thanksgiving rivalry games over the last two days, may not have a matchup that represents the stadium's history quite like when Watertown faces their Middlesex League rivals, Belmon. In the centennial game of what's become one of the most storied high school football matchups in Massachusetts, Watertown prevailed in a 21-7 defeat of Belmont, defending last year's 25-0 home shutout of the Marauders.
The win gives Watertown, who finished their season 7-4, an even 50 wins in the series as they still lead 50-45-5. For Belmont, the loss ends their season on a three game skid and completes their season at 4-6.
The start of game two of three from under the Green Monster lights was completely unlike the preceding game, a 34-21 St. Mary's win over Austin Prep. While that game featured 27 points and 14 individual drives in the first quarter, game #100 for Watertown and Belmont saw a feeling out process over the first twelve minutes as the two teams combined for three total drives and zero points.
Finally, after almost seventeen and a half minutes of total play, Cacace took matters into his own hands. The captain, a starter at quarterback and linebacker, scampered in from nine yards out to give the Raiders the 7-0 lead.
In return, Belmont answered with a methodical drive of their own. To end the second quarter, it looked like the Marauders' attempt to tie things up going into half were going to fall just short. With seven seconds left and Belmont not thinking of a field goal in Watertown territory, Junior Quarterback Jayden Arno took off wide towards the left sideline before being hit out of bounds at triple zeros. But while heading out of bounds, Arno was tossed by a Raider defender: that unnecessary roughness gave Watertown an untimed down from their opponent's one yard line.
Arno put the ball into the hands of his starting offensive lineman-turned-running back as captain Asa Rosenmeier's touchdown made it 7-7.
With everything on the line over the final two quarters, both teams returned to the field with a purpose defensively, resulting in three straight three-and-outs to start the 3rd.
Watertown got the ball with minutes left in the 3rd quarter in what turned out to be the game's most important drive. After breaking the trend with two straight first downs, the Raiders were positioned right on the goalline as they made the long walk down to the opposite end zone as the 4th quarter started.
On 3rd and 2, McHugh punched it in from a yard out to make the score 14-7 and end a Watertown scoring drought that lasted over twenty minutes.
"He's one hell of a player," Cacace said of McHugh ecstatically, "He gives us everything, every friday night."
The statement from Cacace was accurate in describing McHugh tonight – The Junior sealed the deal for Watertown with a 55 yard rush followed by an interception late in the 4th quarter.
"I challenged them at halftime to come out tougher and we did" head coach John Cacade said, "14-0 in the second half and we played physical, we ran the ball, just a great second half."
Watertown was able to kneel out the clock in what's always considered the biggest game of the season. For Johnny Cacace, the win was one he won't soon forget for more reasons than one.
"This has been one of the greatest experiences of my life and I'll remember it forever… For the rest of our lives, we can say that our senior year, we played our very last game at Fenway park and we beat Belmont"