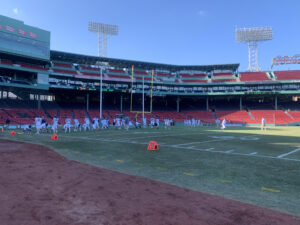 By Ryan Martin
NEFJ Correspondent
BOSTON- Coming off of a one point win against Rockland five days ago in the division six semifinals, St. Mary's high school was feeling fast as they entered their Thanksgiving game against Austin Prep.
After the opening 12 minutes from historic Fenway Park, it was safe to say the Spartans hadn't slowed down. St. Mary's carried a 13-point lead into the first quarter break, an advantage they turned into a 34-21 win over the Cougars.
The win moves St. Mary's to 11-1 ahead of their appearance next Saturday in the Division 6 Super Bowl against Stoneham. Meanwhile, the loss end's Austin Prep's season, who felt growing pains in their inaugural season in the NEPSAC's Evergreen league, finishing 0-10.
On their very first play from scrimmage, senior running back Derick Coulanges took a handoff from sophomore quarterback Tyler Guy and saw a hole, zooming past defenders for a 53 yard gain. While the play would only amount to a St. Mary's turnover-on-downs, the gain set the tone of how the game would be played on St. Mary's end: playing to their environment and finding some big "home run" plays.
"We were trying to break off the big runs at the start," Coulanges said postgame. "I feel like that big play [on the] first play of the game is kind of expected out of me. A couple of times this year, I broke that big play on the first play… I feel like that changes the momentum."
Forcing a Cougars three-and-out on Austin Prep's first drive, St. Mary's got the ball back with 8:09 left in the first quarter and didn't waste time. Over the next minute and forty-one seconds, St. Mary's put their first points on the board via a 15 yard catch-and-run from David Brown Jr., pulled off a surprise onside kick and recovered, and had three successful rushes in a row with the latter being an eight yard score from Coulanges. St. Mary's head coach Sean Driscoll commented on the importance of starting offensive drives with chuck-yardage plays, agreeing with Coulanges' earlier point.
"We want to be able to control the game, control the line of scrimmage. We want to be able to equal the pass game as well. With that said, when you get big plays on first down, it makes your life a little easier."
"Easier" is a great way to put the final three quarters for St. Mary's. The Spartans matched their offensive explosion with defensive intensity, taking away a fumble and four interceptions from Austin Prep, who trotted out a duo of Zachary Hayes and Dylan Sigsbury under center. Joel Meegs, whose red-zone interception sealed the Spartans' win over Rockland, got his hands on another ball and returned it 62 yards the other way for a touchdown. Omri Merryman has interceptions two and three in the second half for St. Mary's.
For Austin Prep, sophomore Troy Varoudakis played a big role: his two touchdowns were the only scoring by the Cougars until a 65 yard touchdown by senior captain Lee Poulin on the game's final play.