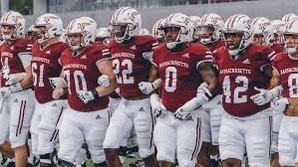 Image courtesy of UMass Athletics
Well UMass fans, it's been a long, strange road for the first year of the second Don Brown era.
Expectations were high – probably too high – to start the season and while there's been progress made, the results on the scoreboard and subsequently in the win column haven't been great. Still, with clear steps forward compared to recent seasons, this slow build is coming along. Whether fans want to believe it or not, there is some light at the end of the tunnel for those that support the program.
On Monday, Brown held his final regular season weekly media availability and touched on a number of things as the Minutemen prepare for Senior Day and the season finale against a tough Army team. Here's what stood out from the half hour-ish Zoom conference…
ON IMPROVEMENTS HE'S SEEN
"It's been challenging (the last few weeks) to say the least. We go to Arkansas, a week later we're off to Texas and obviously that was a challenging stretch. I was really impressed the way our guys handled – especially the second week – because there were some challenging things that were going on during that travel process. It's nice to see our guys – I'm not saying we're perfect now – but it's nice to see them compete in a game situation on a Saturday afternoon and be close to the game team that practices and competes and does all those things at a pretty high level during the practice week. We're getting a bit closer, a little more comfortable. I really think the guys are…they're more direct. Their effort level..they're competing at a high level and we're really executing at a high level and when you can do that, that helps."
ON IMPORTANCE OF SENIOR DAY EVEN THOUGH HE'S ONLY COACHED THIS GROUP FOR ONE YEAR
"You want them to have a great experience, you want them to have a great day, you want them to go out on a winning note. Those are the things you feel really good about. This has been a really fun group to coach. I know you guys may say 'oh he's just saying that,' but I'm not just saying it. This has been an excellent group of young men to coach. They've worked hard every day. I haven't had to push them one day to go out and compete and get better. If you look over the last six or seven weeks, obviously there's a gigantic amount of improvement. It hasn't reflected in the box score but we're definitely making strides. We're going to miss some of these guys for sure."
ON DEFENSE AND OFFENSE IMPROVING NATIONAL STATISTICAL RANKINGS 
"You don't play the game for stats, but analytics are important. It's important to find out what your strengths are, what your weaknesses are and try to get better and improve on your weaknesses and maintain a high level in the areas where you're doing well. I think obviously we've done a good job on third down. No question about that. I think it was four-for-12 last week, 0-for-12 the week before, so those are good numbers. You feel good about your preparation and it's also fun because we're creating some havoc. Our havoc rate is high…I think the guys, when we're in third down they're all hooting and hollering. They know it's a big down and we're playing at a high level. In the pass game in general, I think we're 19th, somewhere around there. Total, last year we were 126th, now we're 50-something. Obviously, there's improvements being made in certain areas. Offensively, we've run the ball really well at times. Possession on the clock usually helps us defensively to stay in the game because we're sharing the game, we're not just playing the game. There's some good things going on and that's what I'm looking at."
ON THE IMPORTANCE OF GETTING A WIN SATURDAY TO BUILD POSITIVE MOMENTUM HEADING INTO THE OFFSEASON
"It's really big. Obviously, to be able to go into the winter period, recruiting period and all those things are kind of important. We're preparing hard as coaches. I know what I'm going to get from the players. We'll start our preparation (Monday afternoon) so, this is a big one. It'd be nice to leave McGuirk with a W for sure."
ON IF HE AND THE STAFF WILL ATTEND MIAA SUPER BOWLS AT GILLETTE STADIUM
"That's the plan. I don't know if you know, but there's a dead period now from November 28th through December 4th I believe where we're not allowed off-campus by the NCAA. I'm not really sure why, but it is what it is. That'll make it a little more difficult because we can't get into the schools and they can't come to us. Looking forward to the following week when we can get into the high schools and get visiting our prospects and so forth, for sure."