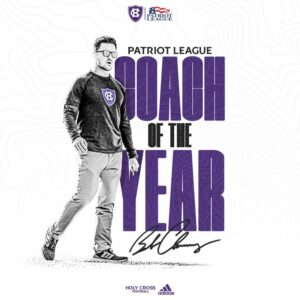 Image courtesy of @HCrossFB
The list continues to grow.
Holy Cross has racked up awards and national recognition all year long, but on Tuesday the list grew exponentially as Bob Chesney and the rest of the program enjoy a well-earned bye week before hosting a second round FCS playoff game at Fitton Field on December 3.
The team earned a ridiculous 18 All-Patriot League selections for the 2022 season while Chesney was named the Dick Biddle Patriot League Coach of the Year. Chesney also won the award in 2019 and 2021. In his time in Worcester, Chesney has gone 36-16, including an 11-0 season this year, the first unbeaten campaign for Holy Cross since 1991.
The Crusaders had 14 first team honorees and four other players selected as second-teamers. On offense, junior quarterback Matthew Sluka, senior running back Peter Oliver, junior wide receiver Jalen Coker, senior offensive lineman C.J. Hanson, junior offensive lineman Luke Newman, senior offensive lineman Nick Olsofka, junior offensive lineman Eric Schon, senior placekicker Derek Ng and sophomore Swiss army knife Justin Shorter were named to the All-Patriot League's first team.
On defense, senior defensive lineman Dan Kuznetsov, senior linebacker Liam Anderson and senior defensive back John Smith were named to the second team. Senior defensive back Devin Haskins – who had four blocked punts this season  and has become Mr. Special Teams for the Crusaders – was named to the first team as both a defensive back and a special teams non-specialist.
In what has truly been a memorable year for the program, the long list of awards are just a small bit of recognition for a team that has completely re-written the record book in Worcester. No matter where things finish during this postseason run – whether it's a national title or a game or two short – what this program has accomplished has not only put Holy Cross on the map, but it's helped elevate attention for all of college football in New England.