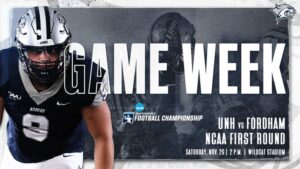 Image courtesy of UNH_Football
After winning a thriller over rival Maine to lock up a share of the CAA title, UNH will host a first round FCS playoff game against Fordham this Saturday.
On Monday, head coach Ricky Santos spoke about the victory over the Black Bears and getting ready for a tough matchup against the Rams. The winner of that game gets a date with the No. 8 seed Holy Cross on December 3 at noon in Worcester.
"I think it's going to go down as an all-time classic UNH-Maine football game," Santos said of the Maine victory. "We know going into it their record wasn't indicative of how good of a football team that was. I said that multiple times throughout the week and truly meant that. Obviously, that showed on Saturday. You've got to give coach Stevens credit. I thought those guys battled. I thought it was an incredible game plan by their offensive staff, just how they got us on unbalanced formations, motions, trick plays, just everything they did to give us some angst defensively.
"We squandered two 14-point leads. We felt like we had the game under control a couple different times and those guys kept coming, kept fighting, kept clawing their way back…I was so proud we were able to get a couple key stops…they have that last play, double lateral throwback, guy gets absolutely crushed. I think it was a great call by Jordan to go for it…it was just anarchy on the field. Just so happy for our young men, they're going to have that memory for the rest of their lives."
Santos was asked if the last couple of weeks provide momentum for the Wildcats or if he needs to kind of re-focus guys to get dialed back in for the task ahead.
"Little bit of both," he responded. "I think it shows the cardiac Cats' can get it done in any manner, but also in the same light, that was such an emotional win, I'm sure the guys had a lot of fun on Saturday night. We've got to kind of reel it back in. Everyone's patting you on the back telling you how good you are and how good of a job you did. I'm sure that feels well, but at the end of the day, we're in the playoffs now.
"Every single team we're playing right now can beat us and that's the hard truth. It's win or go home and it's time for us to show up, buckle down and get back to work starting with an incredible Fordham team."
That Fordham team is very, very good. The Rams nearly won the Patriot League a few weeks ago before losing on a two-point conversion to Holy Cross in overtime. The Rams undoubtedly would love a rematch against their rivals and the Wildcats know they've got a very hungry team coming to Durham.
Perhaps more importantly, Santos will see some familiar faces that would love to beat an old friend if possible.
"First, I think they're extremely well coached," Santos said. "Coach (Joe) Conlin is a close friend in the coaching profession. He was on the New Hampshire staff when I was a student athlete. So, he's under the Coach McDonnell lineage. He's tough, hard-nosed, disciplined, his guys are going to fly around. They're going to physical. He prides himself on being the most aggressive and physical team out there, I know that for a fact.
"Then, their OC Kevin Decker, that's my guy. We were student athletes together for a couple years and just what he's done with his career early on, he's tremendous. He has great vision in what he does, calls great games and obviously, you look at the prolific, video-game type numbers they're putting up…they're averaging 50 points a game, 600 yards. They're No. 2 in the country in scoring, No. 1 in total offense, No. 1 in first downs…not only are they playing fast, scoring a lot of points, but they're taking care of the football. They're averaging over 50% on third down conversion, so they're getting it done on money downs, in critical situations. I don't see many weaknesses on that side of the ball. For us, we've got to do a great job establishing a ground game, take the air out of the ball, and find a way ugly."
Santos has had plenty of experience playing in the postseason as a member of the UNH program and hopes he can bestow some of that knowledge of what things will be like on his players.
"I think so," he added. "I kind of told the guys, I've been a part of this as a student athlete and a coach when we were No. 1 in the country and potentially could have been front runners to win a national championship and ultimately get that done. I've been a part of it when we were the last team to get in and then won two or three games where we shocked people by beating some teams on paper that were better than us.
"I think the message is you finished as a top 24 team in the country out of 130 FCS teams, so like, it's a privilege to be here, but in the same light, everybody is good enough to beat you. I don't care what conference you come from, what the strength of schedule was, these are some elite, elite football teams that are left playing and we need to treat it that way. We have to have our best week of preparation, we have to go into this thing with everything we have. Details win championships and your mistakes are magnified. It's win or go home right now. When the stakes are this high, your best football has to come out."