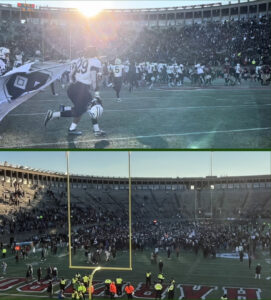 CAMBRIDGE – The intensity and uneasiness in the air could be felt as early as 8:30 Saturday morning as tailgaters began loading coolers and bags into mini carts to take them around to various tailgates near Harvard Stadium.
The 138th playing of The Game had huge Ivy League title implications and you could cut the tension with a knife all morning. When the rest of Harvard's squad took the field to join other teammates in pregame warmups about 45 minutes from game time, A Yale player made it a point to bump them and talk trash before being whisked away by a referee and assistant coach.
The trash talking ensued during the coin toss as both teams lined up at midfield, barking (literally and figuratively) at each other as referees and assistants held more players back.
In front of 30,006 fans, The Game lived up to its must-attend-at-least-once reputation yet again, as Yale made a last-minute stop to preserve a 19-14 win before those supporting the Bulldogs stormed the field. The victory also clinched the outright Ivy League title for Yale after Penn stunned Princeton late. The Bulldogs finish atop the standings at 8-2 overall and 6-1 in the league.
"It's pretty amazing to have this atmosphere which is so unique to the Ivy League," Yale head coach Tony Reno said postgame. "This was one of those heavyweight battles. It came down to the last few punches and we were very fortunate that we were able to throw the last one and then finish it off. Really proud of my team. We spend a lot of time on relationships…this senior class has done an amazing job of really putting themselves last and teammates first in everything they've done, really since last November.
"When we met, we said our goal was to be an elite team. We accomplished it, we're an elite football team…this is our third championship in five years and we take a lot of pride in that."
As for the pregame shenanigans that added to the atmosphere, Yale captain Nick Gargiulo was asked how hard it is to not get caught up in everything going on.
"It's something we take really serious, that we follow kind of a steady mindset," he said. "It's something we've practiced for a long time, so for us to keep our emotions in check was relatively easy."
Harvard (6-4, 4-3) had taken its first lead of the game at 14-13 with 13:36 to play in the fourth quarter when Charlie Dean (15-33, 2 TD, 4 INT) hit Tyler Neville in the back right corner of the end zone from 24 yards out. The Bulldogs took over at the Yale 25 and 13 plays later, Nolan Grooms (15-28, 144, 1 TD) found Jackson Hawes crossing across the middle of the end zone with 6:29 remaining. The two-point attempt was no good, leaving the score at 19-14.
After trading punts, Harvard took over at the 50 with 3:21 to play, but turned it over on downs with 1:57 on the clock after a Dean scramble on fourth and seven from the Yale 47 came up just short. The defense got the ball back one more time and after a long completion on first down, Dean had Harvard 42 yards away from a game-winning score, but with 42 seconds left he was pressured on second down and flung a ball behind his back without looking that was intercepted by Hamilton Moore, setting off a wild celebration in the stands and on the sideline.
A kneel down later, Yale players streamed off the bench and directly onto the giant 'H' at midfield, some jumping up and down on it, others hugging and embracing teammates. Seconds later, fans began to pour over the cement walls of Harvard Stadium and onto the field to celebrate the historic win.
"As I told the team in the locker room, in any endeavor, anything you do in life, you give absolutely everything you have and have no regrets. The problem is, it doesn't make (losing) any less miserable," said Harvard head coach Tm Murphy. "It was a hard-fought game, both defenses played at an extremely high level. Stating the obvious, they just made a play or two more than we did."
Harvard had to punt on the first possession of the game, but on Yale's first offensive poseesion captain Truman Jones had a strip sack and Matt Hudson recovered. The teams traded punts until Dean was picked off in the end zone by Moore. A punt each followed again until Yale got on the board first with just three seconds left in the first quarter on a one yard TD run by Tre Preston.
After trading punts yet again, Harvard knotted things up at 7-7 with 10:26 left in the second when Scott Woods II took a wide receiver screen 65 yards to the house. Three more punts followed (sensing a theme here?) before the Crimson started another drive at the Harvard 34. Five plays later, Da'Quan Gonzales picked off Dean. Yale used the rest of the quarter for an 11-play drive that ended with Jack Bosman hitting a 20 yard field goal for the slim 10-7 halftime lead.
The Bulldogs opened up the third with another drive that ended in a Bosman 41 yard field goal. Dean was picked off again by Sean Guyton, but that drive ended in a missed field goal for Yale. After another Harvard punt, Bosman missed another field goal – this time thanks to the wind – and Harvard took over still down just 13-7 with 1:25 left in the third, setting up the touchdown to Neville and the memorable finish.
"I'm incredibly proud of the team," added Gargiulo. "Proud of my senior class. I think we set out to accomplish this goal and we've worked at it the past 12 months. Incredibly fortunate to be in this situation we made plays when we had to. I'm proud of the team."