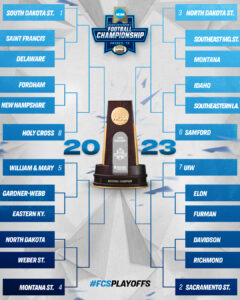 Image courtesy of NCAA_FCS
After finishing off the first undefeated season for the program since 1991 on Sunday, Holy Cross learned it will be the No. 8 seed in the FCS playoffs during the ESPn selection show on Sunday.
The Crusaders will be off next weekend before hosting a playoff game for just the second time in school history the first weekend of December. Last year, the Crusaders hosted a playoff game for the first time ever at Fitton Field and stunned Sacred Heart with a last-minute touchdown. This year, it's felt like Holy Cross has been building towards something special and this seed allows for at least one, maybe two more special memories to be created in Worcester during a year that's been full of them.
Meanwhile, the co-CAA champ New Hampshire found out it will be hosting a playoff game Thanksgiving weekend when Fordham comes to Durham. Fordham was the only other competitive team with Holy Cross in the Patriot League this season and presents quite a tough challenge for Ricky Santos' team.
The winner of that game gets the unenviable task of heading to Fitton Field on December 3 for a noon kick off with the Crusaders. From a Holy Cross perspective, the draw is an absolutely brutal one. Bob Chesney and co. will either see their rivals again in a rematch of the epic classic a few weeks ago, or a very tough Wildcats' team that will not be an easy out.
It should be a phenomenal few weeks of football and there may be quite a local flare if things work out the right way. There is nothing quite like the 24-team FCS postseason.