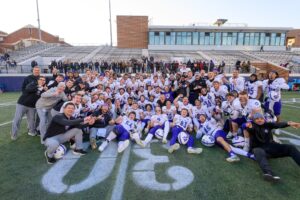 Image courtesy of Holy Cross Athletics
All year long, Holy Cross head coach Bob Chesney was always looking forward, never back.
The Crusaders followed their coach week in and week out, quickly turning the page after each win. On Saturday afternoon, Holy Cross could finally stop to smell the roses a bit before the second season begins thanks to a 47-10 beatdown of Georgetown.
The No. 6 Crusaders finish the regular season 11-0 for the first time in 31 years and most likely locked up a bye in the FCS postseason. Holy Cross will officially learn its playoff fate on Sunday during the NCAA FCS Selection Show, but the boys in purple should be staying at Fitton Field for a while.
"Throughout the week, did we want to talk about it, did we not want to talk about it? How do you go about it?" Chesney said with his family by his side postgame. "Our guys just do such a good job. They're so mature and they're so professional in everything they're doing. It takes a whole village to be able to do this. Families are standing in this street over here and no one wants to leave. They're just excited and proud of what we've been able to accomplish."
This one was never in doubt as the Crusaders built a 34-10 halftime lead.
Early in the first Jordan Fuller rumbled in for a two yard TD. Matt Sluka (12-15, 303, 3 TD – 10 carries, 77 yards) continued making a case for the Walter Payton award and hit Tyler Purdy from 25 yards out for an early 14-0 lead. Georgetown got on the board with 1:21 left in the first on a five yard hookup between Josh Thomas and Pierce Holley, but it was all Holy Cross in the second.
Ayir Asante (3-137-1 TD) hauled in a 42 yard TD from Sluka less than two minutes into the quarter to push the lead to 20-7 after a missed PAT. Fuller chipped in again – this time with a five yard touchdown run – to make it 27-7 with 8:09 to go in the half. The Hoyas kicked a late field goal to cut it to 27-10, but Fuller added another short TD run in the final 30 seconds for the 24-point halftime lead.
Sluka continued his aerial assault less than three minutes into the third when he found Spencer Gilliam from 48 yards out. That score would ultimately be the only one of the third quarter. Late in the fourth with the unbeaten season well in hand, Jordan Forrest capped things off with a two yard touchdown run.
Enjoy Thanksgiving Crusaders fans. Holy Cross will almost certainly have the weekend off while the FCS playoffs get started. The first weekend in December (you've got to think 12/3 at noon) will be the next time this incredible team takes the field looking to start another winning streak all over again as the chase for a national championship begins.
"It's very, very hard to do that," Chesney added on the unbeaten season and a little bit more history created by this remarkable program. "All of my family, all of your families back at home and everyone that's part of this special program…hopefully we made everyone proud.
"11-0, but we'll go right back to work tomorrow, figure out what our future holds and we're hoping for the best."