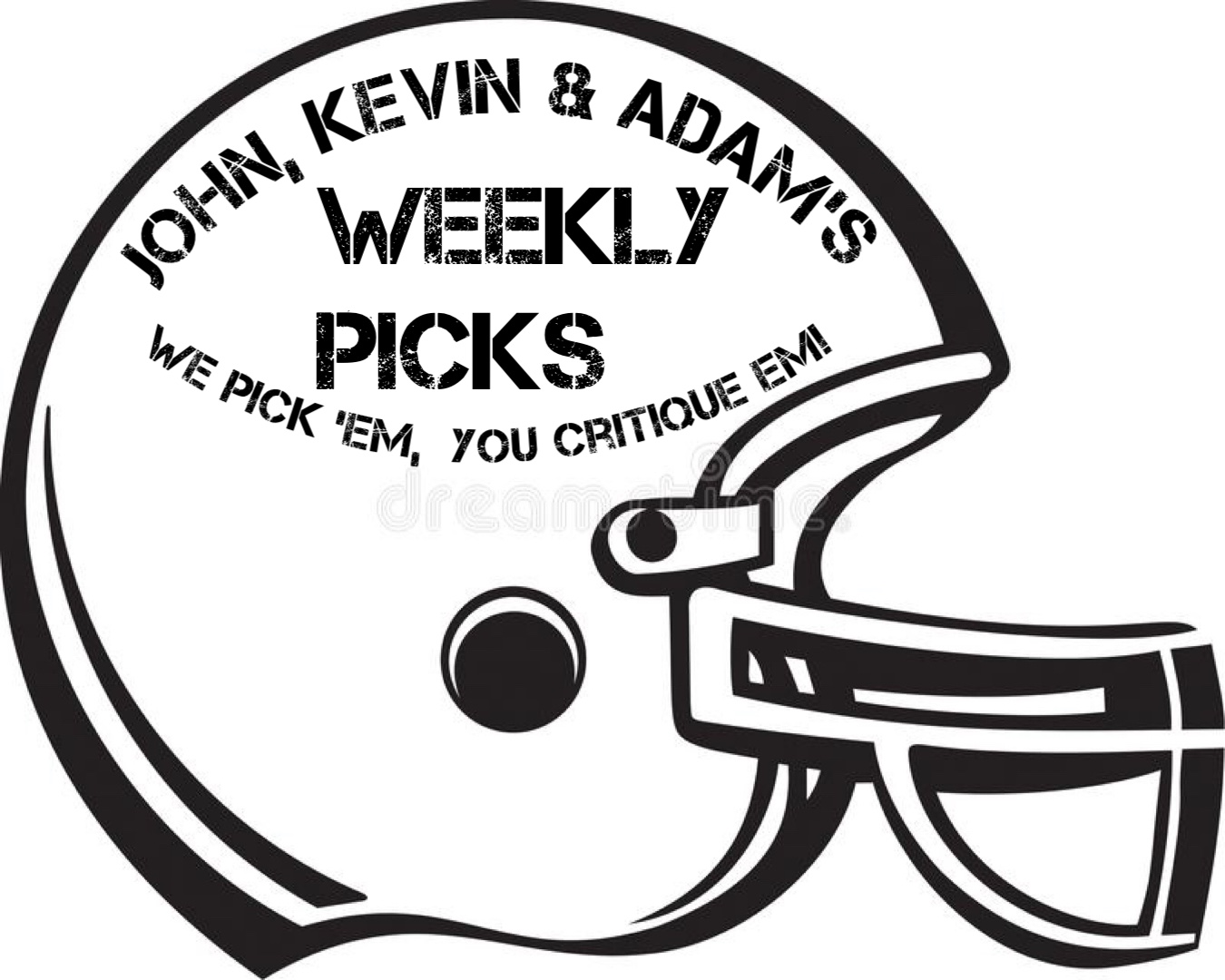 its Week 11 in the football world. There are championship games and playoff games this weekend in high school football. College football is winding down with some big rivalry games and finally, the Patriots are back off a bye this weekend when they host the Jets.
Here are our picks for this weekend.
Jets at Patriots 
John: The Patriots domination of the Jets continues. Both teams have had two weeks to prepare but ultimately, it will be the Patriots who emerge victorious.
Kevin: I think (hope) this team is different coming out of the bye than it was last year. Taking the Pats by 10 but I think the Jets keep it close. In fairness, New York probably should've been up by two touchdowns at halftime a few weeks ago.
Adam: The thought here is that the bye week came right on time for the Pats, who win.
College
Yale at Harvard 
John: It is the 138th meeting between these storied rivals and it should be a dandy. I'm struggling with this one because there is so much at stake. I'm going Harvard in a close one.
Kevin: I root for chaos, taking Harvard (and Penn) for a historic Ivy League finish.
Adam: The better team does not always win this. Harvard in the upset.
UNH at Maine
John: UNH gets redemption after last year's game and brings the Brice-Cowell Musket home with them.
Kevin: Wildcats aren't going to let this opportunity slip by. UNH wins going away and eventually gets an FCS playoff berth during the selection show on Sunday.
Adam: The Wildcats gain a measure of revenge.
Boston College at Notre Dame
John: This game still matters around here. I don't care what anyone says. Eagles play tough but ultimately they fall just short.
Kevin:Why not at this point, give me the Eagles on a last second Connor Lytton field goal reminiscent os 1993's finish. In all seriousness, I do think BC keeps it close and eventually finds a way, it feels like Notre Dame may over look this one just enough with USC looming next Saturday.
Adam: BC has been playing better, but Notre Dame a little too strong here.
UConn at Army
John: Huskies are rolling and I don't see that changing. Expect a low scoring affair between two ground and pound teams. Huskies win by a touchdown.
Kevin: UConn caps a remarkable regular season with a win here. Might be like 9-6 (seriously) but the Huskies get it done and Mora locks up National Coach of the Year.
Adam: UConn continues the positive vibes and wins again.
St. Francis at Merrimack
John: The defacto NEC title game goes to Merrimack in what should be a terrific game. Expect a high scoring affair.
Kevin: No doubt in my mind Merrimack gets it done at home and there's a massive celebration at Duane Stadium. Program has earned the right to call itself champs and they get the opportunity Saturday afternoon. Should be an FCS playoff game waiting for them too, but that's another story for another day.
Adam: Who needs a postseason? Merrimack continues its strong year.
High School
Springfield Central vs. Methuen
John: Methuen can make this a game for a half but Springfield is virtually impossible to stop for four quarters. Central goes back to Gillette for a fourth straight year with the win.
Kevin: There isn't a team in the state that can slow down the SC offense enough to beat them. Golden Eagles get back to Gillette again.
Adam: Springfield Central just too potent on offense.
Central Catholic vs. St. John's Prep
John: Central Catholic has had Prep's number in recent years but that comes to an end this year. I think Prep is as talented as any team in the state and will win a close one.
Kevin: Prep owes CC after last year's blowout loss in the same stadium and the same game, Prep heads back to Gillette with a close victory.
Adam: You just get the feeling that the Prep is on too much of a roll here.
Catholic Memorial vs. Milford
John: Man, this is a tough call. I think Milford will give CM everything they can handle but the big play element is what makes the Knights so tough.
Kevin: Scarlet Hawks pull the upset in a low-scoring affair. This one finishes in the teens or low 20's, Milford wins on a late field goal.
Adam: Would love to call the upset, but CM a bit too strong here.
King Philip vs. Bishop Feehan
John :King Philip invented the modern ground and pound style in Massachusetts. Warriors win a 14-10 type of game.
Kevin: Feehan gets it done on defense in a low-scoring affair.
Adam: King Philip stops Feehan's reign of terror in D2.
Milton vs. Hanover
John: Milton was my preseason D3 pick and I think they find a way to outlast a good Hanover team.
Kevin: Wildcats were the No. 1 seed for a reason, they've answered every test so far and do the same in this one too.
Adam: Milton just has been playing at such a high level all year. The Wildcats win.
North Attleboro vs. Wakefield
John: North is running over people , outsciting OA and Billerica 90-6 in the first two playoff games. Look for them to win a hard fought game and get back to Gillette for the second straight year.
Kevin: Wakefield continues its remarkable season with a close win over NA.
Adam: North Attleboro seems destined for a trip to Gillette and wins.
Duxbury vs. Holliston
John: This is a Super Bowl worthy match up but I'm going with the Dragons in what should be a good game.
Kevin: Holliston is back to being Holliston. Tough to stop Matt Festa, but I think the Panthers get the upset in a shootout.
Adam: Duxbury and quarterback Matt Festa keep the good times going.
Grafton vs. Foxborough
John: Grafton has had a good run but Foxboro's defense will be the best unit they've  all season. Warriors surprise many and get to Gillette with a young team.
Kevin: Warriors came up just short of Gillette last season, they get it done this time, but Grafton isn't going to make this easy.
Adam: Grafton gets past the round the Gators could not a year ago.
Dover-Sherborn vs. Shawsheen Valley Tech
John: Shawsheen finds a way to score enough points to beat a talent DS team.
Kevin: DS keeps this run going and upsets Shawsheen in a battle of unbeatens.
Adam: Shawsheen takes this battle of unbeatens.
North Reading vs. Bishop Fenwick
John: Hornets were my pick at the beginning of the season in D5. Thry get it done against a tough Fenwick team and win a close game.
Kevin: North Reading offense continues its march to Gillette with another big performance.
Adam: North Reading takes this high-scoring affair.
Stoneham vs. Cardinal Spellman
John: Hard to pick against Bob Almeida's Spartans. They can run the ball with the best of them and they will in this one.
Kevin: Stoneham's ground game is just too much to handle. Spartans head back to Gillette.
Adam: Stoneham and the vaunted double-wing win here.
Rockland vs. St. Mary's
John: Rockland has just a little bit more in this one and squeaks past a good St. Mary's team.
Kevin: Complete toss up for me. Taking Rockland here but could see it going either way.
Adam: Very good game here, but Rockland books a trip back to Gillette.
West Boylston vs. Amesbury
John: West Boylston wins a slobber knocker by being the more physical team.
Kevin: West Boylston shows why it was seeded first in D7 with a comfortable victory.
Adam: Two great rushing attacks here, and West Boylston takes it.
Cohasset vs. St. Bernard's
John: Will Baker and company will find a way to survive and make a return trip to Gillette to defend their title.
Kevin: Both these teams can score but I think it's a defensive struggle. Cohasset by three.
Adam: Cohasset has been on a mission this season, and slips past St. Bernard's in a close game.
Hull vs. Old Colony
John: Hull was my preseason pick in D8 and I'm sticking with them. Too much talent for the Pirates.
Kevin: Outscored opponents 82-7 in two playoff games for Hull. That's a team on a mission, taking them in this one.
Adam: Hull has been the favorite from the beginning, and the Pirates keep winning here.
KIPP Academy vs. Oxford
John: Oxford finds a way to grind out a win against a gutsy KIPP team that has exceeded expectations.
Kevin: KIPP's had a wild run as a .500 team and the No. 7 seed, but it ends against second-seeded Oxford.
Adam: Two good teams here, but I like Oxford in a close one.