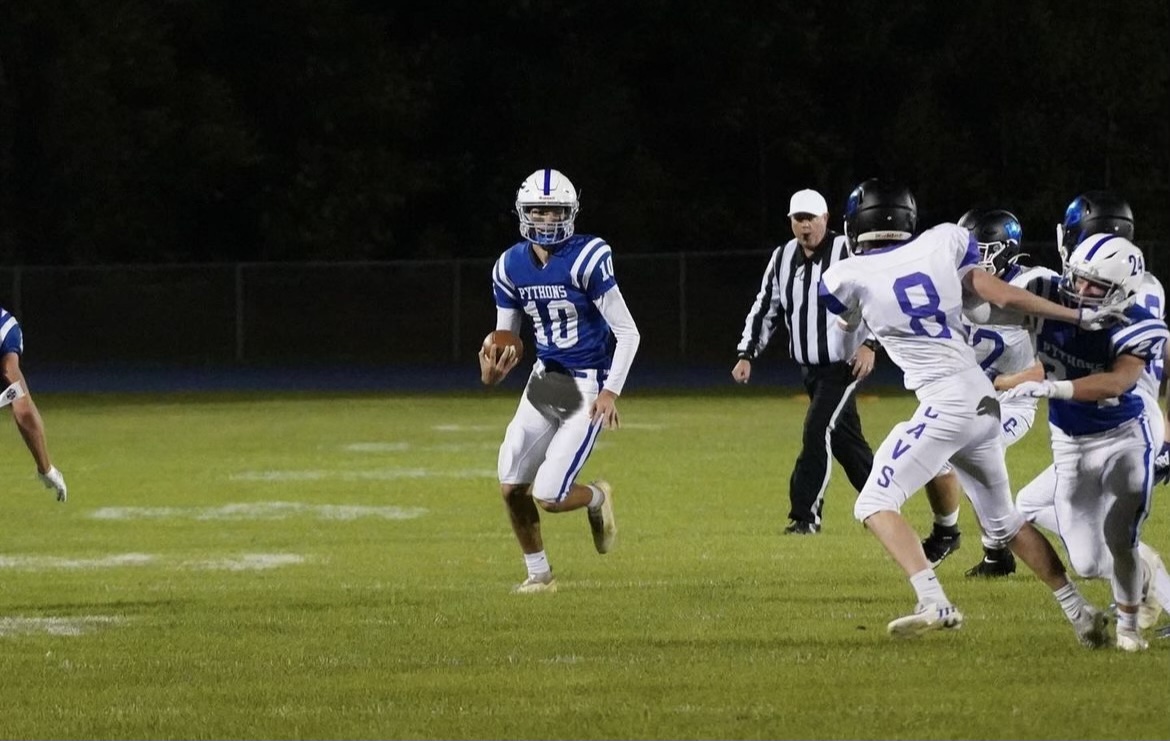 We have two weeks left of New Hampshire football and it's going to be an amazing two weeks.
Division Four 
Saturday November 12th 2022,
Newport vs Somersworth
Somersworth won the division four state championship 14-6 over Newport in Laconia.
Division Three
Saturday November 12th 2022,
Trinity vs Campbell
Although people said all year that Trinity was the title favorite in division three Campbell came out and showed them how good they were. Campbell won 16-14 behind a huge game from Scott Hershberger. 
Division Two
Saturday November 19th 2022,
At Bedford High School Kickoff 1 pm
2. Pelham vs 4. Souhegan
These teams met in the regular season and it might have been the best game in the regular season throughout the whole state. Pelham won that matchup 28-21 with a very late game touchdown by Jake Travis. This quarterback matchup features two of the best quarterbacks if not the best two in division two. (Romy Jain Souhegan Jake Travis Pelham) Both of these teams have amazing running backs in Pelham's two headed monster Alex Carroll and Ethan Demmons Souhegan has JJ Bright who might be the best running back in division two. Souhegan beat the number one seed Gilford-Belmont in the semifinals 29-28 and Pelham beat Bow 28-7. Souhegan is a pass first team especially this week with the defensive linemen on the other side. Jain has thrown for 302 yards in the playoffs and his favorite target has been Madux McGrath with 173 receiving yards. Pelham's Travis has thrown for 181 yards in the playoffs and his go to target is Jake Cawthron with 130 receiving yards. Souhegan is not scared to run the ball to star running back JJ Bright who has rushed for 373 in the playoffs but the first time he played Pelham he could not get the rushing attack going. Pelham's fullback Ethan Demmons has had a great postseason this far by rushing for 149 yards in the playoffs.Both of these defenses had great years. One last point on this game I have crazy respect for both of these head coaches and I believe they are the best two coaches in division two. 
Division One Semi finals
4. Pinkerton at 1. Londonderry
Pinkerton will take a ride to their rivals Londonderry to play the Lancers. This might be the biggest rivalry in New Hampshire. In their first meeting all the way back in September Londonderry beat Pinkerton 31-6. Both teams are very different teams from two months ago and this game is going to be a good one. Pinkerton's two headed monster has carried them to where they are right now Jacob Albert and Cole Yennaco who beat Spaulding in round one 35-20 and then Bishop Guertin 14-12 in the quarterfinals. Londonderry is led by Senior quarterback captain Drew Heenan who helped Londonderry beat Merrimack in the quarterfinals 21-7. I believe whoever wins this game has the best chance at winning the division one state championship. 
Bedford at 6. Timberlane
Bedford will get on a bus for the third week in a row this time to travel to Timberlane. Bedford has pulled off two crazy upsets 28-0 over Windham and 7-0 over Nashua North who was undefeated. Timberlane beat Concord 20-14 and then Exeter in an instant classic game 29-28. Bedfords defense has not allowed anyone to score on them since the regular season. Timberlanes offense has kept them in these games led by quarterback Dom Coppeta who has thrown for 246 yards in the playoffs. Bedfords Colby Snow has had a great postseason and has led Bedford to this point along with Danny Black who has thrown for 190 yards in the playoffs (most of those yards are to Snow). The winner of this game will face the winner of Pinkerton vs Londonderry on Saturday November 26th at Exeter High School.