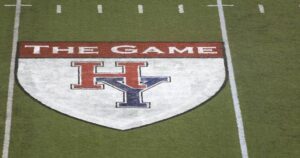 Image courtesy of Harvard Athletics
Speaking with Bernie Corbett on the 'Inside Harvard Football 2022' podcast this week, Harvard head coach Tim Murphy said he's never been prouder of a team than he was of this one following an upset on the road against Penn last weekend.
The victory created some final weekend chaos in the Ivy League, which the Crimson are very much a part of when it comes to crowning a league champion. Yale is as well, which makes the 138th edition of 'The Game' on Saturday that much more meaningful.
"I told the kids right after the game I've rarely been as proud of a team as I've been of this group," Murphy said. It wasn't just the victory over previously unbeaten Penn, it was the way his team has continued to handle a roller coaster season.
"We've had our challenges this year," Murphy continued. "No question about it, especially coming off a really, really, extraordinarily gut-wrenching loss the week before by one point when we had many opportunities to win the game. Our kids…I challenged them. Offense, defense, special teams, they played with tremendous grit and resiliency and dominated from the very first to the last drive of the game. Really happy with that, any time you can finish 5-0 on the road, you know you've got really high character kids."
Now, the Crimson hope to finish on the ultimate high note with a win in The Game. The scenario in which the Ivy League title could end in a historic four-way tie is simple. If Penn beats Princeton and Harvard beats Yale, each team would finish at 5-2 in Ivy League play with various head-to-head wins against each other. Princeton can win it outright if Harvard wins and the Tigers win, and a Penn win coupled with a Bulldogs victory would mean Yale and Princeton share the title.
All that really means right now is that there will be plenty of scoreboard watching amongst the 40,000+ that will be in Harvard Stadium on a brisk fall afternoon, adding even more intrigue and uneasiness. That's something Murphy believes this team is ready to handle, embracing the pressure of it all.
"We've been far from perfect, starting with the head coach, but we've battled every single game," said Murphy. "Any team that's still in the unit for an Ivy League championship in the Harvard-Yale game and any team that goes 5-0 on the road, is a tough, gritty, high-character football team."
Murphy reminisced about a previous season during his tenure where a similar situation unfolded and chaos ensued. Will it happen again this weekend?
"I forget what year it was (2015), but we were going down to Yale, and Princeton had an easy game so to speak against Dartmouth at the time in the final game, so we knew we had no control over our own destiny," Murphy explained. "We go down and have a terrific win at Yale and everybody in the world if you're a bettor for gods sakes, or if you know anything about football, knew that Princeton was going to win the Ivy championship. I remember being stuck in traffic in beautiful downtown New Haven trying to get out after a good win and everybody's pretty composed, it's a great feeling to win not even considering an Ivy League championship.
"Tyler Hamilton who now works at the Cleveland Browns came up and tapped me on the shoulder – one of my tight ends – 'hey coach Murph, Dartmouth's got the ball, they're behind with four minutes to go, but if they score they win the game,' I said 'what's the weather?' and he said it was a blizzard out there right now (up in New Hampshire) I said 'get out of here I don't want to hear it.' He comes back about three minutes later and says 'coach, Dartmouth's on the goal line,' sure enough, Dartmouth beats them and we had three busses worth of kids that just went nuts. They're signing the fight song in downtown New Haven. It was just one of the great memories of being fortunate enough and of course I thanked coach Stevens in a vigorous way when we got together around Thanksgiving."
It's those types of memories that can be made again on Saturday, but Murphy knows it will be the antithesis of easy.
"I don't think there's any question, they key to victory is we've got to get off the field defensively," Murphy added. "This is a team that right now, had a historic thing going with three of the top four rushers in the Ivy League. They're certainly not a simple option team, they've done a great job possessing the ball. They've been able to play simple defense and when you consider that this team is No. 1 in offense, No. 1 in rushing offense, No. 1 in defense, No. 1 in scoring defense, we played a really good Penn team, a Penn team that did beat Yale, but this is definitely a different team when you watch them on film.
"They're probably the biggest Yale team we've ever seen. I think there's six guys over 300lbs. on the offensive and defensive line. This is the Ivy League. This is where we are in Division 1 football now. Our kids will be ready, they'll be excited and expect the unexpected."