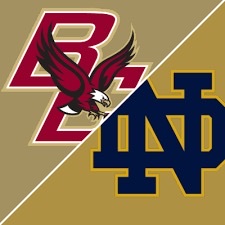 Image courtesy of ESPN
Kickoff: It's hard to say you're playing with "house money" when you're 3-7 and have had an extremely disappointing season, but BC sort of is in a no-lose spot here. The Eagles head to South Bend this weekend to face No. 18 Notre Dame with very little expectations. Not only is BC dealing with a team-wide flu, but after beating No. 16 NC State for the program's first ranked win since 2014, aside from a complete blowout, BC fans will probably just be happy with a competitive game.
First down: Having said that, if we get a Florida State type game, well then we're right back to square one. Head coach Jeff Hafley talked this week about how important it is for BC to get back in the win column against the Fighting Irish (BC hasn't beaten ND since 2008) to make this a legitimate rivalry again. You'd also like to keep building positively heading into 2023 and back-to-back ranked wins would almost completely wipe away the final record for the fan base.
Second down: While we'd be stunned of Phil Jurkovec played – given he was seen in street clothes during Tuesday's practice – his return to Notre Dame along with George Takacs' and John McNulty's, the ND fan base is a little worried that there may be a revenge factor to this game for the Eagles. Jurkovec playing would truly stun some people, but Takacs and McNulty could very much come back to haunt the Fighting Irish. Takacs in particularly is an extremely interesting guy to keep an eye on in this one. Morehead (he's going to be the starter) showed a trust and willingness to go to the big tight end in huge spots in the NC State win, especially during the final drive.
Third down: Speaking of Morehead, can this kid keep this going? 300 yard passing performances, game winning drives on the road, you can't ask much more from him than what you've seen so far. The biggest take away from the game-winning NC State drive was the poise he showed on the road in such a big spot. If that's any indication of what Morehead is made of, then the atmosphere in South Bend shouldn't phase him in the least bit.
Fourth down: Just like Morehead, Joe Griffin continues to show he's ready for the spotlight. Like Morehead, Griffin – and even a guy like Dino Tomlin – have shown glimpses of the future at BC. If the Eagles can keep getting this young core of freshman and redshirt freshman to step up and perform in big moments – none bigger than the Holy War on the road – the future is extremely bright. It'll be interesting to see how much the young kids are relied upon in this one.
Extra point: This veteran defense is going to have a lot to say in this one as well. Marcus Valdez, Kam Arnold and Vinny DePalma led by example with the team's best performance arguably ever under Hafley while taking down the Wolfpack. This group is hell bent on finishing out their careers the right way and would love nothing more than to get back-to-back signature road wins on their last two road trips.
Final drive: Notre Dame may be three-touchdown favorites, but this one is going to come down to the wire again, it may even rest on the foot of Connor Lytton. Either way, you've got to think this BC team – flu or no flu – isn't just going to roll over and may even be playing with a chip on its collective shoulder after last week's stunner.