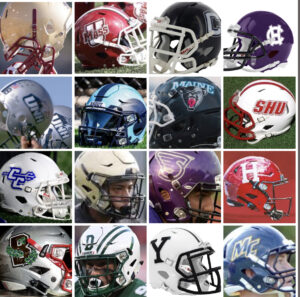 It's officially the last week of the season for our local FCS teams and the Ivy League programs and there is a LOT on the line across New England. Let's get right to it:
SATURDAY
Yale @ Harvard (Noon) – The Game has quite a bit of significance this year. Not that it doesn't every year, but Harvard and Yale both can clinch a share of the Ivy League title with a win and some help in the form of a Princeton loss. It's supposed to be perfect football weather early on Saturday and historic Harvard Stadium is sold out. Should be an electric few hours if you're lucky enough to be in the building.
UConn @ Army (Noon) – After stunning the college football world by clinching a bowl berth in Jim Mora's first year by upsetting Liberty last week, it's a house money kind of game for the Huskies. 7-5 obviously gets UConn a better bowl game, but win or lose UConn fans can pretty much kick back and just enjoy the product this weekend with no real stakes on the line.
UMass @ Texas A&M (Noon) – Surprisingly, UMass might actually make some noise against the Aggies. Texas A&M is in shambles having lost six straight and this is very much a look ahead game for them with LSU looming the week after. The Minutemen offense woke up in a tough loss against Arkansas State, so don't be surprised if this is actually a game late in the fourth quarter.
St. Francis (PA) @ Merrimack (Noon) – Biggest game on the slate locally aside from the BC/ND game and The Game in Cambridge. Merrimack can't make the FCS playoffs this year due to a dumb NCAA rule after moving up to D1, but they can claim the NEC title with a win and also make it eight straight wins for Dan Curran's crew. Duane Stadium will be rocking Saturday afternoon and rightfully so, this program is one teams do not want to face moving forward.
No. 20 UNH @ Maine (Noon) – Huge day for the Wildcats. With a win UNH can claim a share of the CAA title and avoid any doubt as to whether they're an FCS playoff team or not. An at-large bid isn't out of the question with a loss, but it'll be much easier for Ricky Santos' team to just finish the job on their own. Maine has proven to be tough this season depending on the week. With bragging rights at stake, the Black Bears won't roll over, but UNH is on the cusp of the postseason so there's no excuse to lose this game.
Bryant @ Robert Morris (Noon) – Bryant's first year in The Big South hasn't gone great, but facing an 0-10 team gives the Bulldogs a great chance to finish off the season on a high note and head into 2023 with quite a bit of momentum, especially after nearly upsetting Holy Cross last week.
No. 6 Holy Cross @ Georgetown (12:30) – A first round bye, top five ranking and possibly multiple home playoff games are on the line in this season finale for the Crusaders. Oh, and the first unbeaten season since 1991. No biggie. Holy Cross does have a bunch of injuries that may require Chesney to take his foot off the gas ever so slightly, but it feels like nothing is going to get in the way of this team's special season having at least one happy ending before the next chapter begins.
CCSU @ Stonehill (1) – Important game for both teams in terms of building momentum towards next year. CCSU has really struggled while Stonehill surprised everyone this year with how well their first season as an FCS program went. The Skyhawks probably win this game, but it'd be a huge momentum boost for CCSU if they can steal a win.
LIU @ Sacred Heart (1) – Like CCSU and Stonehill, this game really just matters for momentum heading into 2023. It's been a down year for the Pioneers after making the playoffs in 2021, but one final win could put them back on track.
Albany @ URI (1) – The Rams need a win and then have to hope the FCS playoff selection committee hands them an at-large bid on Sunday. The gut-punch loss to UNH last week probably ended hopes of a playoff run, but you never know until that bracket comes out on Sunday.
Brown @ Dartmouth (1:30) – Two teams that would love to beat an Ivy rival to close out a disappointing season for both. No matter who wins this game, it's been a rough year both in Rhode Island and New Hampshire. This one could also be a shootout given how both teams have played this season.
Boston College @ No. 18 Notre Dame (2:30) – Can the Eagles do it in back-to-back weeks? After stunning No. 16 N.C. State, BC and ND renew the Holy War in South Bend. On paper Notre Dame should roll, but after the way BC's young guys stepped up in the moment a week ago, would you really be all that surprised to see them pull another upset? ND probably wins, but don't be shocked if this is an old school, down-to-the-wire type rivalry game.