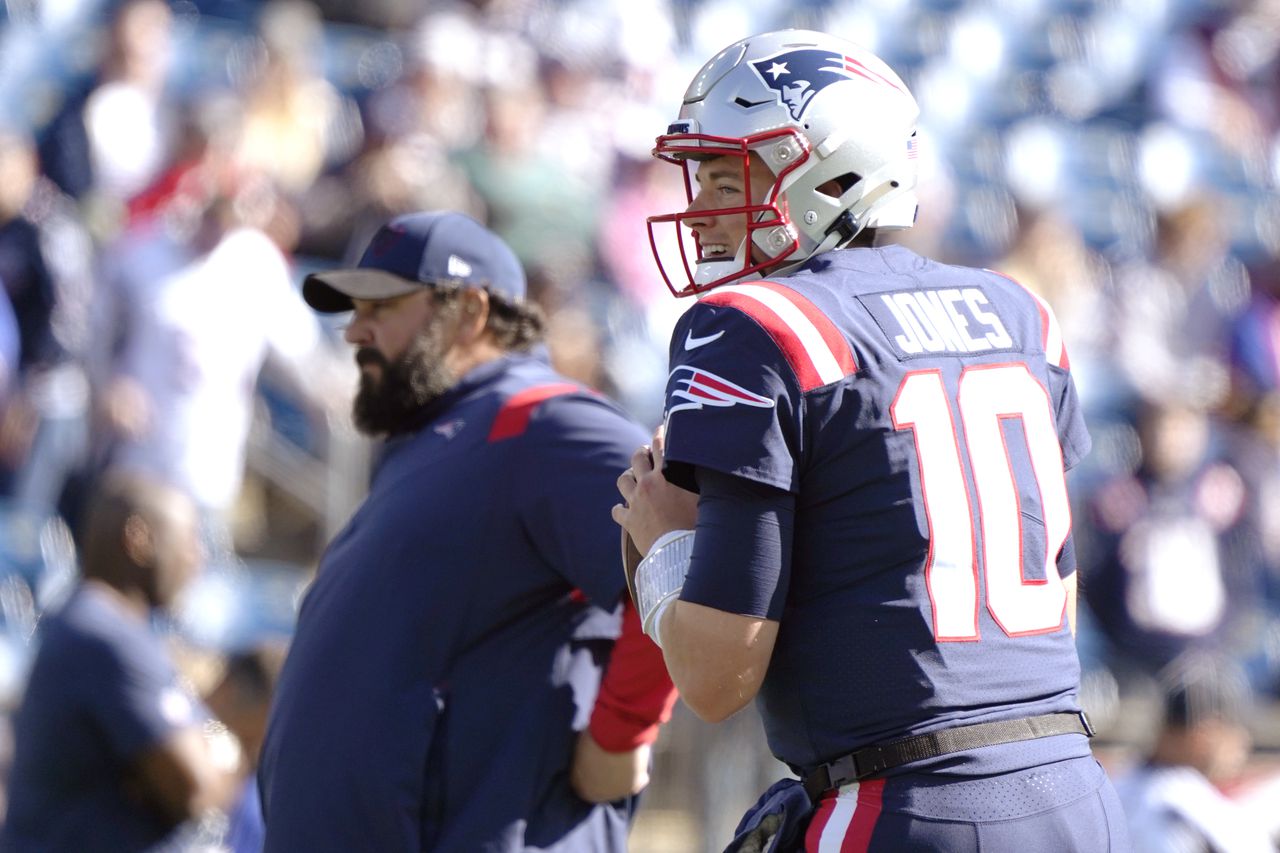 AP/Mark Schweim
The Patriots kickoff the last eight weeks of the season on Sunday when they take on the Jets. After extensively watching film this week, we have decided that these are the five areas the Patriots must be better in if they want to make the playoffs.
1. Quarterback: Mac Jones needs to be better. You don't need an analyst to tell you that. We can all see it. He needs to take better care of the ball and needs to play with more confidence. His attitude and body language have been bad at times. Even if he's frustrated, he has to do a better job of staying under control and not showing his emotions. Playing within the system and trusting his coaches and teammates are two good starting points for Jones to turn things around. 
2. Offensive play calling: If I were grading Matt Patricia, I would give him a C. The playing calling has not been good at various points this season. Patricia needs to be better. I know he is still getting acclimated to the job but there is a reason he did a better job with Bailey Zappe than Mac Jones. He simplified things with Zappe. He needs to do the same with Jones.
The Patriots offense lacks an identity right now. What are they? Are they a running team? A passing team? No one knows. You can't tell because at times they run too much and are predictable and at other times, they'll throw three straight plays and punt.
Patricia also needs to do a better job of getting all of his skill guys involved. The fact that Kendrick Bourne isn't a bigger part of the offense baffles me.
3. Defending athletic quarterbacks: Stopping athletic quarterbacks has been a challenge for the Patriots in recent seasons. We saw how much they struggled with Justin Fields a few weeks ago. With Josh Allen (twice), Kyler Murray and even Tua still left on their schedule, they are going to need to figure out a way to slow down athletic quarterbacks and keep them in the pocket. It starts with Belichick and the coaches. You can't change personnel at this point in the season but you can change your scheme to account for running quarterbacks.
4. Punting the ball: Jake Bailey has really struggled this season. He went from a Pro Bowler two years ago to now being a liability. The Patriots need him to be better. Special teams are crucial this time of year when it comes to tilting field position. The Patriots need Bailey to be the weapon that he has been in the past.
5. Red Zone Offense: The Patriots have struggled to finish drives in the red zone. They are currently ranked 28th in the NFL in red zone efficiency. They need to be much better in this area the rest of the way. I get it. It is hard. The field shrinks and it is tough to throw the ball, but Patricia, Judge and the rest of the offensive staff must find a way to get more creative with the play design and play calling. The Patriots are not good enough offensively to be settling for field goals.
The Patriots are currently in the seventh spot in the AFC. If they want to remain a playoff team, they need to improve in these areas. If they do not, it will be hard for them to get in and have any success if they do.