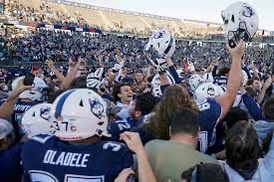 Image courtesy of NY Post
While the parties raged on well into the night across Connecticut, UConn head coach Jim Mora was already looking at film on Army.
Mora – who is now the front runner for National Coach of the Year – was thrilled for his players, the fans the program after clinching a bowl bid with a thrilling 36-33 win over No. 19 Liberty on Saturday and spoke about it one more time Sunday before turning the page.
"I was really happy for the players and staff and everybody that supports this program to get that win against a ranked opponent at home," Mora said. "I think it says something that we were able to go 5-1 at our home stadium this year. Hopefully, people will start to buy-in to what we're doing a little bit and start to come out and support us. Really appreciative of all the people that were there yesterday. I think it was around 14 or 15,000, so really appreciate them being there.
"My hope is, our players have worked really hard and I think they've shown they're a darn good football team. I hope people kind of start buying into that and putting some faith in these young men and the work they've done and (start) showing up in larger numbers for the support of the players, nothing else."
In what has been a truly incredible season, Mora pointed out just how remarkable it is that these guys – particular older players – were able to accomplish what they have so far this season.
"Man, you just can't overstate what they've been through," he said. "The way they've persevered – and not just this year – I'm talking about the last several years."
In typical Jim Mora fashion, he downplayed the significance of what was accomplished on Saturday. Not for the team, but for himself personally.
"You've got to understand where I come from," he added. "I've played in NFC Championship games, Pac 12 championship games. I got fired when I won six games the last time I coached. So, I don't look at it how you look at it. Last time I won six games, I got a call the next morning that said come in and my ass got fired. It's an accomplishment for this program and we're moving in the right direction, but it's nothing…I'm not going to get excited about it. It's just a job I'm trying to do.
"I have much larger goals in mind for this program and myself than winning six games."