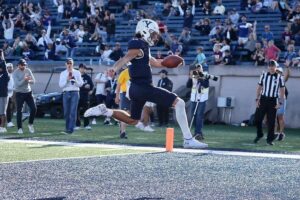 Image courtesy Yale Athletics
By Jake Klein, NEFJ Correspondent
NEW HAVEN – Yale's chances of forcing a three-way tie for the Ivy League title got a lot better Saturday.
When Blake Stenstrom's fourth quarter pass sailed through the back of the end zone, out of the reach of Dylan Classi, Tony Reno's team bested Princeton 24-20 and earned its fifth Ivy League win of the season.
"That was big," Reno said. "I can't express how proud I am of this football team."
On the third-to-last play of the first quarter, Yale stuffed Princeton's fourth-and-short run at the 50-yard line. Then Quarterback Nolan Grooms ran for a first down on fourth and three and consecutive long runs by Joshua Pitsenberger set up the Bulldogs deep in Princeton territory. Grooms handed the ball three-straight times to Pitsenberger, who finally broke into the end zone on third down from the one-yard line. But Princeton answered quickly, tying the game on Stenstrom's 42-yard deep ball to Michael Axelrood and pulling ahead 14-7 on his 28-yard laser over the middle to Classi.
The third quarter was all Yale's; Grooms dashed through the line and scampered 49 yards, paving the way for his 14-yard touchdown pass to Chase Nenad. Grooms sprinted left out of the pocket, then turned and whipped a pass across his body to the front right corner of the end zone, where Nenad lept to make the grab and re-tied the game.
On its next drive, Princeton again tried a fourth-and-short run near midfield, and Yale again made the stop. The Elis took the lead on a 44-yard field goal by Jack Bosman and extended the lead with a rushing-based attack that led a six-play 59-yard drive capped by a 19-yard Grooms touchdown run.
"We felt we had an advantage in the run game," said Reno.
His team ran 53 times in the game, its most in a single game since November 14, 2015 against Princeton. Yale totaled 297 yards on the ground, 152 by Grooms and 110 by Pitsenberger.
The Tigers responded again, marching 80 yards on four plays to score on a 22-yard catch-and-run by Carson Bobo. Yale blocked Jeffrey Sexton's extra point try. Princeton forced a Yale punt, then drove into Bulldog territory before Stenstrom threw a fourth-down interception to Brandon Benn—his second pick of the day.
Yale chewed time off the clock with six-straight rushes but punted again, this time for a touchback with 1:35 remaining. Stenstrom found Classi and Andrei Iosivas on back-to-back 10-yard gains, then Bobo and Classi on back-to-back seven-yard gains. Classi's grab with 11 seconds left brought Princeton to the Yale 15-yard line.
But his final pass went through the pack of players in the end zone and rolled towards the wall lining the Yale Bowl's ring of bleachers—populated by a reported crowd of 7,500 spectators—giving the Bulldogs their third win in a row and seventh of the year.
"The atmosphere was awesome today. That was pretty cool at a critical event," Grooms said.
Though Reno's team once led by ten, he knew it was ready for its third close finish of the season after edging Dartmouth in Week 3 and falling to Penn in Week 5.
"If you want to win high-level Ivy League football games, you have to be ready to win on the last play," said Reno. "We work in practice on it, our guys believe it, and they were ready to make it happen."
Yale's victory Saturday means a win next week at Harvard, coupled with a Penn win over Princeton, would force a three-way tie atop the Ivy League standings between the Bulldogs, Tigers and Quakers. The league title hasn't been split three ways since 1982.