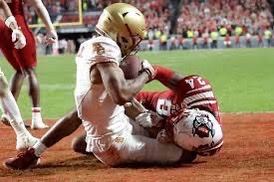 Image courtesy of AP Photo/Chris Seward
For weeks now, BC head coach Jeff Hafley has assured anyone asking that his team was not going to quit on this season.
Whether it was the young players looking to show they belong at an ACC school or the older players looking to build draft stock or simply finish their careers the right way, Hafley said they were going to play for each other.
Many didn't believe…until Saturday.
Emmett Morehead hit classmate Joe Griffin for a two yard touchdown with 14 seconds left and Connor Lytton added a game-winning PAT as the Eagles stunned No. 16 N.C. State 21-20. BC trailed by 14 early in the game but the timely offense paired with an incredible defensive performance guided the Eagles to their first win over a Top 25 ranked opponent since 2014. The victory also snapped N.C. State's program record 16-game home winning streak.
"Our players deserved that," said Hafley. "They needed it. They needed some validation that all this hard work and everything we're preaching to them is going to pay off and they got that today. That's what makes me the most happy. I wanted this for the players. They need to feel moments like this. The amount of hard work they put in and the buy-in, the studying and just fitting through everything.That's validation that things are going to come out and we're going to come out of this storm okay. We have a very bright future here."
N.C. State jumped out to the 14-0 lead less 10 minutes in, but BC cut it to 14-7 late in the first when Zay Flowers (7/130/2) caught a 17 yard TD pass. Flowers now also holds the program record for receiving yards
"I mean, honestly, I just wanted to win," Flowers said. "I wasn't even paying attention to what was going on. I was just focused on getting a win. I broke it, so it's just like, let's go try and get the other two (games remaining) and finish the right way."
N.C. State kicked a late field goal to take a 17-7 lead at the half, but the Eagles' defense kept things from getting much worse before the teams headed to the locker room. The Eagles were also driving late in the Half but Morehead was picked inside the five.
"No one wants to hear it when everyone is saying things when you're losing," said senior Marcus Valdez, who sealed the game with a fumble recovery on a desperation lateral. Valdez also had six tackles in two sacks in what was arguably his best game as an Eagle, putting that senior leadership on full display.
"It's going to come, it's going to come, that the things we're doing are going to pay off. It's like, 'you're just saying that or whatever,' but it's real. We just needed that game. We just needed the execution and it came. Belief was there anyways, but now belief is going to skyrocket for us. You need people who can't see it…sometimes, you've got to believe it before you can see it and I think we had enough guys. Now, everyone is going to believe it. Our fan base, our school, everyone…six years, to get a ranked win, it's all been worth it."
The Wolfpack went up 20-7 with another field goal early in the third, but the Eagles responded with an eight play, 75 yard drive that ended with Zay doing typical Zay things, catching a short pass and taking it 35 yards to the house.
"It's so much bigger than football for Zay," Hafley said of his star wide receiver. "It's the type of kid he is. It's the choices he's made. It's the way he treats people. It's how hard he practices. He deserves to have the record and he deserves all the success coming to him."
N.C. State fumbled its next possession, but Morehead gave it back with an interception five plays later.The back and forth nature continued, including a huge interception by Elijah Jones with 6:37 left. The teams traded punts before Morehead led the final drive.
"The whole message is our guys didn't quit," added Hafley. "Our guys believed they were going to win this game. They did. They felt momentum after last week and built off it. Even though they went down, they continued to fight, that's a credit to our team."
BC got the ball at its own 31 with 2:47 remaining after yet another defensive stand that forced a punt. Morehead (29-48/330/3/2) methodically moved the team down field, until he was sacked on second and six at the N.C. State 25. Facing third and long, Morehead – who was fantastic all day on third downs – hit George Takacs for 17 yards down to the Wolfpack's 14. Prior to that, Dino Tomlin – son of Steelers head coach Mike Tomlin – had a huge catch on the sideline that turned into a 29 yard gain down to the N.C. State 29. It was one of a handful of big plays the young receiver had on Saturday.
"It's a good learning experience for me as a head coach. It probably came to me a little too late with Dino," acknowledged Hafley. "Dino is one of the hardest working kids we have on the team. He loves to practice, he loves football, he's a great teammate and he's an incredible person. Every time we put him in he shows up and there's no one that works harder than him. There's two things I ask of these guys, attitude and effort, and I should've been playing him earlier because ehe exemplified all those things and he's what we're all about.
"I'm glad we got him in. I'm glad we got him playing and I should have put him in earlier this season. he deserves to be out there and he will be a big part of this thing. The guy just continues to make plays. he's a special kid."
It appeared appeared that N.C. State got a fourth and eight stop to win the game with 18 seconds left, but pass interference was called, giving BC the ball at the two. Morehead hit Griffin with a back shoulder throw that he'll "remember forever" and Lytton added the clinching PAT.
"We win for the players, the coaches, the staff, it's a collective effort," Morehead said when asked what this victory meant to the players after the staff had a ton of noise around them and their job secutiry, particularly recently. "The coaches have really been dealt a tough hand with injuries, not a lot to work with and a lot of guys taking reps for the first time like me in games."
All the belief in the process and the message Jeff Hafley has been delivering paid off on Saturday. There is light at the end of the tunnel now. BC made history for the fist time under Hafleyand there's no telling what that can do for a program's momentum moving forward.
"We've got a lot of young players playing, so it's just going to give everybody a boost going into next year," added Flowers. "It's just a great feeling right now. We're just going to enjoy this as much as we can and get back to the next one."
"Hugs, tears, dancing, loud," Hafley added when asked about the scene in the locker room postgame. A lot of hugs and a guys letting a lot out that's been built up inside of of a really, really hard year. It was talked about all week…the No. 16 team in the country, going for 17 straight wins at home. 30-plus fifth or sixth year guys walking out. Talented team. No one thought we could win, but the one group that did was our team. That locker room is still loud and it's going to be and it should be. They deserve it and I'm really really proud of them. It was fun to be a part of."