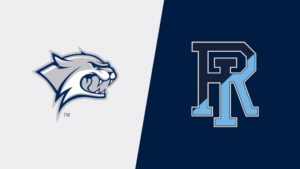 Image courtesy of ESPN
By Ryan Barry
NEFJ Correspondent
Kickoff: The fate of a postseason berth hangs in the balance when the No. 22/22 Rhode Island Rams visit the No. 21/25 New Hampshire Wildcats in Durham on Saturday afternoon. Each team is on the outside looking in as far as CAA title contention goes, with the Wildcats fortunes looking slightly better than the Rams. Both teams also have similar resumes, so amongst a crowded field of competition, the FCS Playoff Committee will more than likely only select one, if at all, when the brackets are decided in a few weeks. The players know it's a "loser leaves town" type of match-up, which should make for a very exciting game.
First Down: After a program-defining win over Elon to go atop the CAA standings, UNH went into their bye week looking to get healthy and recharge for their November run. However, a 40-34 loss at Richmond last week was definitely not what head coach Ricky Santos hoped for upon return to action. While they're fortunate to host this game at home, a surging URI team that's won four of their last five games presents an extremely difficult task. After nearly taking down CAA leading William & Mary two weeks prior, it took a second half comeback at home last week against a struggling Maine team to earn their sixth win. Both teams need this win for postseason aspirations, but also for a crucial jolt of energy that could boost their confidence with just two weeks to go in the regular season.
Second Down: Each program boasts stellar quarterback play. Wildcat sophomore Max Brosmer (179/284, 2,001 YDS, 17 TDS, 5 INTS) and Rams senior Kasim Hill (147/269, 2,265 YDS, 15 TDS, 7 INTS; 87 CAR, 227 YDS, 6 TDS) are two of the best in the conference. While Brosmer is more your typical pocket passer, Hill has the ability to extend plays with his legs and find the endzone with quarterback designed runs. Both quarterbacks were also most recently named to the CFPA FCS National Performer of the Year Trophy Watch List. With virtually identical QB ratings and sacks taken, it's hard to pinpoint which team has the advantage under center. Brosmer may be a more accurate passer, but Hill's dual-threat talents are something that gives the Rams flexibility.
Third Down:  Both teams also possess dynamic skill positions, most notably at running back.  Wildcats junior Dylan Laube (155 CAR, 749 YDS, 8 TDS; 33 REC, 269 YDS, 1 TD) not only runs the ball hard, but is an extremely efficient pass catcher with quick speed. Rams redshirt senior Marques Shields (140 CAR, 906 YDS, 10 TDS; 9 REC, 131 YDS, 2 TDS) has been a revelation since his transfer from Saint Francis this offseason, giving URI an extremely potent combination alongside Kasim Hill. It's hard to say who has the advantage at running back, but the Rams receiving room boasts some very talented pass catchers. Most notably, Rams senior wide receiver Ed Lee (43 REC, 760 YDS, 4 TDS) is 21st in the nation and 2nd in the CAA in receiving yards, giving URI a dynamic threat that can break off a 20 yard catch at any given moment. Wildcat freshman wide receiver Joey Corcoran (48 REC, 466 YDS, 3 TDS) is a reliable target for Brosmer, but has been limited by injuries at times this season.
Fourth Down: The strengths of each defense flip based on offensive play calling. UNH has had success against the run this season where they rank 20th nationally, though a combination of Marques Shields and Kasim Hill will be a tall order. Specifically against dual-threat quarterbacks the Wildcats have struggled this season, surrendering 202 total yards on the ground when facing run-happy signal callers from North Carolina Central and Elon. While the Rams run defense leaves much to be desired, their passing defense ranks 21st nationally in passing yards allowed. The Rhody rushing defense has struggled against talented running backs this season, and is 84th nationally in rushing yards allowed. The two big match-ups to watch will be Max Brosmer versus the Rams passing defense and Kasim Hill against the Wildcats rushing defense.
Extra Point: From 2000 through 2017 the Wildcats won 14 of 17 games against the Rams. However, URI has bounced back with two wins in their last three match-ups, with a dominant 28-3 win last season in North Kingston. Part of proving the Rams resurgence as a program under head coach Jim Fleming has been to beat the best teams in the conference, and this recent success against the Wildcats has shown that. The anticipation and excitement for Saturday's game is a far cry from the 41-14 drubbing the Wildcats delivered Fleming in his first ever match-up against UNH in 2014.
Final Drive: The forecast for Saturday is something that'll definitely be monitored. As Tropical Storm Nicole makes its way up the east coast, Durham is expected to get some rain in the morning, with gusty winds and humidity also expected. If this continues into kickoff it could change the approach of both teams, favoring UNH against a poor URI rush defense. With it being senior day, you can expect an added layer of emotion and drive from the Wildcats, even if the weather keeps away some of the otherwise dedicated UNH faithful. The stakes are high, and each team needs this win to add to their resume for postseason consideration, so look for this to be a hard fought contest until the very end.