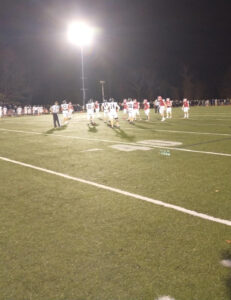 By Andrew Bluestein
NEFJ Correspondent
MILTON: It was round two of the MIAA Division 3 playoffs Friday night, and the eighth-seeded Marblehead Magicians headed to Milton to play the top-seeded Wildcats
In miraculous fashion, it was the comeback kids of Milton who came out with a memorable 24-20 victory.
After being down 13 points at the half, Milton stormed back while getting contributions in all three phases of the game. Head coach Steve Dembowski touched on his team's resilience after the game.
"Our team has been relentless all year long, and I really challenged their aggressiveness," he said.  "To be more aggressive and play like we had all year, and that is what they did. I think when you're chasing your dream, you're going to fight a lot harder when it's your hand."
The Magicians opened the scoring on an Eddie Johns 10 yard touchdown run to make it 7-0 after the PAT. The Wildcats quickly answered, driving down the field, capped off by a six yard Jack Finnegan touchdown run that tied things up at 7-7. After Marblehead got an interception from Connor Cronin, they took advantage of it and went ahead on Eddie Johns' second touchdown run of the game from three yards out, making it 14-7. Marblehead would score again on a 60 yard touchdown pass by Miles Oneill to Zander Danforth making the score 20-7. Milton would block the PAT.
The Wildcats' comeback would get started with Dillon Mackenzie hitting a 19 yard field goal, making it 20-10, with just 17 seconds left in the first half.
Milton had an impressive drive to start the second half, but it went nowhere as they could not convert on a fourth and three. The Wildcats defense responded, getting a fourth down stop of their own, which led to a Owen McHugh 35 yard touchdown pass to Michael Fulton making it a 20-17 game. The Milton defense stayed hot and forced Marblehead to punt, which resulted in a strong Jack Finnegan return to midfield. Finnegan got in the end zone at the end of the drive, starting the fourth quarter on a one yard touchdown run, giving Milton their first lead of the night at 24-20.
The Wildcats closed things out, converting on a big third and six from their own 22 yard line, where McHugh kept the ball on an empty formation and picked up the first down.
"We knew we were going to run that play out of the timeout," said McHugh. "We got man coverage so they just let me run, and it did the job for the boys."
Milton stays undefeated and will move on to play Hannover in the semifinals, McHugh also talked about his team's mindset going into that game.
"We just gotta get better everyday. I'm sure they're a great team, so we're gonna have to be locked in at practice. Every second we're out there we need to get better, we can't let anything go to waste. I'm excited, and gonna be pumped up."