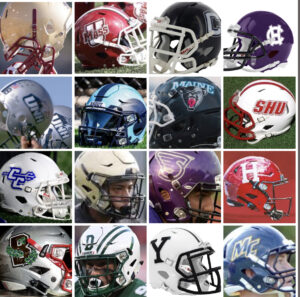 Heading down the home stretch now.
It's crazy to think that most of the 16 teams in this area will be wrapping up the season in the next two or three weeks, but there are still some who are right in the thick of playoff races or bowl bid opportunities.
SATURDAY
Bryant @ Holy Cross (Noon) – Coming off a 4th straight Patriot League title, Holy Cross has to make sure this doesn't become a trap game. The No. 6 Crusaders are oh-so-close to a bye, but Bryant has played teams tough this year despite having a losing record. Holy Cross should run away with this one, but the Bulldogs could put a scare into them if the Crusaders aren't locked in.
URI @ UNH (1) – Biggest local game on the slate. Both these teams have CAA title and FCS playoff aspirations, but they probably don't happen with a loss to their rival. This one is probably going to be relatively high scoring and is the definition of a toss up game.
Merrimack @ CCSU (Noon) – Merrimack can't participate in the FCS playoffs this year due to NCAA rules after making the jump up, which means the NEC title is their national championship. With a winner-take-all game against St. Francis (PA) looming, this could be one of those trap games for the Warriors. CCSU has struggled but played tough, if Coach Curran's guys aren't looking too far ahead, this one should be a lock for Merrimack.
Princeton @ Yale (Noon) – Another massive game on the slate. Princeton can basically lock up the Ivy League with a win, but a Yale win would make The Game at Harvard Stadium next weekend that much more meaningful for the Bulldogs. This one should also be high scoring.
Columbia @ Brown (Noon) – Shootout. Both these teams have struggled to stop others frequently this year.
Liberty @ UConn (Noon) – Are the Huskies really a bowl team? If they can upset No. 19 Liberty at The Rent on Saturday, then the answer is yes. It won't beast, but given the wave of momentum this program shockingly has been riding, don't be surprised if Mora and the Huskies are celebrating deep into the night.
Sacred Heart @ Wagner (Noon) – Should be a get-right game for the Pioneers. It's been a disappointing season after making the playoffs a year ago, but Wagner is just terrible.
Maine @ Albany (Noon) – Tough road test for the up-and-down Black Bears. It's a winnable game, but it's hard to predict what Maine team is showing up week-to-week.
Harvard @ Penn (1) – Harvard desperately needs a bounce back game after a horrendous loss to Columbia at home last week. If the Crimson want to have any kind of momentum heading into The Game with Yale next weekend, this is a must-win. Ivy League title hopes are gone, but back-to-back wins to close out the year, especially over Yale, would make this season far less of a disappointment than it is right now.
Stonehill @ LIU (1) – Tough road matchup for the Skyhawks, but you can't count Stonehill out of any game this season. The surprising first year of success as an FCS team makes this a no-lose situation for Eli Gardner and his team.
Dartmouth @ Cornell (1) – Two struggling teams looking to build momentum towards next year. This one is also probably pretty high scoring given the lack of defense on both sides.
Boston College @ N.C. State (3:30) – Look, BC probably isn't going to win another game this year, but fans just want to see them be competitive like they were against Duke last Saturday. The youth movement is very real right now and also very beneficial for the future of this program. Emmet Morehead probably starts again, so at the very least Eagles fans can at least see a glimpse of the future.
UMass @ Arkansas State (3:30) – Hard to think the Minutemen can go on the road and get a win at this point, but much like BC, fans should be looking for glimpses of hope heading into next year. Brady Olson's development and keeping a game competitive against a tough Arkansas State team should be the two priorities here.