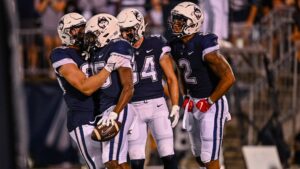 Image courtesy of UConn Athletics
If you had said UConn would be one win from a bowl game with two remaining back in April, you would have been laughed at mercilessly.
Well, National Coach of the Year candidate Jim Mora has the Huskies at 5-5 with a home game against No. 19 Liberty on tap this weekend. While there's a chance it could be a historic and memorable day at The Rent, the Huskies know this one isn't going to be easy by any stretch of the imagination.
"A lot of energy, very focused football team. They understand the challenge that we face this week playing Liberty," Mora said during his weekly press conference. "A ranked team that deserves the ranking they have and in my opinion, maybe a little higher. It's not a stretch for me to say it's the most impressive defense I've seen all year on film. The way they play, the way they get up the field, the way they rush the passer, they lead the country in sacks. The negative plays they generate in the run game, the way they rally to the ball, it's very, very, very impressive.
"We all know about Hugh Freeze's offensive prowess. He's one of the great offensive minds in the game and you see it on film when you watch them. They've got a quarterback that can make all the throws. He's tough, he's physical, he runs the ball well. They've got a very, very good receiving core, big, physical guys and a player that really stands out that they use all over the field in the slot and someone you've really got to keep track of at all times and I like their running backs."
This weekend is also Senior Day for UConn, which has become even more special given the surprising success this class has helped create.
"It's amazing. I think about the guys that are going to walk out there and be recognized before the game and just the perseverance and the will they've shown through their career," said Mora. "To go through what they've gone through in terms of Covid and before that, really struggling to find success. Then, last year, a coaching change and then this year someone new comes in. A whole new staff and new demands, it'd be really is for those guys at some point to just slump their shoulders and give in and they never did that.
"It's very impressive. It speaks to their character and it's what makes them so fun to coach. I say this to you guys every week, I think it's the most enjoyable group of young men that I've ever had the good fortune of coaching and it's really led by those seniors. If we can keep that culture going here through the years, we're going to be in a really good place."
Part of the reason UConn is even in a position to be in a bowl game this early in Mora's tenure is because of the commitment made to him and the program. Mora touched on how important the resources around the program are and making sure that this year's success – win or lose Saturday or in the final week against Army – isn't just a one-year thing.
"The support's been tremendous, I just think it's important we always keep our eye on the future," he added. "I think all of us here at this university and in this state want to see a successful football program, it's good for everybody. In order to do that, you have to always be willing to extend yourself. As expectations rise, commitment has to rise with it. You can't just think things happen because they happen.
"That's what the good programs do. They're always trying to stay ahead of the curve."