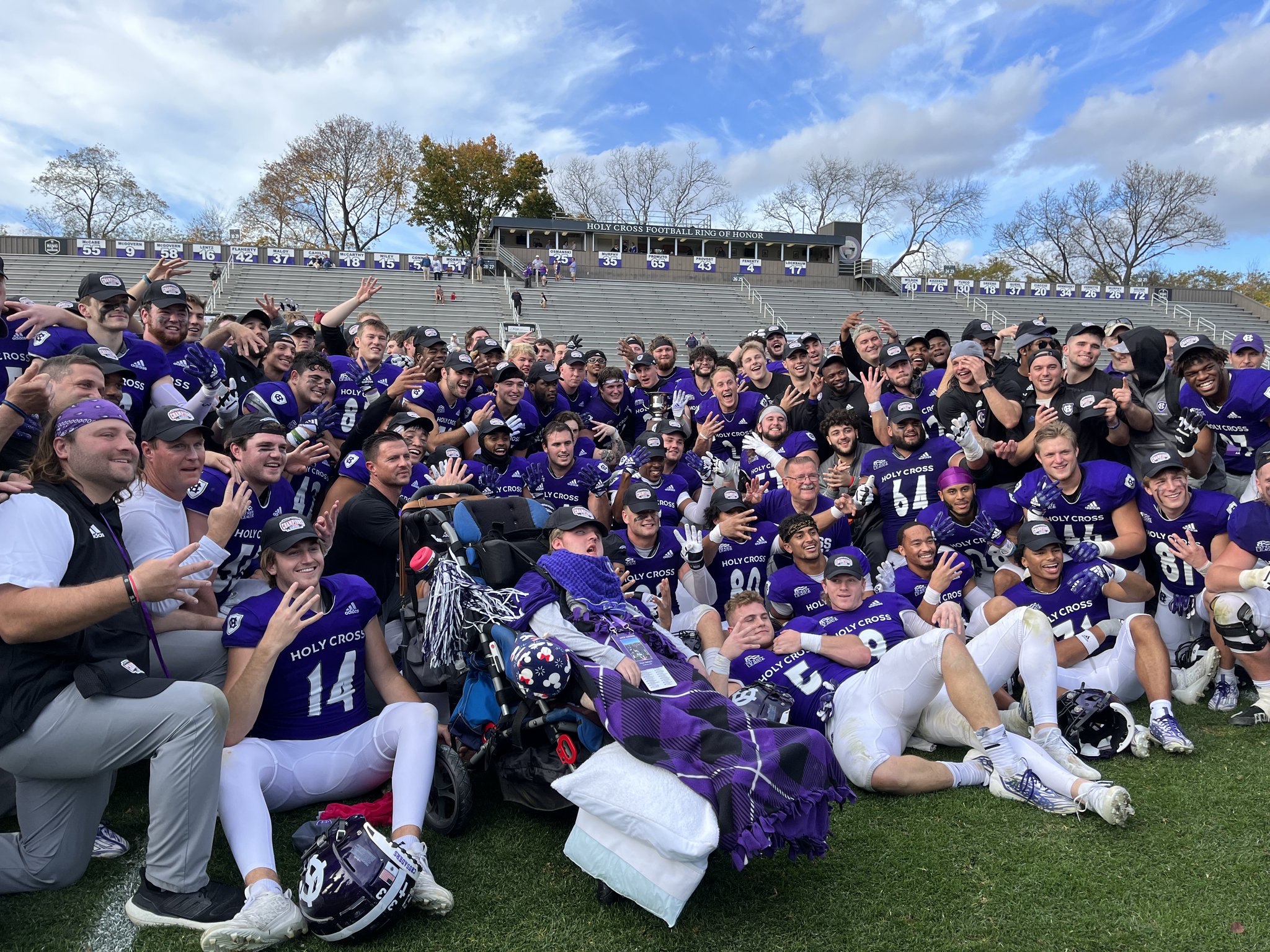 Holy Cross wrapped up it's fourth straight Patriot League title with a win over Lehigh, UConn and UMass went back in fourth in a great game and B.C battled but fell short against Duke. We look at it all in this week's round up.
UConn and UMass went toe to toe on Friday with the Huskies prevailing 27-10 to go 5-5 on the season. UConn needs one more win to secure a bowl bid but it won't be easy. They have a talented Liberty team coming to the Rent this weekend. The Flames beat Arkansas this past weekend.

UMass has gotten more consistent quarterback play out of Brady Olson and they have three games left to figure if he can be the guy moving forward. Olson made some impressive throws on Friday night.

Boston College lost to Duke 38-31 and falling to 2-7 in the process but let's look at some of the positives. Emmett Morehead completed 27 of 45 passes for 330 and 4 touchdown passes. He should be the starter the rest of the way. Jeff Hafley and his staff already know what they have in him but the game reps would be invaluable. Freshmen wide receiver Joe Griffin also continues to flourish. Griffin finished with 5 catches for 103 yards and 2 touchdowns. The duo of Morehead and Griffin could be potent next season.

Holy Cross won their fourth straight Patriot League title with their win over Lehigh. Bob Chesney's team is firmly entrenched in the top six in the AFCA poll and if they win their next two, they should be a lock for a first round bye in the FCS playoffs.

The nightmare is over in Kingston as URI finally snapped its 14 game losing streak to Maine. Both teams are talented and it showed on Saturday. The Rams have a big one on Saturday when they travel to Durham, New Hampshire to take on the Wildcats. There are major CAA and FCS Playoff implications on the line.

Speaking of UNH. The Wildcats lost a shootout at Richmond on Saturday but if there is one thing we know about this team, they are tough at home so expect Ricky Santos team to play well.

The Jekyll and Hyde Harvard Crimson lost a tough one to Columbia on Saturday, 21-20. Once again, the Crimson get off to a good start but couldn't sustain it. It has been a frustrating season in Cambridge.

Yale beat Brown 69-17 on Saturday. Two things: One: The Bulldogs offense is really starting to come around. Two: The Brown defense reverted back its last season form which is unfortunate because they have played well at times this season.

Stonehill bounced back after last week's loss to Merrimack with an impressive 50-10 win over Wagner. Running back Jermaine Corbett stole the show rushing for 227 yards and 3 touchdowns. The Skyhawks travel to LIU this weekend.

Duquesne outlasted Sacred Heart, 35-28 in overtime. It has been a tough season for the Pios. Despite that, they are playing tough.