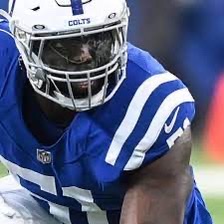 Image courtesy of the Indianapolis Colts
Sunday was a surreal day for Indianapolis Colts defensive end Kwity Paye.
Paye – a former Michigan Wolverine and Bishop Hendricken star – was back in New England as an NFL player for the first time when the Patriots hosted the Colts on Sunday.
Paye had plenty of support in the stands with his mother Agnes among others on hand to watch his homecoming. It was also the first time they had been there in person to watch him play professionally.
"It's a dream come true being able to play in front of friends and family," Paye said following the 26-3 loss to his former hometown team. "I grew up here, it was cool seeing my mom. That was the first game seeing me play and seeing friends from back home. It was amazing. It meant everything to play in front of my mom. She was wearing her jersey she got on draft day."
Paye made sure he put on a show for those there to see him, recording eight tackles and a sack of Mac Jones.
"I was just trying to show off for my mom, just doing my thing, but we came up short," said Paye. "I was just trying to do my part and I try to make her happy every time I go out there. "
Obviously, winning comes first and foremost, but there was an odd feeling for Paye throughout the game since the Colts were never really out of it until the Patriots pulled away late.
"It was weird. Throughout the game I kept telling the guys it felt weird, it doesn't feel like we're losing right now," he added. "We had a couple mistakes which put their offense in good field position. They kept capitalizing on their field goals and what not. So we just got to be better."
Despite the loss, Sunday, November 6, 2022 is a day that Paye, his family and those that watched and supported him throughout his high school and college careers won't soon forget.