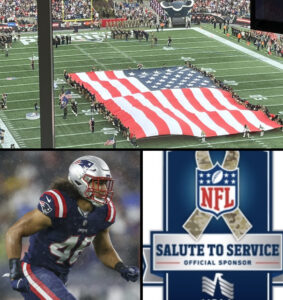 (AP Photo/Stew Milne & NEFJ)
FOXBOROUGH – Prior to the game at Gillette Stadium on Sunday, the Patriots – along with the rest of the NFL – had a number of different pregame and in-game ceremonies and acknowledgements for military members.
The NFL's Salute to Service initiative started  earlier in the week across the league and the Patriots took part in a pickle ball tournament with 40 different active service members. Each participant was also at the game on Sunday. Before the game, 150 men and women were sworn into the National Guard, U.S. Army and U.S. Navy. There was also a flyover from four F-15's, while General James McConville (Chief of Staff of the Army), General Daniel Hokanson (Chief of the National Guard Bureau) and Major General Gary Feeke (Massachusetts National Guard) were all in attendance. Patriotic songs were also played during halftime in what was a truly inspiring atmopshere.
"Well, first of all, you know, just on behalf of the players and the coaches that wore the patches, in my case Timothy Clegg, or the number or the initials on their helmets, you know, proud to be out there and recognize the people that have fought and died for our country and defended us," Bill Belichick said following the 26-3 win on Sunday. "And for the ones that were enlisting today, just the tribute to, you know, our great military and what they stand for and how they protect us. So definitely proud to be a part of that, seeing the families on the way on and off the field keeps things in perspective here."
For linebacker Jahlani Tavai – who got in on the nine-sack party with half a sack along with Deatrich Wise Jr.and also had five tackles and two QB hits – the game meant a little extra. Earlier this week, Tavai was part of the pickle ball tournament and while sitting at his locker postgame, talked about how much the game meant to him.
"I have a lot of family that's in the military, one of my really great friends Kevin Mora, he was a nine-year vet and he served in the Marines," Tavai said. "It was a big thing for me to play for those guys and the fallen comrades we had on the back of our helmets. It was a really cool thing to celebrate them."
Fittingly, on a day celebrating the military, the Patriots' remarkable defensive effort was a complete team effort.
"I've never been a part of something like that," Tavai said of the nine sacks and only allowing 120 net yards of offense. "It was awesome to be out there. You just felt the energy from the guys on the field and we just wanted to make sure to take it to them…everyone's just doing their job. That's the basic thing about defense. As long as everybody does their job, like the backfield is covering and we can let the D-line eat or vice versa, the quarterback is going to make a mistake and like Jonathan Jones, he capitalized on a nice play. It's all a team effort on that side of the ball."
Tavai's sack will be one he remembers for quite a while due to everything that surrounded this game, but it almost didn't even happen.
"I was actually trying to pick off the ball," he said with a laugh. "I thought (Ehlinger) was going to throw it, but I just saw an opening when he started to scramble and took advantage of it, so it was a clean play by the whole defense."
Luckily, Tavai's instinct allowed him to make a big play on a day where he was thinking of those closest to him all the others that have served this great country.