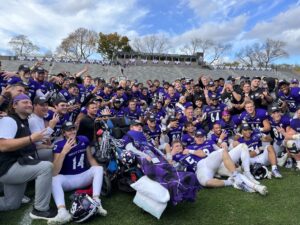 WORCESTER –  As the final seconds of a 42-14 win over Lehigh ticked down on Saturday afternoon, Holy Cross head coach Bob Chesney was doused with red Gatorade as the sideline jubilantly spilled onto the field.
All year long, Chesney has had his team focused on the day-to-day process that would get them back to the FCS playoffs. Well, that box was checked with a remarkable fourth straight Patriot League championship. Holy Cross (9-0) still has two regular season games against Bryant and Georgetown left, but Chesney was finally going to let himself enjoy the accomplishment, at least for a little while.
"I think I'm going to enjoy this one on purpose," Chesney said with a smile as players and families took pictures, players signed autographs for young kids who were given tickets to the game during the week and assistant coaches lit up cigars. "In the back of my mind, I don't want to, I mean, I want to get back to work, but I think you have to (enjoy it). It takes a full year to put a trophy in a trophy case, it doesn't happen over night. All that work that went into that, you have to take a minute and sit back and enjoy it, so I'll definitely enjoy this one."
"For a little bit in this moment we will but tomorrow it's right back to work," added linebacker Liam Anderson when talking about whether or not the team will be able to take a step back and enjoy this insanely difficult accomplishment. "We've got Bryant coming up next week, so just take it one game at a time and keep this thing rolling."
On paper, this game should have been over at halftime, but the thousands in attendance that showed up for a celebration had to wait a while before they could start to pop the proverbial champagne.
Leading 21-7 at the half, Holy Cross was poised to put the game away early, just like everyone expected. The only problem was that no one told Lehigh. Matt Sluka (11/17, 126, 1 TD, 16 carries, 146/1 TD) was picked off on the very first snap of the third quarter and it was returned for a pick-six, but a blindside block negated the TD. Still, the Mountain Hawks (coolest name ever?) scored two plays later on a 39 yard touchdown pass from Dante Perri to Geoff Jamiel, cutting it to a one score game.
Holy Cross had to punt its next drive and tension started to build inside Fitton Field. Luckily, the guys in purple have Devin Haskins on the team and he made an incredible play to down the punt inside the two. A quick three and out later, Terrence Spence blocked the punt and set Sluka and the offense up at the Lehigh 35. Sluka soon took it upon himself to finish things off with a four yard TD run to push the lead to 28-14. Haskins forced a fumble four snaps later and Terrell Prince recovered it at the HC 43. Jordan Fuller (9/39/3 TD) punched one in from five yards out soon thereafter following a Sluka fourth and six conversion with his legs.
Two minutes into the final quarter, the defense came up with a goal line stand to halt a 13 play drive. Sluka led one final march of his own that ended with another Fuller rushing TD with 5:30 remaining for the 28-point lead.
"I think for all of us, there's moments in that game where it's not exactly the way you want it to go. I think at one point, even the referee said 'you should probably start smiling soon,' and I was like, "you're probably right," said Chesney.
Joe Pesansky played the final drive as Sluka was able to enjoy the closing moments of the game on the sideline.
"It feels great," said Sluka. "I'm lucky enough to have three rings in my three years being here, so we've just got to keep it going. We still have a lot more games to go , but so far it definitely feels great to have this achievement and win our fourth ring."
Both teams were sluggish to start the game, but Holy Cross struck first when Fuller scored from two yards out with six minutes left in the opening quarter. Early in the second, a long Sluka run eventually set up a one yard TD run from Peter Oliver. Oliver had a career day with 136 yards on 17 carries.
Lehigh got on the board with 5:24 left in the half on a 35 yard touchdown catch and run from Jalen Burbage on fourth and eight. After trading punts, Sluka led a seven play drive spanning 62 yards in less than 1:30, finishing it off with a six yard strike to Spencer Gilliam in the back of the end zone to give HC its 14-point lead at halftime.
"I think it was just bot buying too much into the hype," Sluka said when asked if he and the offense had to be a little more patient on Saturday. "Just come out here, everyone just do their job…we knew it was going to be a game we had to work down the field play by play and make sure we got in the end zone. Defense played great and helped us out."
All year long, Chesney, the staff and the team have ignored rankings or any talk about seeding. Well, with those two games left and a real opportunity at a bye (the top eight seeds get them), Chesney is now going to allow himself and his staff to start to think and talk about things they ordinarily would never spend any time on.
That's the beauty of being a league champ, again. And again. And again. And again.
"These guys are very mature, I think they certainly understand what's at stake," he added. "There's nothing that we can't talk about. Usually, my approach has not been that way, we've just been focused and do what we're supposed to do, but there's nothing wrong with mentioning it and talking about it.
"But, what's the answer? Go back to work, right? It's going to always circle back to go back to work and have the greatest Tuesday possible, the greatest Sunday possible, the greatest Wednesday possible. It's just the nature of the beast."