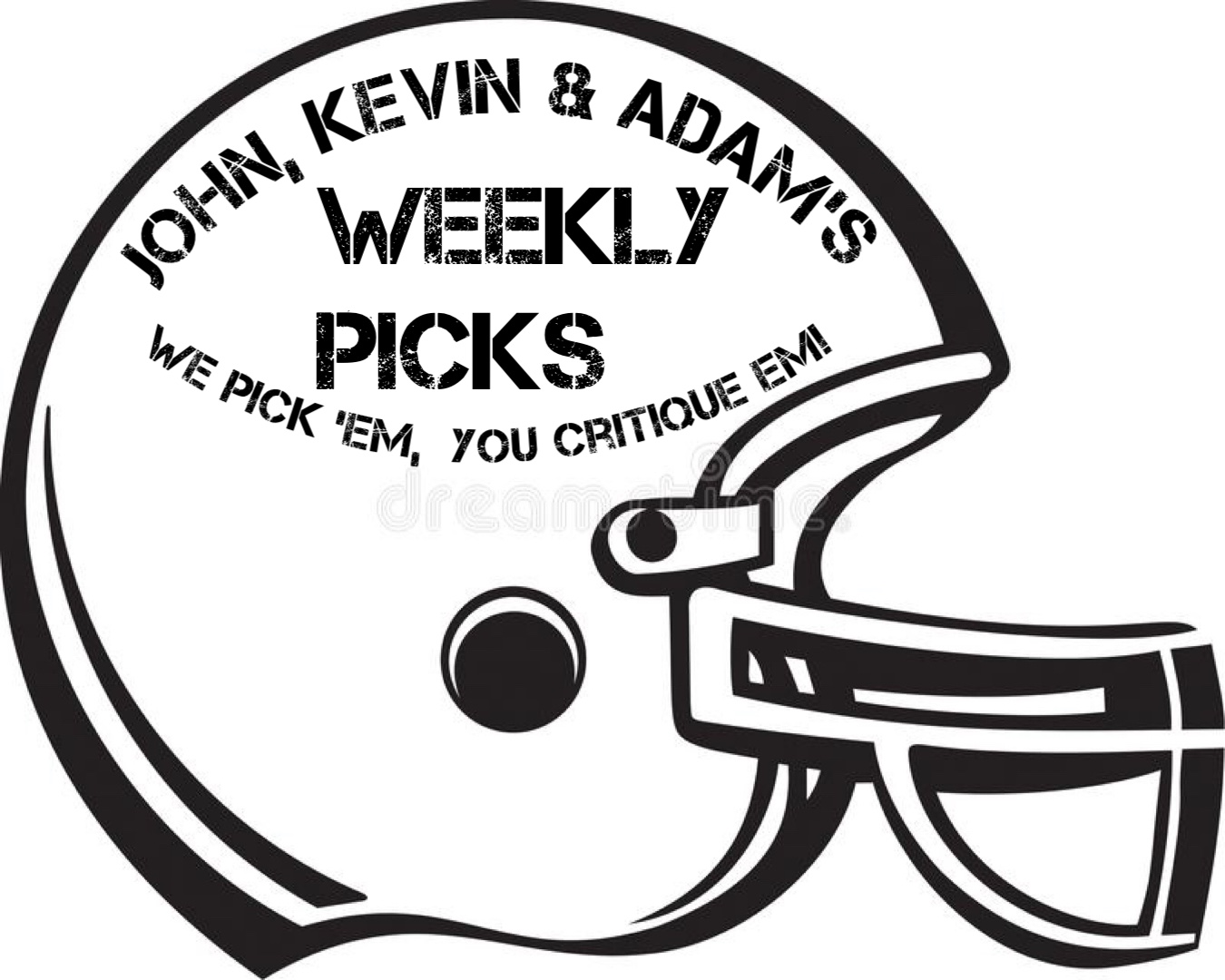 It's Week 9. The high school playoffs are upon us and there are some important games this weekend on the college slate. The Patriots have a big one as well when they take on the Colts.
Here are our picks for this week.
Colts at Patriots
John: The Patriots need this one if they are going to stay in the playoff hunt. I think it is a close game but the Patriots pull it off and go into the bye with some momentum.
Kevin: So, I'm taking the Pats, but the longer this week goes on and the more injury reports I see, the more worried I am. Indy may not have much of an offense, but this defense can cause serious problems. Taking New England like 17-14, but won't be shocked if the Colts win.
College
Duke at B.C
John: A win against Duke would be nice but the Eagles are too banged and inexperienced in a lot of areas. Blue Devils win a close one.
Kevin: Duke. Probably be like 10 or 14, somewhere in that range. As much as I want BC to pull out of this tailspin, it just feels like one of those years for the Eagles.
UMass at UConn – Yolked Strong Game of the Week:
John: The Huskies will be seeking some revenge after losing to UMass last season. With a win, they would be one step closer to a possible bowl bid. UMass plays tough but the Huskies pull it out in the end.
Kevin: With a bowl game now a real possibility and the revenge factor from a year ago in play, I'm going with UConn here. UMass defense might keep it close, but in the end the Huskies just need this one much more than the Minutemen do and I think they find a way.
Maine at URI
John: The Rams bounce back with a much needed win and stay in the CAA and playoff hunt.
Kevin: The Rams might not be able to win the CAA after last week's loss to William and Mary – or would at least need quite a bit od help – but they're still ranked in the FCS Top 25. That means the people who ultimately make the at-large decisions are paying attention. Big bounce back win for URI to keep playoff hopes alive.
UNH at Richmond
John: I am all in on the Cats. It'll be a tight game but UNH wins it at the end.
Kevin: Best game of the weekend on the local slate. UNH squeaks this one out and stays on top of the CAA, but I feel like this one has OT or whoever-has-the-ball-last-wins written all over it.
Columbia at Harvard
John: Harvard played their most complete game yesterday and took care of a business over Dartmouth. Look for them to keep things rolling this week against the Lions.
Kevin: The Ivy League could get real weird these last few weekends if Princeton loses on Saturday. For the Crimson to have any chance at getting in on the party, losing this game simply is not an option. I think Murphy continues stressing the sense of urgency and Harvard responds with a blowout.
Brown at Yale
John: Bears are playing well and it is tough to pick against them these days. Despite that, I'm going Bulldogs here.
Kevin: Shootout. Yale pulls away late, but at this point, Brown has proven it will be in every game every week. Win or lose, they're giving teams everything they've got.
High School
Wellesley at Mansfield:
John: Solid match up in D2. Hornets have flown under the radar this season but get back on the map with a win against the Raiders.
Kevin: Taking Wellesley with the upset. Obviously, Mansfield is extremely talented and very capable of winning this game at home, but having covered the Wellesley program extensively for years, I know for a fact Jesse Davis will have the Raiders fully believing they can go in and knock off the Hornets.
Everett at Taunton
John: Everett has quietly had a good season but I think this Taunton team is legit. Give me the Tigers in a home upset.
Kevin: It feels like Everett is back to being Everett, but no one really realizes it yet in terms of chatter about the program. Taunton's been a phenomenal story and this might sneaky be one of the best games of the weekend, but I'm taking the road team here too.
Wachusett at Xaverian
John: This is an intriguing game. I think the Mountaineers play tough for three quarters but the Hawks pull away late.
Kevin: I'm going three-for-three with road teams so far. St. John's Prep beat Wachusett in the first round last year, but it was a lot closer than people may think and I think that experience helps tonight. This team has everything you need to go in and pull an upset against one of the better teams in the state. Calling OT in this one and the Mountaineers escape with a win.
Melrose at Holliston:
John: The Panthers are back but face a tough first round test against a good Melrose team. Holliston's talent and experience will be the difference in this one. Give me the Panthers in this one.
Kevin: Much like Everett, it feels like Todd Kiley has Holliston back to being Holliston, but they've gone about it quietly. It's not so quiet after Friday night, Panthers win this one.
Leominster at Reading – Gold Athletics Game of the Week: 
John: This game could be a lot of fun. I wouldn't be surprised if it was high scoring. In the end, the Rockets experience and playing at home will be the difference. Give me Reading in this one.
Kevin: James Murphy ends up being the difference in this one, but as the one who is covering it for our site I expect to do a LOT of writing. This one might be in the 30's or 40's by the end of it, Rockets get a late TD pass from Murphy to win it, but Leominster is going to show what CMASS is all about and make this one a thriller.
Brockton at Methuen
John: Another game that could end up being a shootout. I am bullish on the Boxers. Have been for a while. I'm going with them here in what should a very entertaining game.
Kevin: After seeing Brockton against Franklin this year, I just figured it was going to be one of those are rebuilding years for the Boxers. As is often the case, I was very, very wrong. Brockton feels like Brockton again, taking the Boxers on the road.