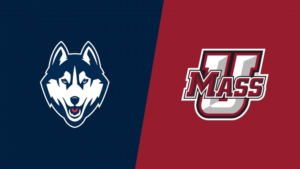 Image courtesy of ESPN
By Ryan Barry, NEFJ Correspondent
Kickoff: On the heels of the UMass Minutemen and UConn Huskies renewing their series through 2027, the imminent next chapter of this New England rivalry kicks off on Friday night under the lights at Pratt & Whitney Stadium. A win is of the highest importance when these two meet, but in the landscape of independent college football, the implications of who walks away victorious in East Hartford could have massive ramifications.
First Down: The Huskies come into this game after registering one of the most important wins in program history.  While Boston College (2-6) is having one of their more difficult seasons, before last week they'd never lost to UConn, with a record of 12 wins and two ties in 14 games. Against the odds, the Huskies 13-3 win demonstrated to folks across college football that their quick turnaround this season may not be a mirage. Up the road in Amherst, however, a 23-13 loss to fellow independent New Mexico State (3-5), a game in which many fans saw as winnable before the season started, left even more questions for a program that week after week has struggled.
Second Down: One glaring difference between each team lies at quarterback. The Huskies landed Zion Turner (105/173, 963 YDS, 8 TDS, 4 INTS) among other notable power five suitors, and the true freshman has been a standout thus far. While he's been thrown to the wolves of FBS football, he's responded well. He can extend plays with his legs, understands his role, and most importantly, doesn't turn the football over. With sophomore wide receiver Aaron Turner (35 REC, 345 YDS, 3 TDS) and freshman tight end Justin Joly (13 REC, 192 YDS, 2 TDS), UConn has young talent sprouting early at the skill position to grow alongside Turner. A glaring review of these positions can't exactly be said for UMass, whose recruitment of quarterback redshirt junior Gino Campiotti (33/74, 257 YDS, 1 TD, 6 INT) has not seen the same success. His 257 yards, despite not throwing a pass since their October 8th loss to Liberty, still lead the team, with fellow quarterbacks Brady Olson, Garrett Dzuro, and Zamar Wise, yet to lock up the starting job. The Minutemen lack explosiveness at the wide receiver and tight end positions. Drops and injuries admittedly haven't helped this group, but when teams like New Mexico State can scheme a defense knowing there is no vertical threat, it's incredibly hard to win football games.
Third Down: Despite the multitude of injuries that have plagued the Huskies this season, they continue to find ways to stay competitive and win games. At the end of September, it felt like the sky was falling with star sophomore running back Nate Carter and reserve sophomore Brian Brewton being lost the rest of the season to injury, but players have stepped up and made an impact in their stead. True freshman running back Victor Rosa was Connecticut Gatorade Player of the Year in 2021 and initially didn't expect to see much of the field this year, yet has carried the ball 85 times for 300 yards and four touchdowns. With sophomore back Devontae Houston potentially returning this week, who exploded for 135 yards in a win over Florida International a few weeks ago before spraining his ankle, the Huskies could finally be getting some depth back.
Fourth Down: One area where you could give UMass the slight edge would be on the defensive side of the ball. Ranked 69th in the nation in total defense, ahead eight spots from UConn at 77th, the Minutemen have played hard despite a dysfunctional offense. While their run defense has struggled, the secondary has been solid, surrendering the 37th fewest passing yards allowed in the nation. Penn State transfer Tyler Rudolph, junior Josh Wallace, and sophomore Jordan Mahoney have been instrumental in making it difficult to throw on the Minutemen. The UConn defense has yet to find their niche on defense, where they've surrendered 240.8 yards per game through the air (82nd in the FBS) and 147.1 yards per game on the ground (71st in the FBS). However, in the month of October they allowed just 13.5 points per game, and last week against the Eagles forced five turnovers.
Extra Point: In 2021, the Minutemen walked out 27-13 winners over the Huskies in Amherst, which would be their only win of the season. Since their first meeting in 1897, UMass leads the series against 38-35-2. While both teams have been in the FBS at the same time together, the series is split 2-2, with each team trading wins since their first matchup in this era in 2012. With the game dubbed "Military Appreciation Night," the Huskies will debut an all white salute to service uniform combination.
Final Drive: For the sake of growth in New England college football, the importance of this game cannot be understated, but for the fate of each team, Friday night's outcome has massive implications. In the tricky game of college recruitment, particularly within the northeastern states, winning football games against local teams is pivotal to plug when on the recruiting trail. The ability for Jim Mora to sit on a kid's couch in New Jersey and tell him that they've beaten both Boston College and UMass can be the difference in sparking a recruiting class that brings UConn back to where it once was. For Don Brown to be able to say to that same kid that they beat a UConn team who was having a solid season tells them that they're not too far behind, and are right there with them as far as turning things around. For the sake of this rivalry, neither team wants to lose, especially within the fanbases who'll have fuel to add to their ever stoked fire. Though when it comes to the ability for each team to turn things around quicker, a win for whichever team could pay dividends in the quest for New England college football supremacy.