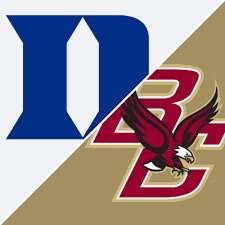 Image courtesy of ESPN
First down: Primetime, under the lights on a Friday night, Alumni Stadium should be rocking, right? Well, that would've been the case before the Eagles' season went completely off the rails, but now I'm not sure 15 or 20,000 people make it into the stadium for this one between BC and Duke.
Second down: Defensively, the Eagles are going to have their hands full. Duke ranks fourth in the ACC on offense with 35 touchdowns, and 275 points, which is good for an average of 34.5 PPG. That puts the Blue Devils behind only North Carolina, Wake Forest and Clemson. QB Riley Leonard is eighth in the conference with 484 yards and eight TD's on the ground and in the passing game, Leonard has thrown for 1,693 yards and 10 touchdowns. BC has struggled with dual threat QB's for a few years now and unfortunately, Friday night may be no different.
Third down: With Phil Jurkovec's status up in the air after suffering a knee injury against UConn, Emmett Morehead may end up getting the start under center. Duke's defense ranks seventh in the ACC giving up an average of 22.1 points per game. The Blue Devils' defense has 19 sacks on the season, which could mean big trouble for BC's banged up offensive line too.
Fourth down: The one saving grace for Morehead or even if Jurkovec starts, is the fact that Zay Flowers is still healthy and the best receiver in the ACC. Flowers will get his most likely – even though UConn was able to shut him down – but if Morehead starts, watch out for Joe Griffin. The freshman from Springfield Central has burst onto the scene and since both he and Morehead have worked so much together throughout camp and during the season as backups, their connection is extremely evident every time they're on the field together. It could be a big night for Griffin if it's Morehead's game.
Extra point: The Eagles are currently 9.5 point underdogs and at this point, if BC covers it's a win. Things are so bad right now that all BC fans should be hoping for is a competitive game. Duke isn't a top tier program by any means, but with all the injuries and just a lack of continuity on offense, it's hard to imagine the Eagles suddenly explode on offense and make this a shootout.
Final drive: Win or lose, the Hafley job security talk is a bit premature. Obviously, this is a nightmare season for BC fans, but the amount of injuries at key positions and the lack of experience for those filling in really isn't on the head coach. Now, a historically bad loss to the Huskies last weekend is certainly hard to swallow, but the only way Hafley's job should be on the line is if you see a complete lack of effort and focus starting on Friday night. If the UConn loss snowballs into poor effort and a "check out" factor that's easy to see, then maybe it needs to be revisited. It's not about wins and losses anymore, it's about what the effort looks like. That's what BC fans should be focused on Friday night.