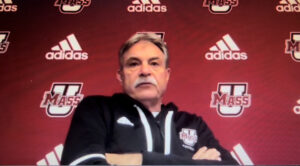 It's been another down year for UMass, but most of the negativity will disappear with a win over rival UConn on Friday night.
At the start of the season, the Minutemen and Huskies were in the exact same situation. Both programs had hit rock bottom for several years and were a laughing stock nation wide. Well, months later, Jim Mora stunningly has UConn thinking bowl bid in his first season, while Don Brown is having a much tougher go of things during his rebuild.
Still, after UConn's big win over BC last weekend, UMass fans would be thrilled with a win over their rivals, even if it is only the second victory of the season. Head coach Don Brown has been involved with the rivalry plenty of times before and understands this one is just a little bit more significant.
"I've been on both sides of this coin now," he said earlier in the week. "I've been here, played in that game, and obviously I've been at UConn and played in that game. For me, the feeling is pretty strong. Regardless of where I've been, which school I've been at, it's one of those that you circle on the calendar, for sure."
Brown was also asked about the job that Mora has done with the Huskies.
"He's done a good job and really kind of righted the ship," said Brown. "They struggled earlier, played some tough teams early, and the one thing is they've been able to maintain some stability at quarterback, which is a big deal. After their first guy got hurt, that sent them into a little bit of a tailspin, but obviously, when you have the same guy week in and week out playing quarterback for you that certainly helps."
The win over BC is something that UMass is ultimately striving for. A statement win for the program that says things are on the upswing. So, what impressed Brown about that win for the Huskies?
"They just kept playing," he said. "Im sure there's things offensively they would have liked to have seen go their way a little bit better, but at the same time, they just kept playing the game. Sometimes, that's all you need to do. Just stay in the foxhole, keep fighting and good things happen."
Earlier this week, it was announced that UConn and UMass had signed a deal to extend the series between the two schools through 2027. The 2023 matchup will be at a neutral site, UMass will host in 2024 and 2027 while the Huskies will host in 2025 and 2026. The rivalry may not get much national attention, but in terms of recruiting and bragging rights, this one means more, no matter what the records look like for either team.
"The value I think, most importantly, is you need a rival," added Brown. "Everybody needs a rival game. It's such a special week in a season and I've been doing this a long time, when you don't have a rival game, I feel like your team is missing out on a great opportunity.
"Playing a school that's very similar in structure and so forth. You want to play in a game that's just a little bit more special. Especially now with our schedule and the way we're playing all over, virtually all over from the Middle East, to the midwest, all the way to the east. It's good to play a team that's close to you. It's a little more special when you play that particular game that week."