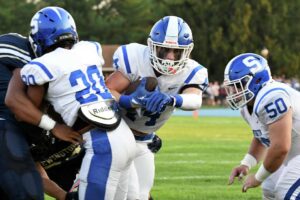 Image courtesy of Hearst Media
Poll put together by Jake Klein, NEFJ correspondent
1. Southington – With a perfect record through seven games and three victories over Top-25 opponents, the Blue Knights have charged up the rankings, assuming the top spot after New Canaan's loss. Southington beat 5-1 Glastonbury 27-6 Friday. Lincoln Cardillo ran for two touchdowns and 112 yards on 20 carries and CJ DiBenedetto went 17-22 for 266 yards and two scores. Mike Drury's team is sitting pretty, but still has meetings with Maloney and Cheshire. Next Up: at No. 4 Maloney, Fri., 6:30 p.m.
2. Greenwich – The Cardinals beat Darien for the first time since 2007 Saturday, holding strong in the second spot in the Class LL standings. Jack Wilson threw for 264 yards against the Blue Wave, passing for one touchdown and running for two more. George Vomvolakis iced the game with a 20-yard score with 10 minutes left. Greenwich doesn't control its own destiny after losing to Southington earlier in the season, but they could still overtake the Blue Knights if they win out and get help. Next Up: Danbury, Sat., 1 p.m.
3. New Canaan – After a brutal 27-14 loss to St. Joe's Friday, New Canaan coughed up the top spot. Hunter Telesco was his usual self, running 13 times for 87 yards and a touchdown, but with Ty Groff back in at quarterback after missing more than the first half of the season, New Canaan's passing offense was nowhere to be found. Groff finished 7-19 with no TD and three picks. His team has good rebound chances against Ludlowe and Warde before facing Darien in the final week. Next Up: Ludlowe, Fri., 7 p.m.
4. Maloney – 19 in a row is the number for the Spartans after thumping Conard 32-0 Friday. You wouldn't know it from the final, but it was 6-0 at the halftime break. Kyle Valentine threw for two touchdowns and Josh Boganski ran for three. Maloney's 7-0, but they haven't played the toughest schedule. The rest of the state will see what they're made of next week. Next Up: No. 1 Southington, Fri., 6:30 p.m.
5. West Haven – Behind two rushing scores from Trevor Tompkins and the third pick-six of the season by Avian Evans, the Blue Devils blew out Sheehan Friday to advance to 7-0. The strength of schedule questions remain, having faced just one team in seven weeks that's even sniffed the Top 25, but it helps West Haven's case that their average margin of victory against the other six opponents is 41.2 points. They finish with No. 7 Hamden and No. 10 Prep. Next Up: Next Up: at Harding, Fri., 7 p.m.
6. St. Joseph – The Hogs were responsible for more turmoil at the top of the rankings—and the fourth different team to hold the top spot—when they knocked off then-top-ranked New Canaan 27-14 Saturday. Riley Jordan carried the SJ offense, running 30 times for 164 yards and all three touchdowns. It seems likely that St. Joseph will enter the postseason with its Week 6 loss to Greenwich as its only blemish, and is poised to make noise in the bracket. Next Up: Next Up: Stamford, Sat., 1:30 p.m.
7. Hamden – The Green Dragons are 7-0. They've beaten teams, including two Top-25 opponents, by an average of 30.4 points. Camren Kemp and Shawn Mills split the brunt of the load in the 27-0 win over Branford Friday, the former running 13 times for 150 yards and two touchdowns, the latter 7 times for 153 yards and two more scores. A Week 10 meeting with West Haven may well determine Hamden's playoff fate. Next Up: Next Up: Hillhouse, Fri., 7 p.m.
8. Trumbull – Following last week's loss on the road to Greenwich, the Eagles got back in the win column Friday when they beat Ludlowe 39-14. Hunter Agosti went 22-34 for 310 yards and three scores through the air, while Rowan Johnston carried 26 times for 185 yards and two scores. It's been a strong season for Trumbull, but, sitting at fourth in the conference standings, they've got work left to do and no room for error. Meetings with Ridgefield and St. Joe's are on the horizon. Next Up: Next Up: No. 23 Ridgefield, Fri., 7 p.m.
9. Killingly – The Redmen's Week 6 loss to Windham is undoubtedly a scratch on their resume, but they're doing what they can to prove it was nothing but a fluke. They crushed Fitch 52-19 Friday to go to 6-1, and don't have a formidable opponent remaining. Soren Reif went off, running 27 times for nearly 300 yards and five touchdowns, marking his best performance of an incredible season. One-loss Killingly should make the postseason, but it'll be interesting to see how much respect they're given seeding-wise. Next Up: Next Up: Waterford, Fri., 6:30 p.m.
10. Fairfield Prep – The Jesuits jumped to 4-3 with their best win of the season, edging Shelton 16-15 on Malachi Mercer-Robinson's two-yard touchdown in the final minutes to stay alive in the Class LL playoff conversation. Wally Wuchiski carried 28 times and ran for 131 yards and Prep's other touchdown. They've got three winnable games left—two against Top-25 foes North and West Haven, but Fairfield Prep's margin for error is paper thin. Next Up: Notre Dame-West Haven, Fri., 6 p.m.
11. Darien – Next Up: Norwalk, Fri., 7 p.m.
12. Masuk – Next Up: at Pomperaug, Fri., 6:30 p.m.
13. Bloomfield – Next Up: at Bristol Eastern, Fri., 6:30 p.m.
14. Cromwell/Portland – Next Up: at Coginchaug, Sat., 1 p.m.
15. Shelton – Next Up: No. 22 Cheshire, Fri., 7 p.m.
16. Newtown – Next Up: at Stratford, Fri., 7 p.m.
17. New Fairfield – Next Up: Notre Dame Catholic, Fri., 7 p.m.
18. Staples – Next Up: Westhill, Fri., 7 p.m.
19. Wethersfield – Next Up: Bristol Central, Fri., 7 p.m.
20. Ansonia – Next Up: Watertown, Fri., 6 p.m.
21. North Haven – Next Up: Hand, Fri., 7 p.m.
22. Cheshire – Next Up: at No. 15 Shelton, Fri., 7 p.m.
23. Ridgefield – Next Up: at No. 8 Trumbull, Fri., 7 p.m.
24. Berlin – Next Up: at Farmington, Fri., 6 p.m.
25. Windsor – Next Up: Enfield, Fri., 7 p.m.