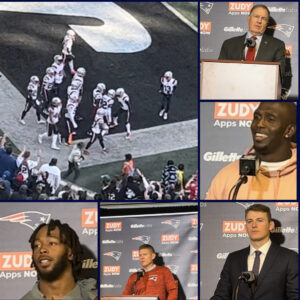 EAST RUTHERFORD, N.J. – If the Patriots are able to make the playoffs this season, the second half of the game against the Jets on Sunday may be one of those "turning points" we all look back at.
After an ugly 30 minutes, New England seemingly flipped a switch – even though the offense still struggled – as the defense made Zach Wilson see ghosts the night before Halloween and Nick Folk added five field goals to help the Pats escape with a 22-17 win.
The win was also No. 325 for Bill Belichick, moving him ahead of George Halas for No. 2 all-time winningest coaches behind Don Shula.
"This was a really good day for our team today," Belichick said postgame. "This was a typical tough division game down here. Give the Jets a lot of credit. That's a good football team, they really played well defensively, they gave us plenty of problems…good division win on the road."
The first two quarters were arguably some of the worst the Patriots have played all season.
After the teams traded punts to open the game, the Jets embarked on a 10-play, 82 yard drive that stalled inside the New England 10. Greg Zeurlein made it 3-0 with a 28 yard field goal, but the Pats had a response of their own.
Jones (24-35/194/1 TD) led a 15-play march that chewed up the final 8:14 of the first quarter. Jones and Jakobi Meyers (9/60/1 TD) hooked up twice on third down and Jones also scrambled for 11 another time, but like the Jets, New England fizzled out in the red zone and settled for a 31 yard Nick Folk field goal to make it 3-3 after one.
New York's third drive at the very beginning of the second quarter resembled most of the Bears' drives last Monday night. The Jets waltzed 75 yards in six plays – with the assistance of a Jabrill Peppers unnecessary roughness call – and Ty Conklin hauled in an eight yard TD catch from Wilson to make it 10-3.
After hitting Rhamondre Stevenson (16/71, 7 catches/72 yards) over the middle for 22 yards on another third down the ensuing drive, the offensive line struggles continued and Mac's arm was hit while he was throwing moments later. The ball ended up being a fluttering pop up that was easily intercepted by Michael Carter at the Jets' 24. The defense quickly forced a three and out and after a booming punt along with a block in the back, New England took over at its own 10 with 7:49 to go in the half.
An unnecessary roughness flag on Jones after a scramble, a hookup with Jonnu Smith on another third down and a 22 yard gain on a play action pass to Hunter Henry all contributed to the Pats reaching the Jets' 21 on a 13 play drive. Unfortunately, the 13th play out of the two minute warning was a failed fourth and one attempt on a play action throw to Meyers and the lengthy march resulted in zero points.
Stunningly, New England got bailed out by a poor decision from Zach Wilson with Judon bearing down on him a few plays later, throwing a floater over the middle that was picked off by Ja'Whaun Bentley with 42 seconds left at the Jets' 40. Jones did his best to give it right back, throwing a horrendous pass that was picked off and returned 85 yards for a TD by Carter, but a questionable roughing the passer call negated it, much to the dismay of the very vocal Jets fans.
With the ball at the 12 in the final 30 seconds, a Cole Strange hold moved it back to the 22. Instead of taking a shot at the end zone, New England just handed the ball off and eventually settled for a 42 yard field goal from Folk to make it 10-6 at the break.
Jonnu Smith took the third quarter kick up to the New England 28 and Stevenson rumbled downfield for 35 yards on the first snap, quickly moving into Jets territory. The drive stalled, but on fourth and one at the five, Jones hit Meyers for a five yard TD to give New England its first lead of the day at 13-10.
"I thought today was a good win," said Jones. "In the National Football League, it's obviously hard to win and the defense played exceptional. We kind of knew we were just going to wait and let them take over the game and special teams played great as well. Obviously, we did enough to put points up, but we want to do better and we will."
The Jets quickly moved down to the Pats' 27, but stalled out and Zeurlein missed a 42 yard field goal. The Pats raced down field in nine plays, going hurry up for much of the drive, but a sack on third and four at the Jets' 27 killed momentum. Mr. Consistent hit a 49 yard field goal with 5:23 left in the quarter to push the lead to 16-10.
The Jets punted out of their own end zone after an ugly few plays and a 32 yard return by Marcus Jones set New England up at the Jets' 27. The offense couldn't do anything though and Folk was called upon again for a 49 yard field goal to make it 19-10 late in the third.
Two plays later, Devin McCourty came up with a sliding interception along the Pats' sideline at the Jets' 40, but a huge sack for a loss of nine quickly killed any hopes New England had of putting the game away on the ensuing possession, punting it back to the Jets in the final 30 seconds of the quarter.
The Pats continued putting relentless pressure on Wilson for most of the afternoon and it paid off in the fourth as Wilson was flushed out to his right, tried to make a play and heaved an ugly ball down field that was picked off again by McCourty. The return to the Jets' 37 with 11:58 to go once again set the offense up with a golden opportunity to put the game away.
"Just to get to him and impose our will," Judon said when asked what the game plan was. "Just continue to put him under pressure, under duress and we was able to do that. We wasn't able to get him on the ground, but we were able to get in the backfield and kind of boogie-oogie'd him so he could have some errant throws."
The second interception for McCourty gave him 33 in his career, which makes him the current leader in the NFL among active players.
"Well, obviously, I'm just old to stick around," McCourty joked when asked what it meat to him. "Being back here, I played my college football here. I played high school football in New Jersey. To be here, to get two interceptions 13 years later in the NFL…I still remember draft day everyone saying the Jets were going to draft me.
"I always say, I don't know how much longer I'll be playing, I don't know if I'll get a chance to be here again playing, so to be back home, J-Mac (Jason McCourty) is at the gate today, so all of those things, being able to have one of the better games I've had this season and make plays for the team to get a win, that's what it's about."
Instead, Jones was nearly picked off on third down and once again Folk had to bail the offense out again, this time drilling a 52 yard field goal for a 22-10 lead with just under 11 minutes remaining. The Jets turned it over on downs and sent fans streaming for the exits with a little less than nine minutes to go in what was truly a putrid display of offensive football.
Conklin did grab another late TD from nine yards out following the two minute warning, but Jabrill Peppers recovered an onside kick and two kneel downs later, the Pats were back to .500 with a matchup against the Colts at Gillette Stadium up next.
"Good to get out of here with a win in the division, but we'll move on," Belichick added. "I'm proud of the way the team stepped up on a short week here and came in and got the win today."