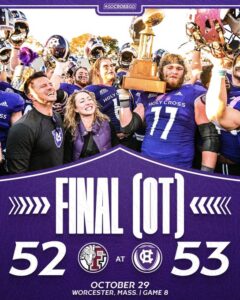 Image courtesy of Holy Cross Athletics
By Tony Catalina
NEFJ Correspondent
WORCESTER – An instant classic took place at Fitton Field on Saturday afternoon. In front of a packed crowd and against one of their biggest threats to a fourth straight Patriot League title, Bob Chesney and his Holy Cross Crusaders pull out trickery in overtime to win 53-52 over Fordham and elevate to 8-0 on the season.
"A battle. A battle right…When it was said and done, we knew it would take a full 60 minutes, it took a little more than that" Chesney stated in his opening statement to the media. "Honestly either team could have won that football game today"
The game was highlighted by quarterback Matthew Sluka and Peter Oliver. Sluka finished 15/23 291 yards and four touchdown passes while adding a touchdown on the ground as well. Oliver was a work horse back himself as he finished the game with 19 carries for 95 yards and two touchdowns.
Just as many expected, the team who had the ball last ultimately ended up winning the game. After winning the overtime coin toss and deciding to play defense first, the Crusaders watched as Dequece Carter caught a 25-yard touchdown pass from quarterback Tim DeMorat on their very first play of OT to put the Rams up seven.
The Crusaders responded with a seven-play drive that ended with quarterback Matthew Sluka hitting wide receiver Justin Shorter for a nine-yard touchdown pass to bring the Crusaders within one.
Most in the building anticipated Chesney to trot out his kicker to tie the game and live for a second overtime, but the Crusaders had other plans. Chesney and his offensive staff dialed up a masterfully executed "Philly Special" that saw Ayir Asante take a toss with the option of throwing to QB Sluka in the back of the endzone. However, Asante saw daylight and decided to use perfect blocking in front of him on the play to waltz in and set off a wild celebration.
"I don't know if there was another option at that moment," Chesney said of the call. "We felt like we had a play, we felt like the way they were lined up and sort of coverage wise dictated something for us."
Points were scored in bunches in this one, evident by the 105 total points scored between the two teams. Holy Cross got on the board first as Oliver punched in a TD from the one-yard line to cap off a three play, 65 yard drive with 12:52 in the first quarter. After a field goal from the Rams to tighten the deficit, the Crusaders found the endzone with Oliver once again capping off the seven play, 38 yard drive with 5:26 left in the first quarter.
The Crusaders scored again with 5:50 remaining in the second quarter to extend their lead to 21-10 with a one yard Sluka run up the middle to put a bow on a 12 play, 73 yard drive.
There was a stretch where the Crusaders offense went stagnant, but it wouldn't last for long as Oliver scored for a third time at the end of a quick-strike three play drive that only took a little over a minute.
As the game went on, the Rams were able to flex their offensive muscle and with eight minutes remaining in the game, seemingly had a commanding lead. Sluka and wide receiver Jalen Coker revived their well-known connection during a six-play, 85-yard drive, finishing it off with a 12 yard hook up to bring the score to 38-32.
Sluka needed to Coker again late to even the score at 45-45 and push the game to overtime.
When asked about his teams' resiliency coach Chesney said he didn't think this wasn't something he didn't already know about his team.
"This is the resiliency they show every day," he said. "I think this is the resilience they have shown from five years ago at Georgetown where it all kind of started. They're never going to quit, they're never going to hang their heads".
The Crusaders now control everything when it comes to a four-peat in the Patriot League and potentially earning multiple home games in the FCS playoffs as this magical season continues.