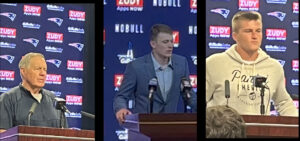 The Patriots have their starting quarterback situation figured out.
For now.
After an odd day at Gillette on Wednesday where the Pats didn't have a starting quarterback around 1 P.M., then did have a starting quarterback at about 4 P.M., Bill Belichick confirmed on Thursday morning that Mac Jones would be the starter against the Jets.
"Mac took a full workload yesterday, I'd expect him to be fully available for the game and ready to go," Belichick said. "That's really it for that."
On Wednesday, Belichick said he needed to see how practice went before figuring out the quarterback situation. So, was it as simple as Mac getting a full practice in?
"He's ready to do that, that's what he needs to do to prepare for the game," said Belichick. "That's what our offensive unit needs is everybody working together, so we'll get that this week…that's the decision, so that's where we are now. If we had been at that point yesterday, I would have told you that yesterday. When we were at that point I'd let you know that."
That's all well and good and finally provides a bit of clarity as far as this weekend goes, but Belichick's unwillingness to say that Jones is the starter for the rest of the year or even the foreseeable future still leaves a lot to wonder when it comes to that position.
"That's where we're at," Belichick said when pressed on the issue moving forward. "I don't want to go through a lot of hypotheticals. That's not where we're at. We're getting ready for the Jets, that's where we're at, period. If you're going to give me a bunch of hypothetical situations, I don't know what those are, so we're not going to get into that. Here we are today, it's Thursday, we're getting ready for the Jets, that's where we are.
"Anything that happens beyond that…it's not current."