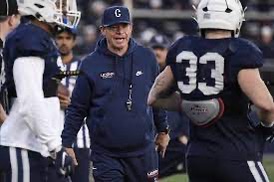 Image courtesy of Hartford Courant
UConn head coach Jim Mora has been through this plenty of times, whether it's college or the NFL.
Despite his team being banged up and despite being 7.5-point underdogs to Boston College when the Eagles visit this Saturday, there's no reason to believe the Huskies can't pull the upset. BC is just as banged up as UConn, can't figure out how to move the ball offensively and seem to be trending downward.
Meanwhile, UConn is legitimately eyeing a shocking bowl bid in what was supposed to be an ugly rebuilding season. Mora met the media on Tuesday morning and acknowledged it's a big litmus test for his team and an opportunity to make a statement.
"Obviously, this is a huge challenge for us. We know what BC's record is, but I also know what the tape tells me," he said. "In studying these guys offensively, defensively and on special teams wise, it's a good football team."
The BC offensive line has struggled quite a bit this season between injuries and inexperience, but Mora pointed out that it's still a team that can hurt you in a number of ways if they do get things clicking.
"Their running numbers aren't great, but you look at the Louisville game and they got after Louisville in the run. They're certainly capable. Their quarterback is touted as one of the best quarterbacks in the country. He's big, he's strong, he's physical…they're using him more in the run game now. He can make every throw on the field and then he's got receivers to throw to.
"Certainly, Zay (Flowers) is a guy you have to pay attention to. You're not going to stop the kid. You can slow him down, but you can't stop him, he's that good. We have a ton of respect for him."
Defensively, the Eagles have been in most games because of that unit and Mora knows it's going to be a dogfight if UConn is going to score points.
"BC defensively is probably as physical of a team that we'll face," he continued. "Maybe not quite as physical as Michigan, but right there and that's saying a lot because that's one of the most physical fronts in football. They're very impressive there. They've got corners that can cover, they play a really nice scheme, they keep the ball in front of them, they hustle to the ball, they tackle."
While the game in its simplest form is offense vs. defense, for a team like UConn, there is still an element of trying to just focus on what the Huskies are doing to get better each time the team steps on the field.
"What we're trying to do here defensively in particular, is just get good at what we do," Mora said. "I've always felt if you have repetitions of things you believe in, if you have a strong foundation, it allows you to play fast and you can try to make plays. That's what we're going to try to do."
Often times, too much is made about the opponent when the underdog is gunning for an upset. Mora – with plenty of experience as the favorite and the dog in his career – is truly making sure his guys are focused on themselves and hopefully, by about 4 P.M. on Saturday there's another big celebration going on at The Rent.
"We're going to go do our thing," he added. "I think that we think that the best way for us to continue to make improvements is to just zero in on what we do best. Certainly, we'll have some game plan adjustments, but we're going to try to continue building the foundation of this football team.
"Our guys are excited to play. I've been told that this school has never beaten BC and I've been told it's somewhat of a rivalry, at least from our standpoint, so I'll be interested to see how that is. It's homecoming. It'll be nice to see some people back on campus, hopefully in the Rent, we're anticipating a good environment there. I'm sure BC will travel well. It's one of those games you always look forward to. Heck of an opponent, a great challenge, a great environment and a lot to play for."