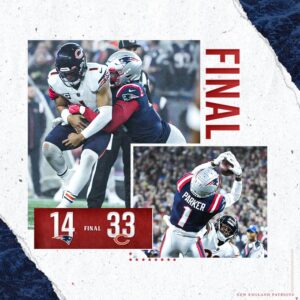 Image courtesy of New England Patriots
FOXBOROUGH – From the time the power went out (twice) at Gillette Stadium early on Monday night, there was a strange feeling in the air that things would get weird when the Bears visited for a primetime matchup.
Boy, did they ever.
The Pats trailed by 10 early with Mac Jones starting. Jones was pulled for Bailey Zappe after just three series, and Zappe quickly gave the Patriots a four-point lead in the second quarter with two touchdown drives. However, the electricity in the stadium that Zappe provided soon wore off as the Bears scored 23 unanswered points on what was a horrific night for the defense and Chicago walked out of Foxborough with a stunning 33-14 win.
New England is now 3-4 with a legitimate quarterback controversy on its hands and serious problems on third down defensively, Oh, and a massive game against the Jets coming up in six days.
"It's obviously a poor performance tonight. We were badly out-coached, out-played. Just didn't do anything well enough in the game to have a chance to win or deserve to win," said Bill Belichick. "The Bears did a good job. Totally controlled the game in all three phases. Well, we have obviously a lot of work to do here and need to perform a lot better than that. Need to compete better than that and perform better than that. It's not any one thing. Just collectively it's all of us, and we just have to all perform better. Simple as that. That's where we're at. It's not about any one player or one coach, one thing.
"Just collectively we've got to perform better, so that's what we'll work toward doing this week."
After an ugly three and out to open the game, the Bears moved 42 yards in eight plays, but eventually stalled and had to settle for a Cairo Santos 42 yard field goal for an early 3-0 lead. It wasn't any better on the second drive as New England moved backwards, went three and out again and had to punt.
Seven plays later – including a 19 yard pickup on third and six and a grab by old friend N'Keal Harry – Justin Fields (13-21, 179, 1 TD; 14 carries, 82 yards, 1 TD) punched in a three yard score to put the Pats in a 10-0 hole with a little over two minutes left in the second. The boo birds were out early and Zappe chants picked up almost immediately after the extra point.
Things appeared to be getting better on New England's third possession as Mac had a few scrambles and the offense was able to reach the Bears' 35-ish yard line. It all came to a screeching halt when Jones through an ugly interception along the Bears sideline, an easy grab for Jaquan Brisker at Chicago's 27 with 13:08 left in the half, prompting the loudest "Zap-pe! Zap-pe! Zap-pe!" chants of the night.
A Matt Judon sack on third down got the Pats the ball back and stunningly, Zappe entered the game with 11:52 remaining in the half. Just five plays later, the rookie hit a wide open Jakobi Meyers for a 30 yard touchdown  to cut it to 10-7 as Gillette Stadium erupted.
The good vibes continued moments later as Myles Bryant picked off Fields at midfield after Judon tipped the pass on third down. On the very first play after the pick, Zappe hit DeVante Parker for a 43 yard strike down the right sideline as Gillette nearly fell down from the noise. Three plays later, Rhamondre Stevenson punched in a three yard TD run to quick give New England a 14-10 lead with a little over six minutes left in the second quarter.
"About the same time y'all did," Zappe said when asked when he knew Mac would be the starter, but that Belichick planned to play both quarterbacks. "I prepare like I have every other week like I was one play away and getting ready for every game like I have the last seven weeks, and same thing I'm going to do this next week."
"I think obviously, like I said earlier, definitely wanted to play better. I just have to do better at my job, and that's all it comes down to," Jones said of the Zappe chants early on and how it affected him. "That's all I can control. Honestly, we've got a good chance here to go against the Jets, and that's what I'm focused on. I'm going to do my best to put my best foot forward. I've been in this situation before, and just going to try to help the team. Whatever my role is, I'll be ready, and I'll give it 100%."
The Bears responded with an impressive nine-play, 75 yard drive that was ultimately a sign of things to come. Third downs in particular – the Bears converted 11 of 18 on the night – was a contact killer. The march eventually ended with Kahlil Herbert taking off with a 25 yard catch and run for a TD after Fields had gotten sandwiched, making it 17-14 late. Three plays later, Zappe and Jakobi Meyers fumbled an exchange in the backfield that Chicago recovered at the Patriots' 37. Third down conversions on third and 15 twice gave the Bears the opportunity to kick a 23 yard field goal in the final seconds and carry a 20-14 lead into halftime.
The Bears opened the third quarter with a 10 play drive, but stalled in the red zone and settled for a 38 yard field goal from Santos to make it 23-14. After a quick three and out, the Bears again embarked on a 10 play waltz, this time ending it with a 50 yard field goal from Santos to make it 26-14 with 3:50 left in the third,
The offense continued to fizzle out on the ensuing Patriots' possession and a low, short punt by Jake Bailey coupled with a nice return gave the Bears excellent field position at the New England 39. The Bears soon put it away for all intents and purposes with a one yard TD run for David Montgomery, pushing the lead to 33-14 with 12 minutes left in the game and sending fans streaming towards the exits.
Zappe and the offense moved the ball a bit on the ensuing drive, but a tipped ball at the line was picked off by Roquan Smith with 7:50 left, ending any hopes of an epic Monday Night Miracle. Just to add insult to injury, Zappe was picked off late by Kyler Gordon.
"We didn't have a lot of answers for anything," Belichick added. "We didn't play well in the kicking game. We didn't play well on defense or offense. Obviously, we didn't coach well. Pick whatever you want. You can say the same about every phase of our game."