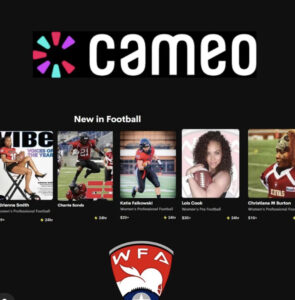 Image courtesy of Boston Renegades
As more and more girls and women get into football – not just as fans but as members of organizations and teams both on and off the field – the need to reach new audiences continues to grow.
This week, the Women's Football Alliance announced a partnership with Cameo allowing members of the league to interact with fans on a more personal level. For members of the dynastic Boston Renegades, it's another chance to continue growing the game and the league locally.
"Cameo is a great opportunity for us to grow our fan base, provide broader recognition for our athletes and to allow each player to capitalize on their athletic prowess.," said Renegades owner Molly Goodwin via email on Friday.
"Cameo provides greater access for our fan base of 500k+ to hear from their favorite WFA Pro players," added CEO of WFA Pro Jess Dodge.
Wide receiver Adrienne Smith has been at the forefront of getting the Renegades name out there. Not only has Smith developed her own card game that has garnered a ton of national attention, she's been in photo shoots, video campaigns and other things promoting the league over the last few years.
"The WFA's partnership with Cameo is a significant milestone not only for our league, but for women's sports in general," Smith said via email. "Having a platform like Cameo will allow the Renegades to have personal interactions with fans, that will strengthen and grow our fan base. I am grateful to be a part of this initiative as it gives me the opportunity to encourage and support others, while also spreading some 'Adrienne The 10' football love."
Running back Katie Flakowski has had the opportunity to share her championship wisdom with the Barnstable football team this season as an assistant, but the Cameo deal now allows her and her teammates to continue building relationships with a rapidly growing fan base.
"I think any opportunity for more exposure of women athletes, including football players, is a positive," Falkowski said. "Cameo is a fun way to reach more people- it's pretty cool that now when people search "football" on the app they will see female football players from the WFA Pro listed there.  I also think that finding ways to engage fans and give them more opportunities to meet the athletes in our league is great- there are so many amazing athletes in the WFA Pro balling out, and I think the more people get to know them and hear their stories, that helps lead to a more engaged fan base."
These aren't just all football related either. If you've never had any experience with Cameo, these messages can literally be about anything. For members of the WFA and the Renegades in general, it's an even bigger opportunity to be role models for the younger generations.
"Personally, when I was first approached by a representative of the WFA Pro if I was interested in being on Cameo I thought why not? If I can help in any way gain exposure for our league, women in football, and female athletes in general, I'm happy to do it. I wasn't sure what to expect, but what's been fun is that in the past week I've done a video for a high school girl who scored her first touchdown and a ten year old boy on the O Line who needed some encouragement because his team was on a two game losing streak," Falkoswki added. "The fact that I can congratulate and encourage those people, and also help them see a woman who is pursuing sport at the highest level, is a real privilege and I'm grateful for the opportunity. "
The WFA is gaining as much traction now as it ever has. ESPN got on board this past season by airing the Renegades' most recent championship victory live and Renegades games regularly draw fans in the thousands. Now, with the Cameo deal, the relationships with the fan base will continue growing and hopefully, bringing new eyes to the extremely underrated product.
"In order for our sport to grow, and women's sports in general to flourish, I believe that we need to not only show the amazing product that we have on the field, but also engage our audiences in ways similar to mainstream male sports," said Falkowski. "Tell the stories of our athletes, show the world the level of training and dedication these women have, and share our passion for football (and sport in general) with the world."