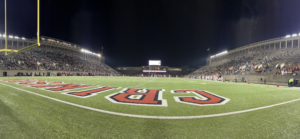 CAMBRIDGE – There was no statement needed by the Ivy League, no pleading from the school or fan base for a reversed decision.
There was no doubt.
A year after an egregious officiating error handed Princeton a win over Harvard, the Tigers visited the historic stadium in Cambridge for a rematch under the lights on national television. The 10,793 that bundled up and came out to watch were hoping for something like the epic five-overtime duel from a year ago, but this time they were able to beat the traffic in the third quarter.
No. 23 Princeton rolled over Harvard 37-10 in a game that was close at the half, but over by the start of the fourth. The Tigers remain unbeaten at 6-0 and atop the Ivy League standings. Meanwhile, the Crimson's chances for a league title after being selected as the preseason favorite took a massive blow. Harvard is now 4-1 and 2-1 in the league. Yale and Penn are also both undefeated overall and 2-0 in Ivy play and face off on Saturday, so the Crimson will now need to take care of business in the last four games without any margin for error and also have some help if they're going to have a chance.
"I'll state the obvious, we got our butts kicked," said Harvard head coach Tim Murphy. "I can't remember us being in that situation, wow…in forever. Give tremendous credit to Princeton, they're an outstanding football team."
Princeton boasts one of the toughest defenses in all of FCS and it came to play on Friday night. Quarterback Charlie Dean was under duress quite a bit, only throwing for 186 yards. Perhaps more shocking was despite having 96 yards on 15 carries, it was a very quiet 96 yards by Aidan Bourget standards. The Harvard offense had 304 yards of total offense but gave up 469 to the Tigers. Princeton quarterback Blake Stenstrom was outstanding, throwing for 278 yards and three touchdowns, making it look ease at times.
"Their quarterback made some tremendous throws, they made contested catches and they were the better coached team today," said Murphy. "Many of those (deep balls) were contested, they were just perfect throws…he showed us – quite honestly – a lot more than we had seen on film the past three or four games."
Harvard won the toss and deferred, which in hindsight was a big mistake. Princeton only needed six plays to find the end zone as Andrei Iosivas brought in a 61 yard pass from Stenstrom. The teams traded punts and Harvard got on the board with 3:45 left in the first on a Jonah Lipel 24 yard field goal.
For the remainder of the first quarter and the opening minute of the second, the Tigers put together a 16 play drive and appeared to have an 18 yard touchdown for Stenstrom to Iosivas, but OPI was called. Eventually, Princeton was pushed out of field goal territory and had to punt, but the Crimson could only muster one first down before punting. The defense forced a punt of its own and Harvard had excellent field position at midfield, but a fumble by Kym Wimberly (11 catches, 70 yards) two plays later was an absolute killer.
The Tigers scored moments later on a 14 yard touchdown catch by running back Ryan Butler to make it 14-3 with 4:10 left in the half. Harvard's only TD drive ensued and happened quickly as Dean led the team 70 yards in just seven plays. Tyler Neville (5 catches, 78 yards) grabbed a 10 yard TD pass from Dean and the Crimson cut it to 14-10. The offense actually got the ball back with 37 seconds left and drove out to midfield, but instead of a Hail Mary attempt, a short run by Bourget sent the teams into the locker room.
One first down and a punt to open the third quarter for Harvard quickly turned into a 21-10 deficit when Iosivas had a big catch to set up a 23 yard touchdown catch from Dylan Classi. The Crimson moved from the 22 out near midfield before having to punt again on the next possession and the snap was fumbled. Nearly seven minutes later after a methodical 12 play waltz, Butler hammered in a one yard TD run to make it 28-10.
Harvard turned the ball over on downs two plays into the fourth quarter and a Princeton field goal soon thereafter made it 31-10. A four yard TD run by Stenstrom with a missed PAT made it 37-10 a bit later on before Luke Emge came on late to play out the string for Harvard.
Harvard knows there's no time to dwell on the ugliness of Friday night if its going to stay in the fight.
"We usually dedicate at least a day to go over the film of this game and after that we put it behind us," said captain Truman Jones. "This result won't have any effect on the next game and really want to see what we can learn from this, know what plays we can make, know what we can do as a defense better and use it as a launching pad for the next game."
If there's one thing that's certain about a Tim Murphy-coached team, this will not be the last time the Crimson are heard from this season and this loss won't become a program destroyer. That extra help they now need coupled with four wins – including a final matchup with Yale on November 19 – could still produce a special story, which leaves plenty to play for.
"The character of our kids is not an issue, we've got great senior leadership starting with Truman, that won't be an issue," Murphy said emphatically. "It's just one of those games that they made as many big plays as they possibly could and we didn't have a great answer for them."