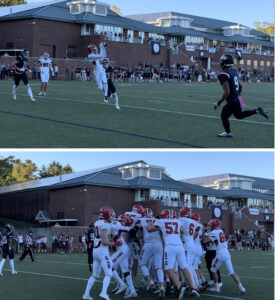 BELMONT – Just five years ago, the Rivers football team lost all nine games it played during the 2017 season.
On Saturday afternoon, the program cemented itself as a legitimate ISL championship contender with a thrilling 38-32 overtime win, spoiling Belmont Hill's homecoming day.
Rivers (4-0) built a 26-10 halftime lead, but watched as the hosts came all the way back to tie the game and eventually force overtime. Belmont Hill (1-3) started OT with the ball and appeared to go ahead when QB Chris Milmoe hit AJ Muse for a TD on a quick wide receiver screen, but the other blocking receiver was called for a hold on the play. On the next snap, Jeremy Kiefer picked Milmoe off at the goal line.
Moments later, Maxwell Stevelman hit Amir Lindsey from 10 yards out for the pulse-pounding win.
"We knew it wasn't going to be easy. We knew we were going to have to fight and we knew our heart is unmatched," said Rivers head coach Rannddy Lindsey. "I'll put my guys up against anybody. I love these guys, these guys are great. My coaches did a hell of a job, our fans did a great job. We have so much support from the Rivers community that just puts us on a whole other level and we feel it right here (pointing to his heart)."
Belmont Hill forced a turnover on downs to open the third quarter and 10 plays later, Charlie Walsh caught a TD from eight yards out and the PAT from James Dyer cut it to 26-17. Late in the quarter, Reis Little picked off a pass, setting up the offense at the Rivers 40. One play later, Cal Peterson was left wide open for a 40 yard touchdown reception and the kick made it a 26-24 game. Rivers marched right back down field with a 10 play drive and Lindsey had a 20 yard touchdown run to push the lead back to 32-24 after a failed two point conversion.
Belmont Hill responded with a 73 yard, 11-play drive that ended with Muse punching in a one yard run and Tommy Reply catching a two point pass to tie the game at 32-32 with 2:44 to go. A Luke Travaligni interception with 1:31 left gave BH a chance for a stunning come from behind upset, but Rivers forced a punt and ultimately overtime.
"We just had to make sure we played the full 48 minutes," added Rannddy Lindsey when asked what the message was when Belmont Hill made the comeback. "We knew we had to play a full game and there wasn't going to be any other way…hats off to Belmont Hill, they're such an awesome team."
Rivers led 6-3 after one thanks to a 12 yard touchdown catch from Griffin Schutte while Dyer had a chip shot field goal on the first drive of the game. A 17 yard touchdown catch for Kiefer early in the second made it 12-3 after a failed two point attempt. Anthony Pellagrini came up with an interception for Belmont Hill at the Rivers 35 with 7:19 left in the second and added a 21 yard TD run moments later, cutting it to 12-10.
Kalyl Lindsey quickly put Rivers back up 18-12 two plays later when he hauled in an 80 yard TD from Stevelman. Rivers recovered a fumble three plays later and made it hurt 11 plays later with a one yard TD run from Avi Redman and a two point conversion made it a 16 point game at the half.
The incredible afternoon not only kept Rivers' record unblemished, but also served as a loud statement that they should be taken very, very seriously by the rest of the league if they weren't already.
"We're just a bunch of hard workers," said Amir Lindsey. "We never give up, we like to work hard. We don't fear anybody and feel like we can play with anybody."