The Patriots host Kliff Kingsbury and the Arizona Cardinals this week. Kingsbury has ties to the Patriots. The team drafted Kingsbury out of Texas Tech in the 6th round of the 2003 NFL Draft.
Kingsbury played for Mike Leach and is a disciple of the Air Raid Offense. Leach and Hal Humme developed the system coaching together at Iowa Wesleyan, Valdosta State and Kentucky.
Kingsbury has now brought the system to the NFL and with Kyler Murray quarterbacking the Cardinals offense, the Air Raid is proving to be an effective offense.
Defensively, Kingsbury hired former Broncos head coach and long time NFL assistant Vance Joseph to run the defense. Joseph has full autonomy and has implemented a multiple 3-4 defense which utilizes a variety of fronts, coverages and pressures.
The Cardinals are well coached. There is a reason why Arizona has experienced a quick turnaround. Owner Michael Bidwell and GM Steve Keim took a chance with Kingsbury and that gamble has paid off so far.
Here is a breakdown of the Cardinals offense and defense.
Offensive Philosophy: It is important to point out that the Cardinals are utilizing Air Raid concepts. Kingsbury has taken the offense to the next level like Lincoln Riley and others have by blending in a power read running game and other pass concepts.
Kingsbury needed the right trigger man to run this version of the Air Raid. Unlike Leach and Mumme, Kingsbury prefers a dual threat quarterback running the offense. So, the Cardinals drafted Murray first overall in 2019, even though they had taken Josh Rosen 10th overall in 2018. Rosen wasn't the right fit for this expanded version of the Air Raid.
By design, the Air Raid is simple. The offense for a long time was literally just five pass plays and five running plays.
In the passing game, the five base pass concepts are four verticals, Shallow Cross, Mesh, Double Curl Flat and Smash. The Air Raid system is a byproduct of the West Coast. The offense was heavily influenced legendary 49ers coach Bill Walsh.
As you can see in the diagrams below, the Cardinals will utilize the base pass concepts of the offense but they will have variations off of them.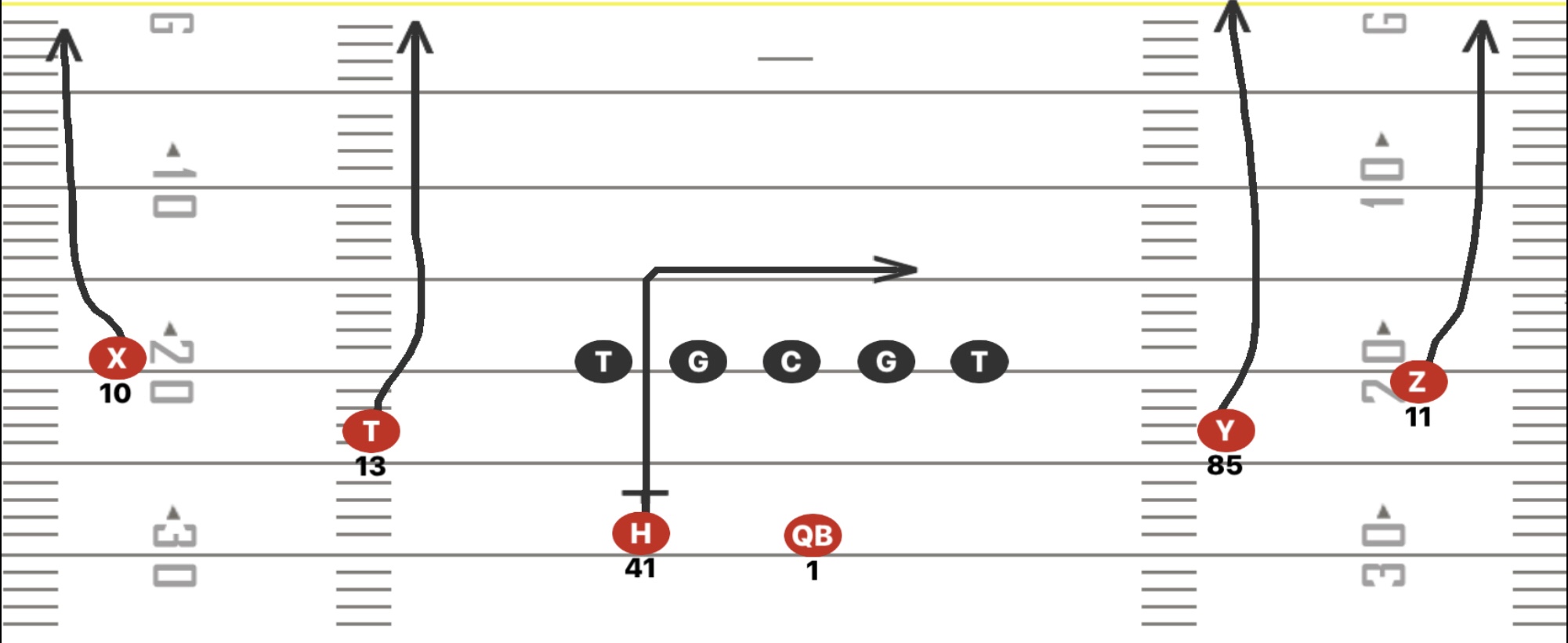 Diagram 1: Four Verticals: Four verts is a staple of any offense. All four receivers are adjusters based on the coverage and corner leverage.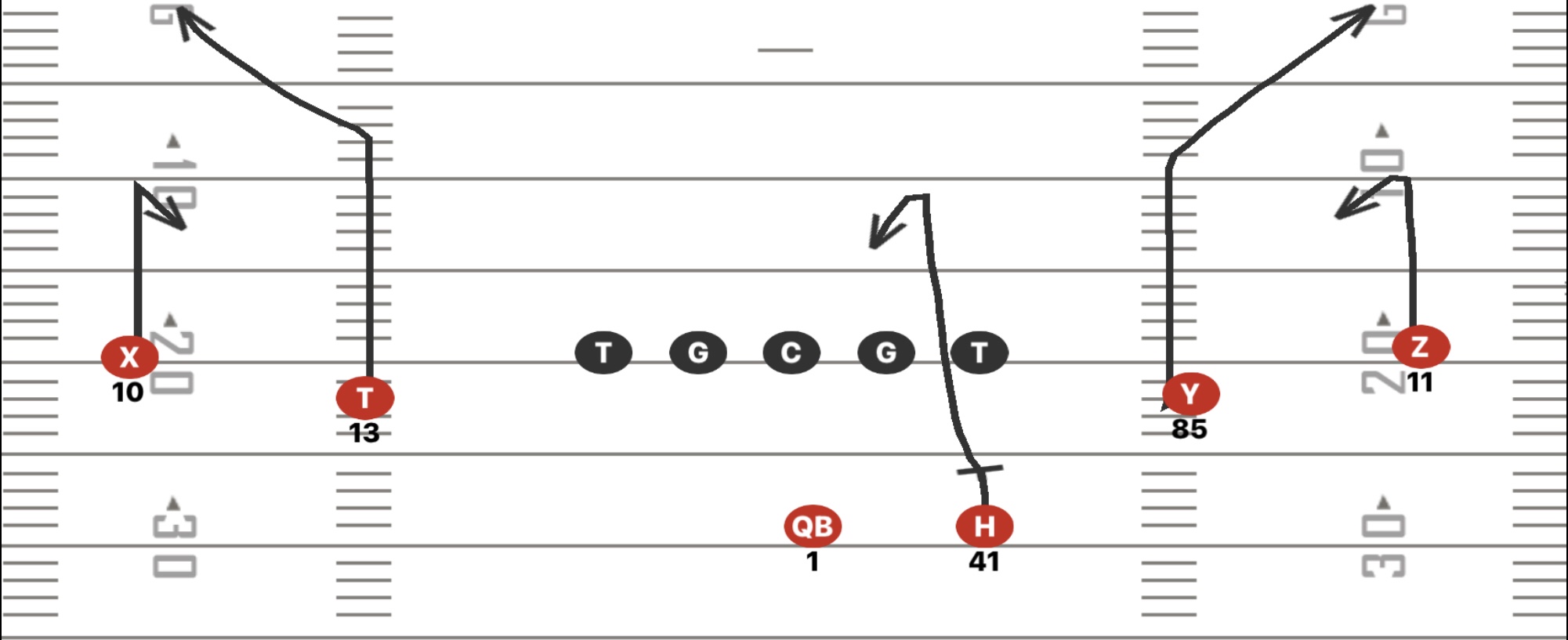 Diagram 2: Double Smash: A classic Cover 2, Quarters beater for the Cardinals. The Air Raid uses this concept the same way it is used in any other offense.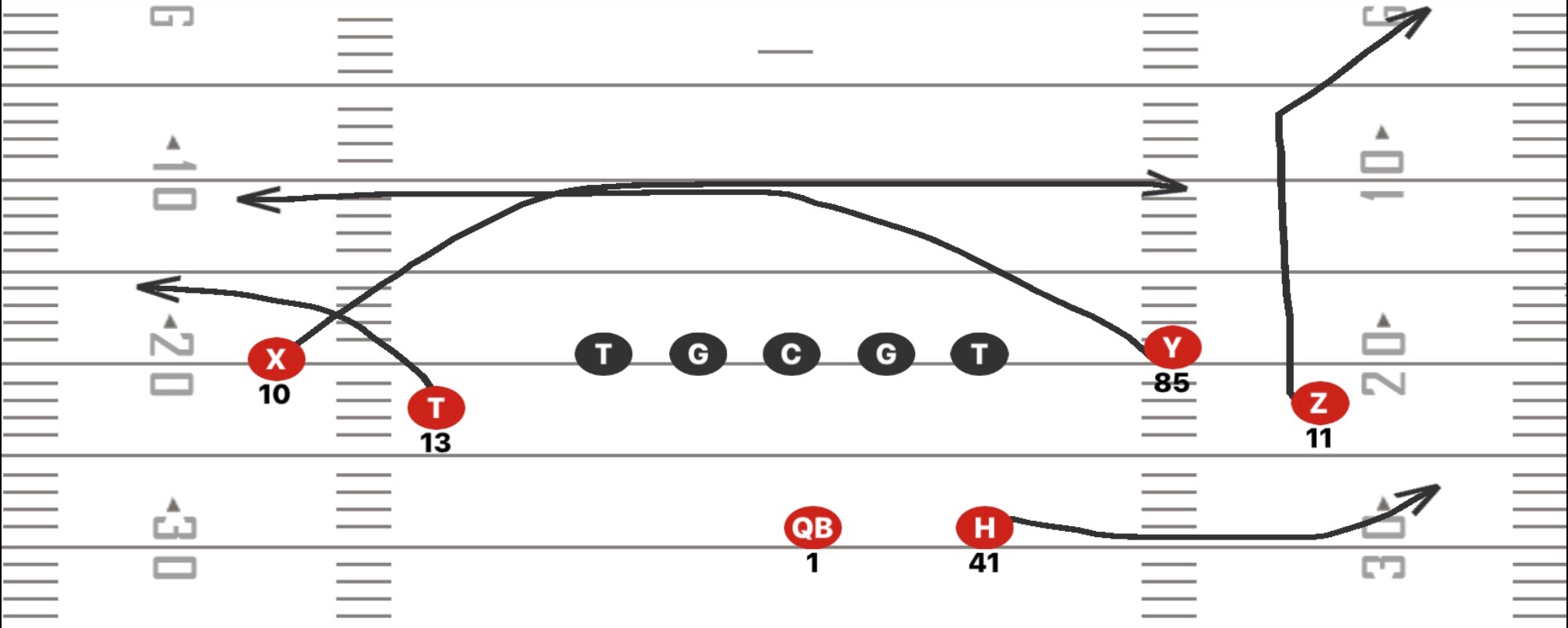 Diagram 3: Mesh: The staple pass play of the Air Raid system. It is the number one pass play in the offense and it is used versus man or zone. If the Patriots decide to play a lot of man in this game, Arizona will run this play a lot.

Diagram 4: Sail: Another simple man beater for Arizona. Kingsbury likes to run this play out of 20 personnel because he can go double halfbacks and get Chase Edmonds and Kenyon Drake on the field and put them in the route. DeAndre Andre Hopkins or Christian Kirk on the deep over is the number one read with the ten yard out being the second read.

Diagram 5: Shallow: Another staple pass play of the Air Raid. The Cardinals will run a variety of shallow cross pass plays. The shallow can be any receiver in the personnel grouping. Shallow is a classic West Coast high, low middle flood.

Diagram 6: Double Curl-Flat: A simple Cover 3 and 4 beater that is primarily utilized on second and third and long.
Variations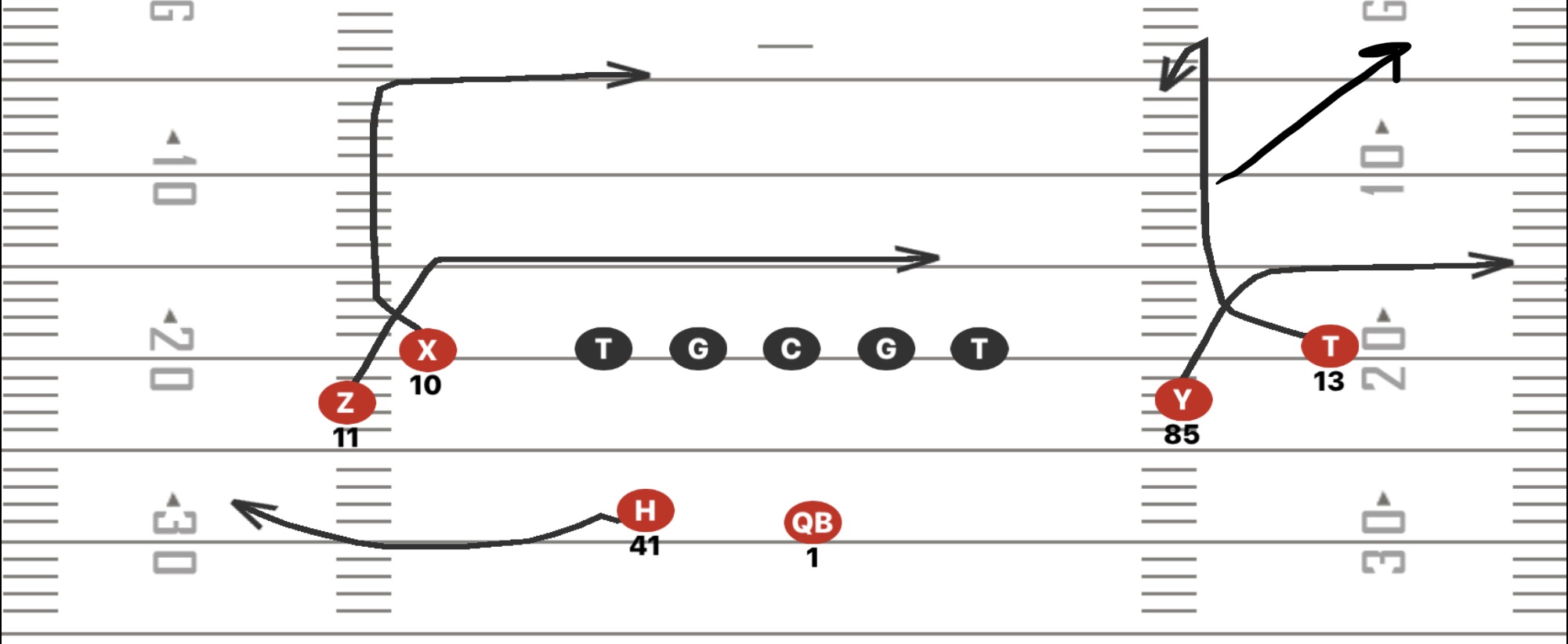 Diagram 7: Curl-Flat Combo Beater: The Cardinals will utilize a variation of combo routes to beat both man and zone coverage. Here they run a West Coast drive concept on the back side with a curl-flat front size. The outside receiver has the Curl/Cover 2 adjuster.

Diagram 8: Smash Combo: The Cardinals will run this Smash variation as Cover 2 beater back and a man beater frontside.

Diagram 9: Snag Choice: Snag is a simple pass concepts that is a staple of every passing game. Arizona likes running it out of 11 and 20 personnel. Snag is a corner, spot and swing route frontside and on the backside, you run an old school Run & Shoot Choice concept. The choice is based on pre-snap coverage, corner leverage and a post–snap route declaration by the receiver based on those two factors.
Running Game and RPO's
As I mentioned earlier, Kingsbury has expanded the Cardinals running game to take advantage of Murray's athleticism.
Here some examples of how the Cardinals run the ball and built in RPO's off of their running game.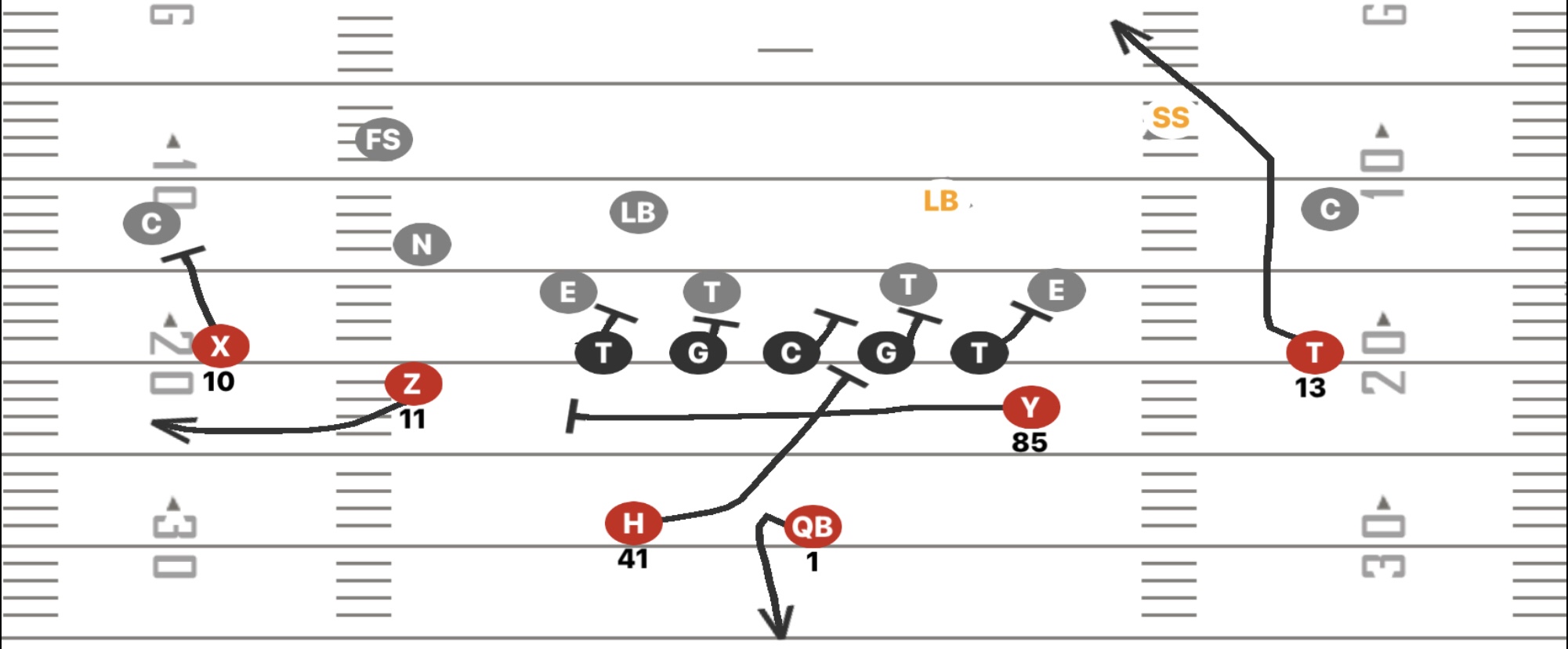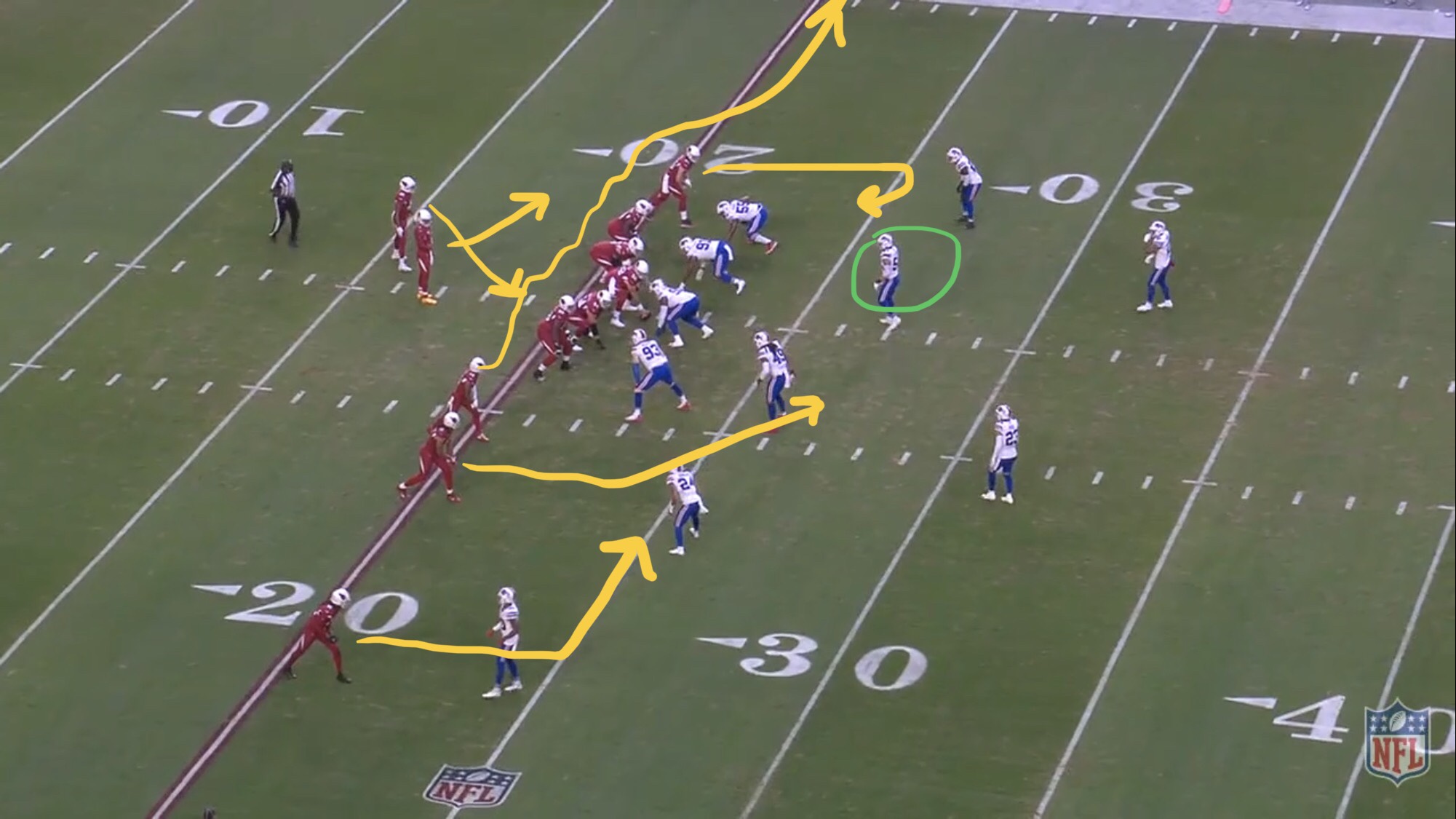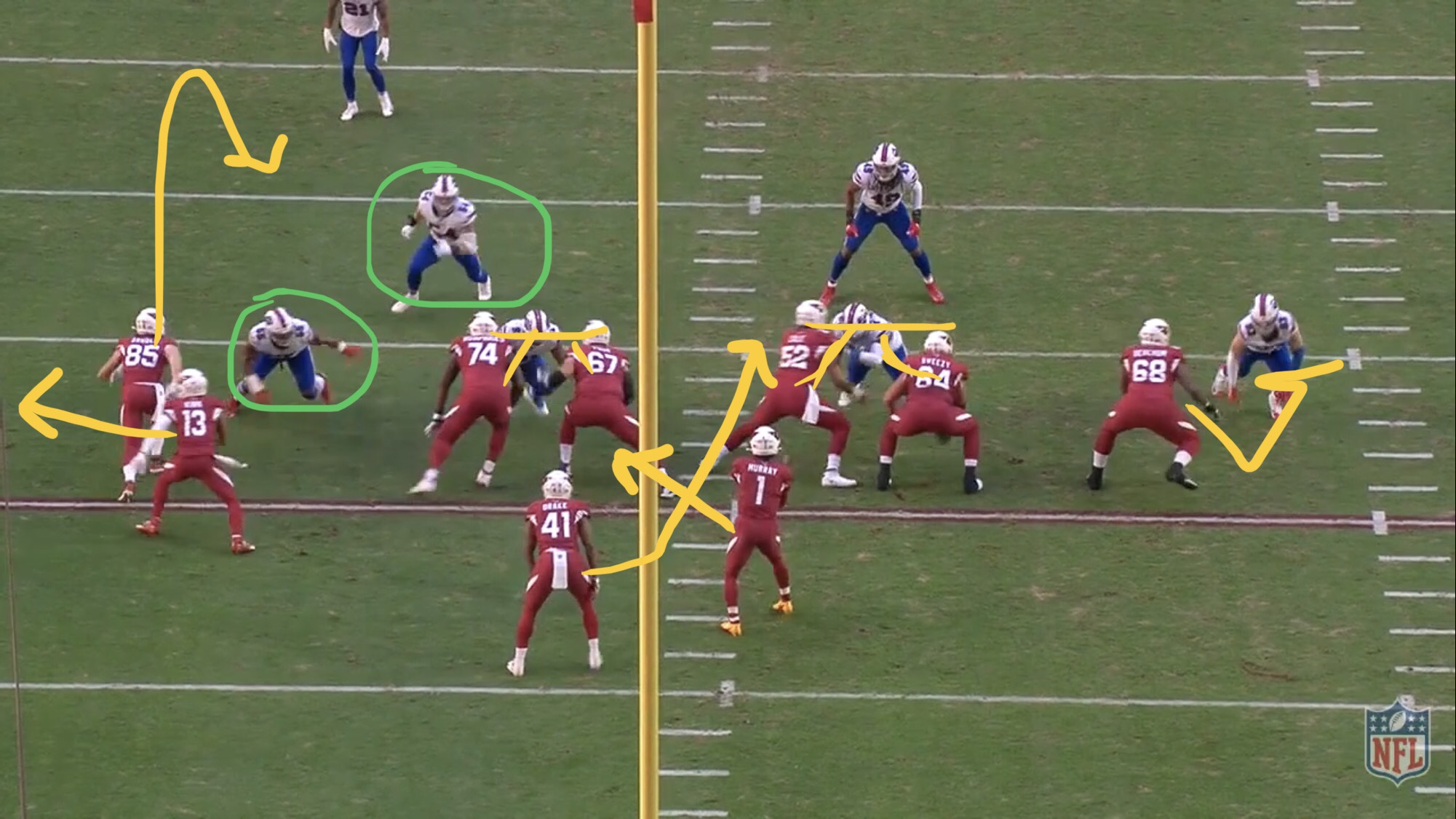 Diagrams 10, 11, 12, 13: Mid Zone/ Mid Zone RPO's: Like most spread teams, the Cardinals do a great job of packaging their running game with their RPO's. Here they run mid zone and off of it, they run a glance RPO on the backside. Murray reads the linebacker and strong safety. If they fit into run support, he pulls it and throws the backside glance post. If they bail, he gives the mid zone to Drake.
The Cardinals will also dress up this combination with motion and read the backside end and linebacker. This is true triple option as Murray could give it, pull it and run or throw the hitch flat combination based on what the linebacker does post snap.

Diagram 14: Speed Toss/Speed Crack Toss: I had to throw this play in because I love it. It's a combination of speed option and toss in essence. Kingsbury sets it up by running speed option, then he runs either speed toss or speed crack toss. Terrific play design.
O.K. Now back to the variations off of mid zone.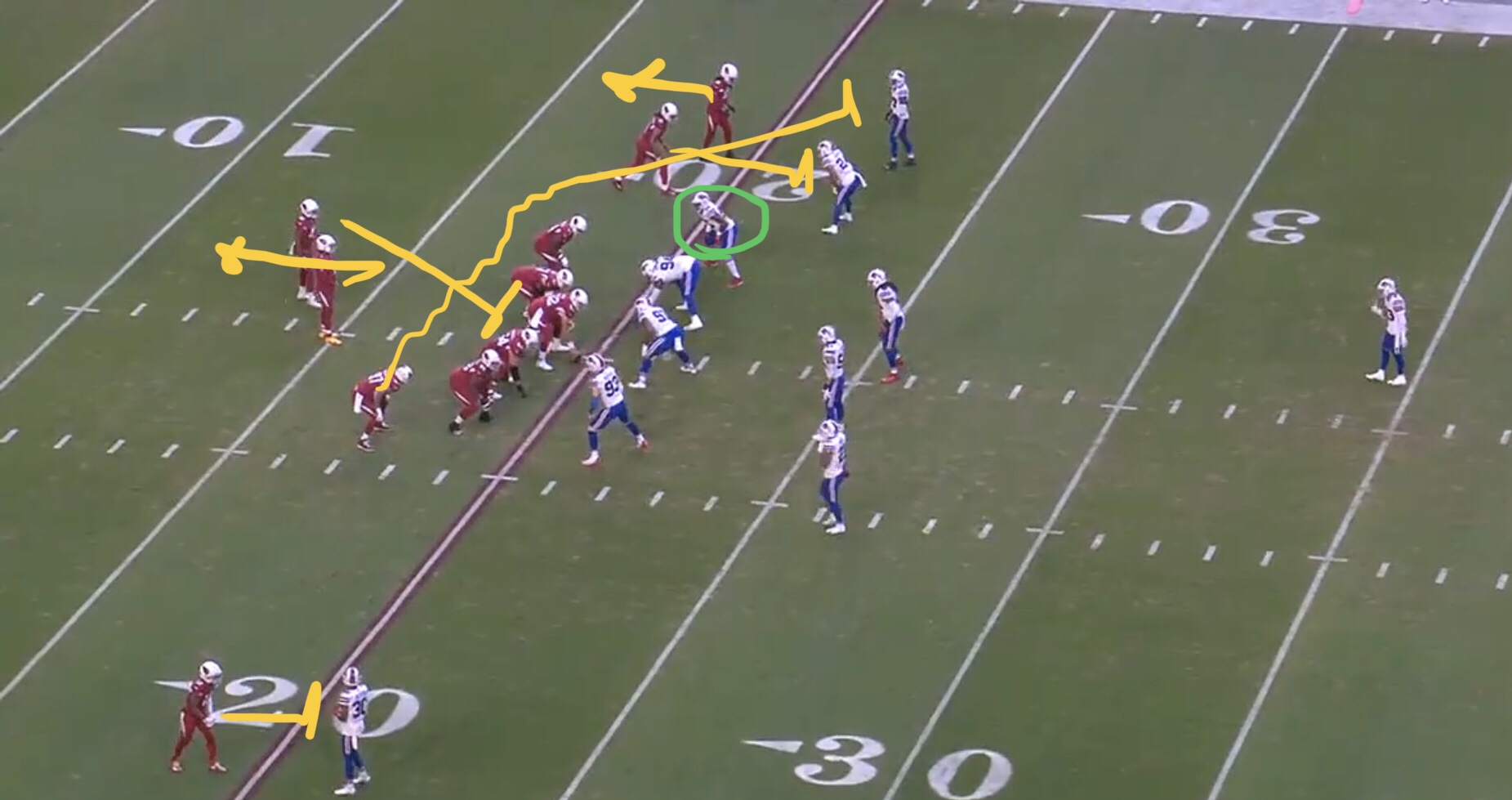 Diagram 15: Mid Zone Screen: Off of the mid zone, the Cardinals run a perimeter screen package. This is an SRO or screen, run option. Murray looks at the defense pre-snap and based on alignment and the defensive end's reaction, he can either give the mid zone to Drake, pull it and run it or throw the screen outside if the numbers add up.
As you can see, this isn't Mike Leach's Air Raid offense. This is a much more diverse scheme. There is a lot more I could have done with this piece but I wanted to introduce the basics. I will do a separate piece in the off-season on the Kingsbury, Riley new age Air Raid.
Defensive Philosophy: Vance Joseph is an aggressive coach who operates out of a 3-4 base but also plays a variety of fronts and coverages.
Joseph has built this scheme around players and playing to their strengths. That is why Arizona drafted Isaiah Simmons out of Clemson. Simmons is a versatile piece that can play all three downs and in all three levels of the defense.
Free safety Budda Baker is one of the best defensive players in the NFL. He can play in all situations and can match up in any coverage called.
Joseph likes to be aggressive and bring pressure because he has players like Simmons and Baker that enable to match up with opposing players. Add veteran corner Patrick Peterson to the mix and you see why Arizona is so aggressive defensively when it comes to bluffs and stunts.
Here are basic examples of Arizona's front structure and how they play behind it.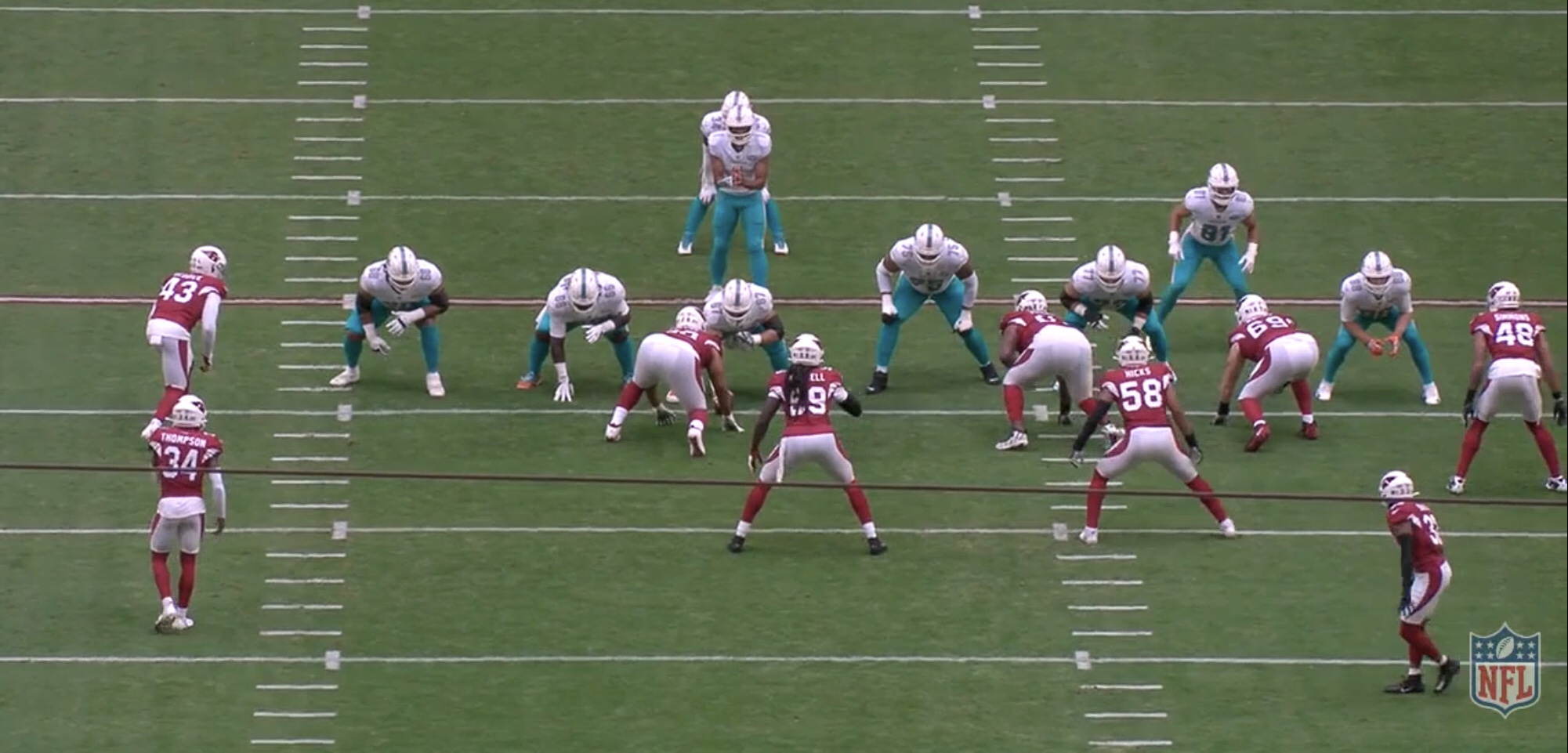 Diagram 16: 20 Front: The Cardinals will play a lot of 20 front with either a Cover 2 shell behind it or man free. The Patriots utilize 11 personal a lot so Arizona will be in this 3-4 Over variation a lot in this game.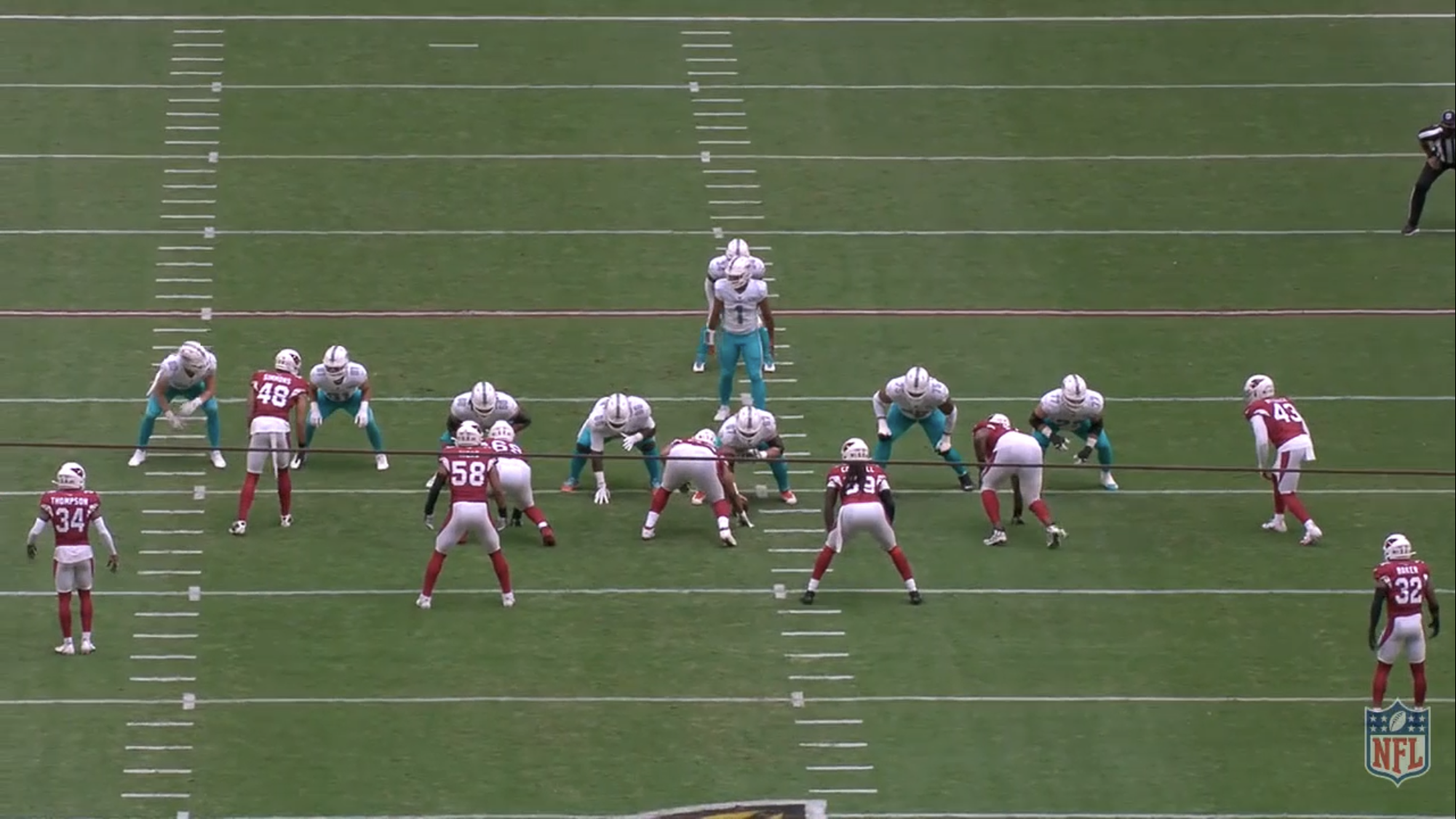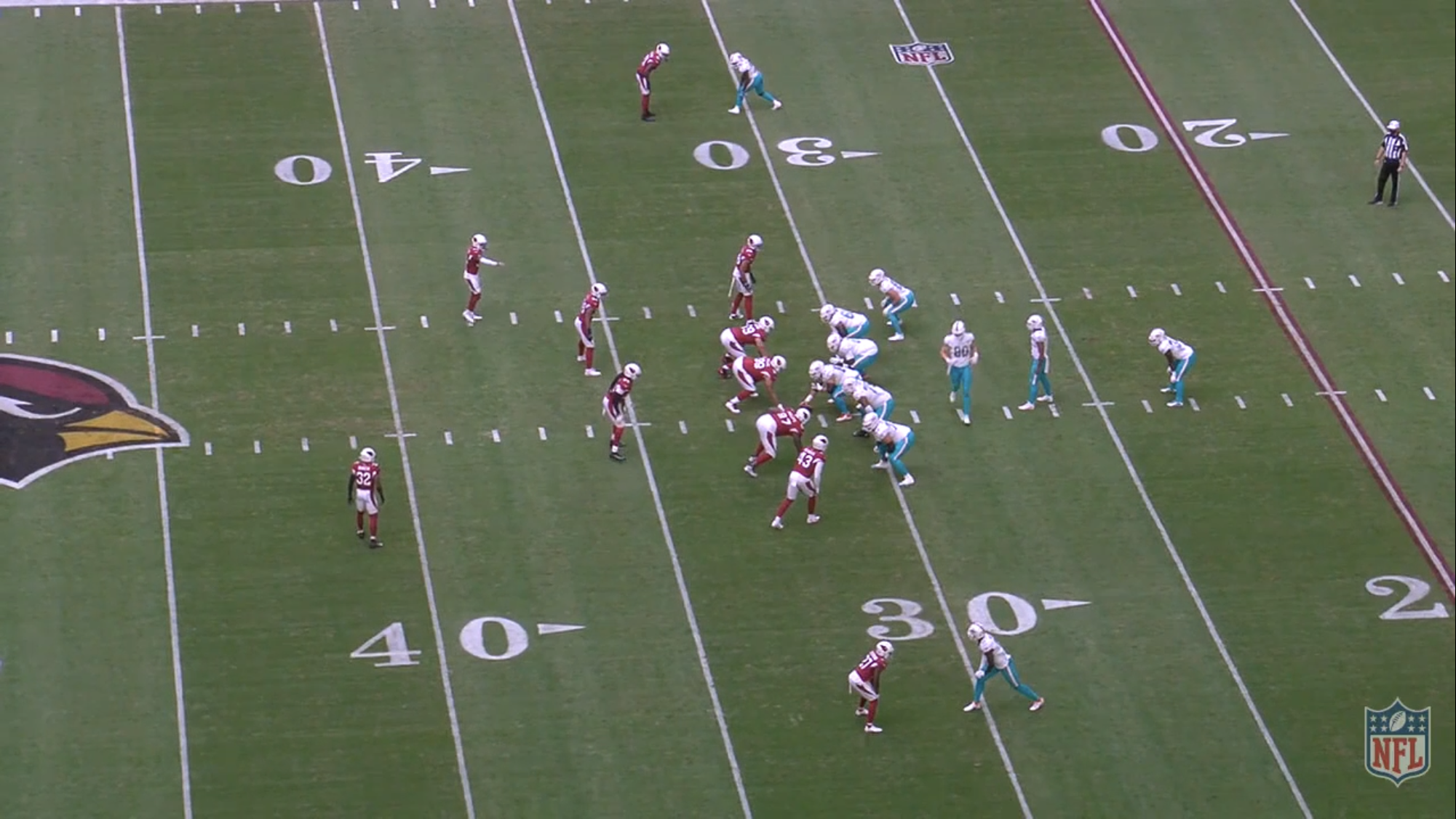 Diagrams 17 & 18: 30 Front: The Cardinals are a 30 base and Joseph will play a 30 front to any situation. It enables him to be more aggressive by showing more bluffs and bringing pressure.
Arizona will bring a variety of pressures. They like to overload and bring third level defenders off the edge like they do with this safety overload blitz in Diagram 19. It's a 3-4 front with Baker dropping late and coming off the edge.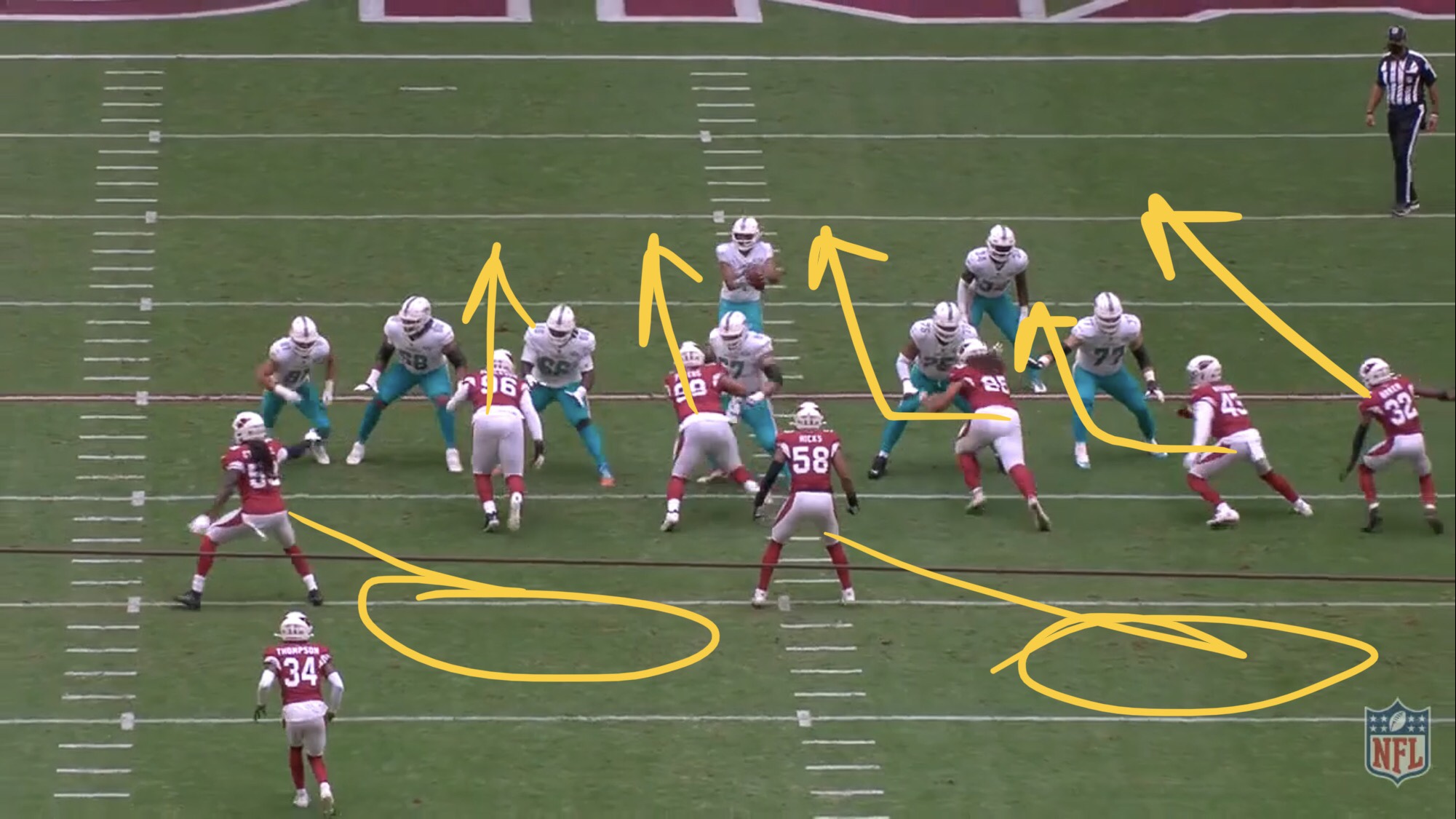 Diagram 19: Overload Safety Blitz
Arizona will also play a a lot of eight man fronts, especially when the Patriots are in 21, 22 and 12 personnel. Joseph likes to be aggressive against the run so expect plenty of run blitzes.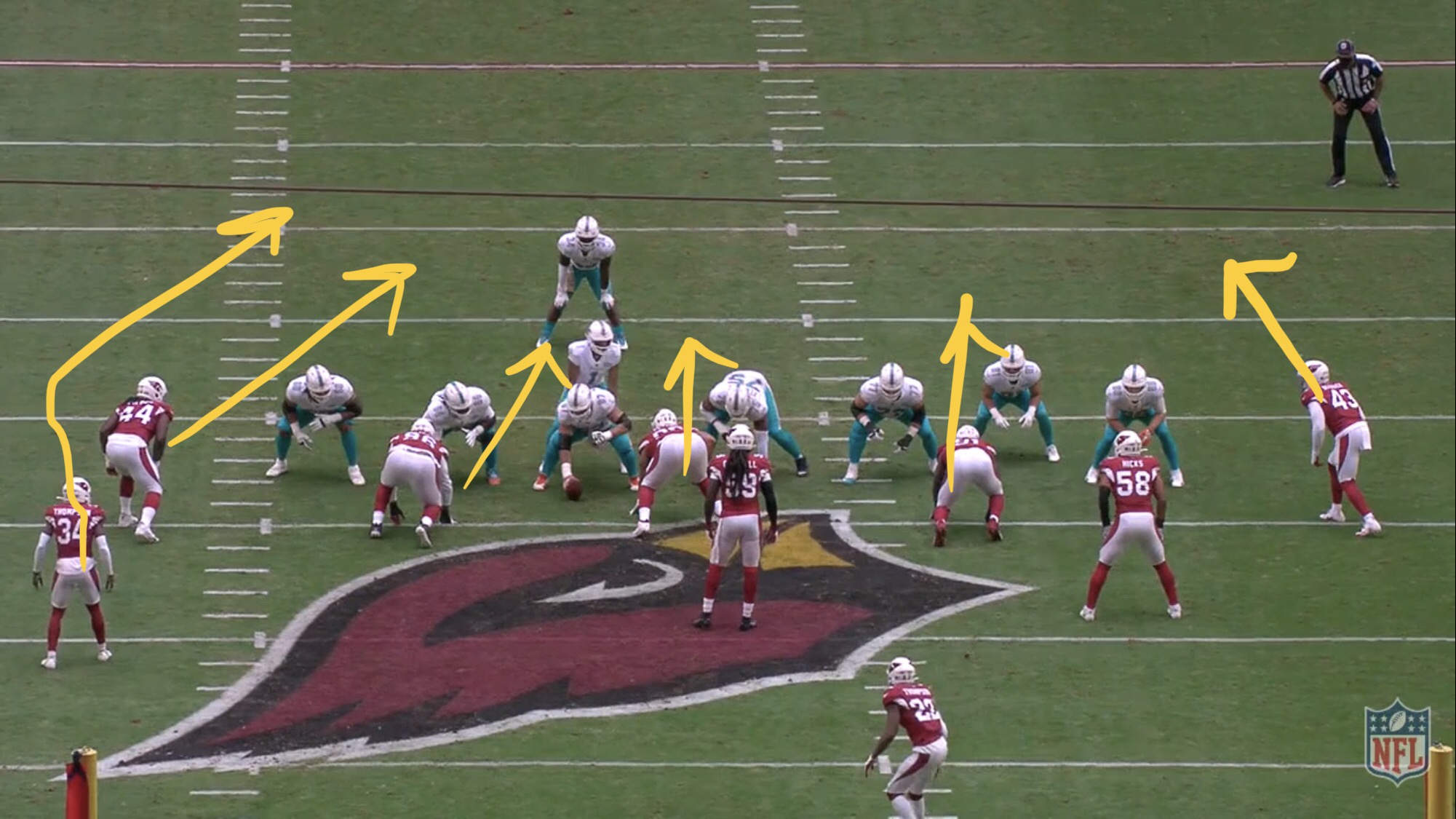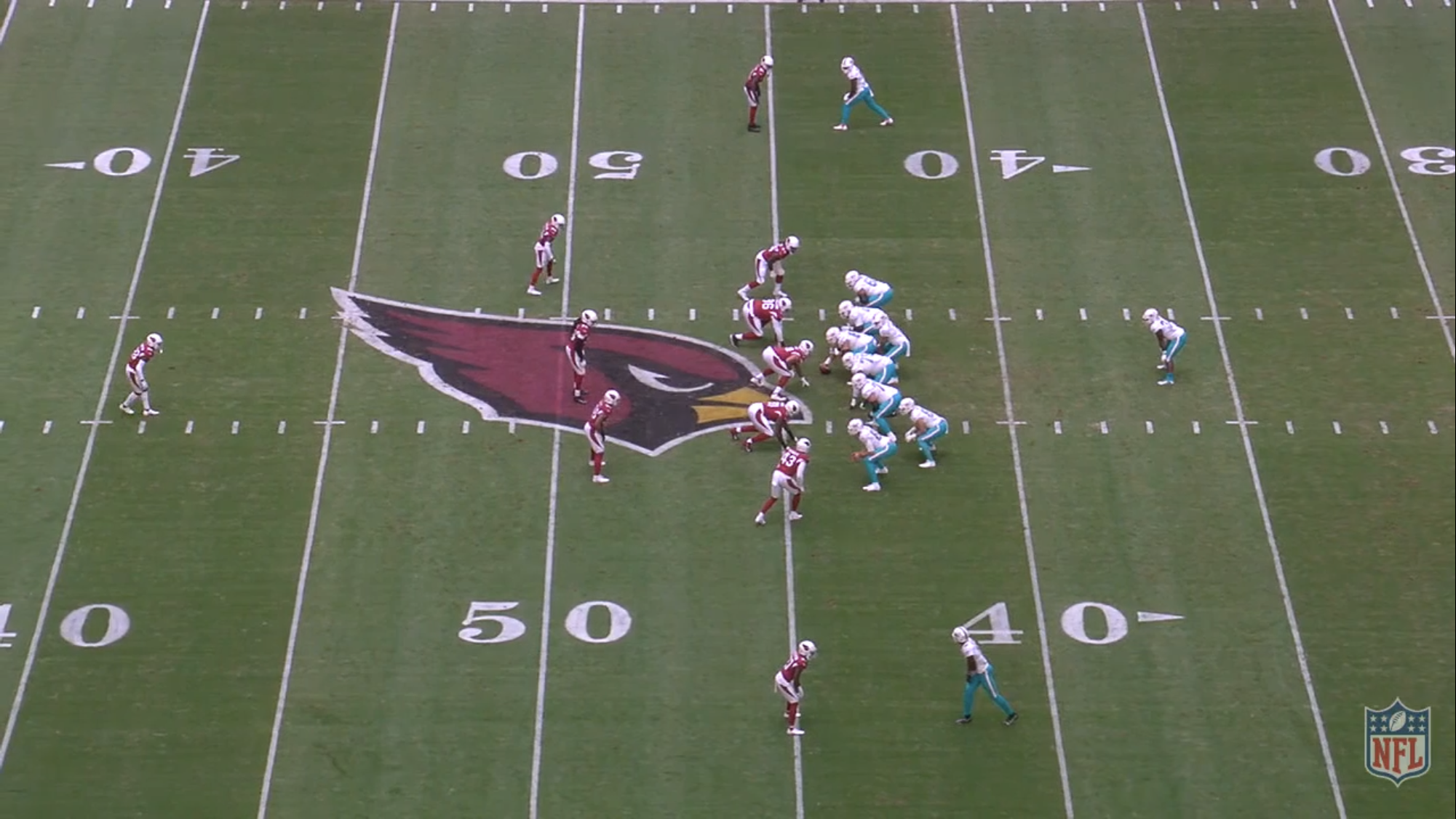 Diagrams 20 & 21: Eight Man front with a run pressure:
This is a small sample of how tough Arizona is to play against defensively. They are aggressive but sound as well. Joseph takes calculated risks. The defense is well designed and built around its best players. Joseph puts his dudes in positions to make plays.
The Patriots will get a lot of different looks and pressures this week. This will be a tough game for the offensive line.
Another week, another tough coaching assignment for the Patriots. Belichick and his staff will have their hands full with Kingsbury and his staff.