(Photo by Joe Robbins/Getty Images)
It was a night that Springfield's Christian Wilkins and Dudley's Chris Lindstrom will never forget. The two Massachusetts natives went back to back in the first round of the NFL Draft.
Wilkins was drafted by the Miami Dolphins at pick 13 and Lindstrom went a pick later to the Atlanta Falcons at pick 14.
It was not only a great night for Wilkins and Lindstrom but it was a great night for the state of Massachusetts. It was proof that one of the smallest states in the country can indeed produce NFL caliber talent.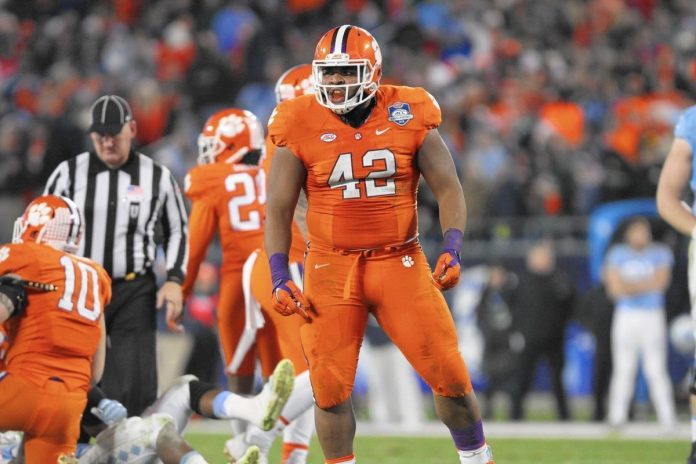 The Miami Dolphins are hoping Springfield's Christian Wilkins can be a centerpiece in their rebuild.  
Obviously Massachusetts does not stack up when it comes to producing elite level talent. It will never stack to up the much larger states like Florida, Texas and California or football hotbeds like Ohio and New Jersey but the football in the Bay State is good enough to produce NFL level talent on a consistent basis.
I admittedly felt a certain sense of pride when watching Wilkins and Lindstrom get drafted. I covered both in high school. They are Massachusetts kids who have done well and they are representing our state and the game the right way.
Both Wilkins and Lindstrom are expected to make an impact on their respective teams. There is no doubt in my mind that they will. Both players will be integral parts of their team's success moving forward.
Expect more Massachusetts names to be called in the first round in the coming years. There is a lot of talent in this state. It is why powerhouse programs like Michigan, Notre Dame, Georgia and others are flocking to our state. Massachusetts has become a recruiting destination now.
Massachusetts is now a football state. Last night was proof of that.