Game rewind: The Patriots defense completely shut down the Los Angeles Rams en route to a 13-3 win and a sixth Super Bowl title. The game certainly did not live up to the hype but a win is a win. The Patriots are Super Bowl champs! Here are five thoughts on the game.
1. Defense was dominant: I don't think anyone saw this type of defensive performance going into this game. The Patriots defense completely shut down a Rams offense that averaged 32.9 points per game during the regular season. Bill Belichick and de facto defensive coordinator Brian Flores draw up the perfect game plan to pressure Jared Goff and stop the Rams vaunted running game. Tonight's performance by the Patriots defense is one of the best defensive performances in Super Bowl history.
2. Jules was the crown jewel: Julian Edelman had a monster game catching 10 passes for 141 yards and earning a Super Bowl MVP in the process. Edelman was a man among boys and he lived up to his reputation as one of the greatest playoff performers in NFL history.
3. Gronk down the seam: Jet G Bolt Rt 74 Horse F Juke is the play that set up the game winning touchdown. The Patriots ran it three straight plays. Tom Brady threw it to Edelman the first time the play was called. The Patriots lined up in trips the next time and motioned out Rex Burkhead to the left. He ran a hitch and Brady threw him the ball. The Patriots ran the play a third time but this time they motioned Edelman across which pulled coverage to his side. That created a one on one with Rob Gronkowski and linebacker Cory Littleton and Brady threw the seam to Gronk that set up Sony Michel's game winning touchdown. Josh McDaniels was searching for something to push the ball down the field and he found it with this play.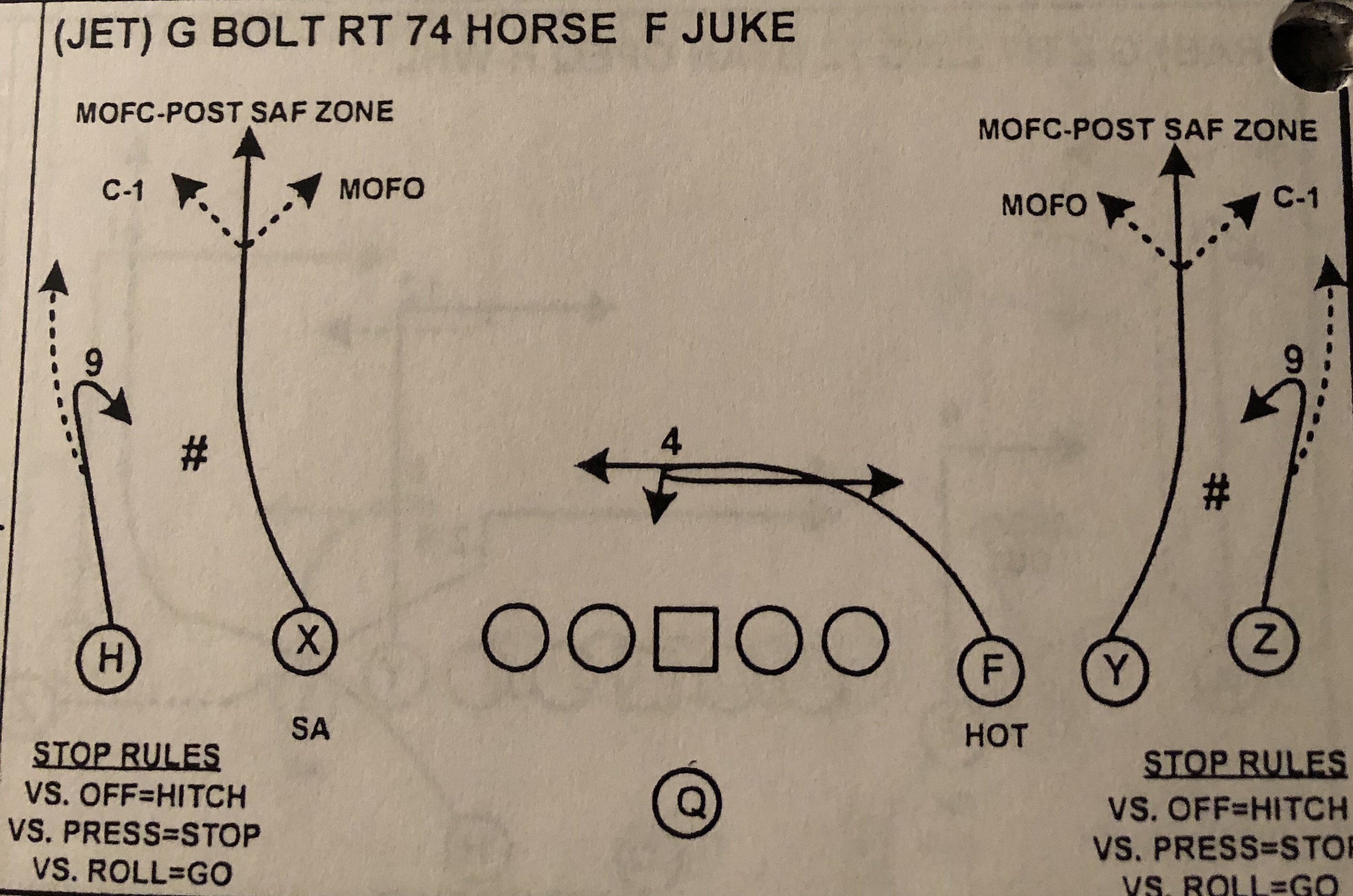 Jet G Bolt Rt 74 Horse F Juke
4. Ground and pound: The Patriots returned to the first part of their dynasty this season. They used more 21 and 22 personnel and they committed to running the football. It paid off tonight. The Patriots were the more physical team and it showed. It is a physicality that they established throughout this season.
5. McVay was out coached: Sean McVay AKA "The Genius" was throughly out coached in this game. McVay had no answers for the Patriots pressure and he did a piss poor job of adjusting. The Rams had that deer in headlights look. The game and the stage was too big for McVay and his players. Their inexperience showed.